Fitness Classes in Concord
---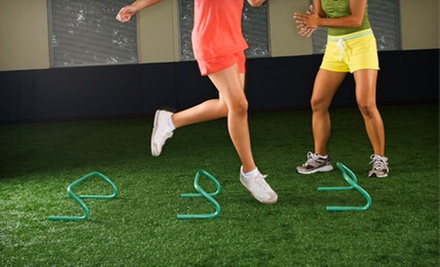 ---
Recommended Fitness Classes by Groupon Customers
---
Jazzercise is 60 minutes of cardio, strength training, and stretching that incorporates moves from hip-hop, yoga, Pilates, jazz dance, kickboxing, and resistance training with handheld weights. Dancing with the Stars multiple-champion Cheryl Burke is a big fan of Jazzercise's improvisational workouts, though luckily you won't need her dance moves to get the most out of your class. If you're prone to first-class jitters, though, you can review the basic moves online before you go. Expect to burn up to 500 calories with each go-round.
8129 Ardrey Kell Rd.
Charlotte
North Carolina
Dayron Booth, Knock Out's passionate boxing trainer, transforms clients into fit and focused jabbing machines. Booth corrals groups of two–five adults for 30-minute classes teeming with personalized encouragement and tips on form and penmanship. In addition to bolstering hand-eye coordination, adult classes cultivate strength with lifting exercises, jump-rope challenges, and tummy-tightening calisthenics such as pushups and crunches. Filled with positive energy and high-intensity punching drills, Lights Out classes torch calories and tone arm muscles. Like a trip to the airport in a clown car, kids' boxing classes last 90 minutes and hold up to 15 pint-size people. Featherweights aged 5–11 learn boxing basics tailored to their age and skill level, including stances, blocks, and uppercuts that double as daring ballet moves. Kids' classes take place on Saturday at noon, and adult classes wriggle into morning, afternoon, and evening slots that accommodate participants' schedules.
658 Griffith Rd.
Charlotte
North Carolina
704-804-1902
In the 15 years since its founding, Fitness For Her has amassed a well-rounded collection of gym equipment and group classes in an encouraging studio where women jump into routines specifically designed for them. Ladies can work up calorie-burning sweats on cardio equipment, such as treadmills and bikes, as they take in favorite shows beamed in over the TVs or watch for cameo appearances by their favorite numbers on the heart-rate monitors. A weight-training area eases limbs into reps with Cybex machines, free weights, an abdominizer, and a multistation jungle gym to ensure no muscle group starts to feel left out. For a communal foray into fitness, personal trainers spur on groups to shake off calories in Zumba and Cardio Pilates classes, kindling a full-body burn in the aerobics studio. Postexercise, up to 10 weary frames can sweat out excess toxins or barbells lodged in pores in the dry-heat sauna. With senior classes, membership discounts for mother-daughter pairs, and free childcare services, the gym welcomes women at every stage of their sojourns into healthy living.
1445 Concord Pkwy. N, Suite 80
Concord
North Carolina
704-792-2900
Though CrossFit Huntersville's certified trainers come from diverse competitive backgrounds, including Olympic weightlifting, professional motorsports, and tennis, they all have one thing in common: a passion for the CrossFit program's blend of varied, functional movements. Workouts change from day to day, but often incorporate running, jumping, pressing objects over the head, deadlifting, and rowing—all deemed "functional" exercises because they focus on movements that the body does naturally. Each workout of the day (WOD) is scalable to suit any level of fitness.
The family-owned CrossFit affiliate is free of mirrors to thwart self-judgment. Barbells, pull-up bars, kettlebells, and plyo boxes take the place of typical gym staples such as cardio machines and cardboard cutouts of Mr. T.
14125 Statesville Rd.
Huntersville
North Carolina
704-756-5887
---