Concord Outdoor Activities
---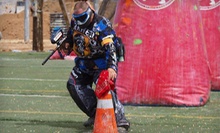 Three hours for two in a field with obstacles and bunkers; each person gets a marker, a mask, a barrel cover, 500 paintballs, and air
Use Saturday 8:00am - 12:00pm
---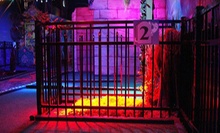 Graveyard-themed mini-golf holes wind through gothic architecture, crypts, and skeletons peppered across indoor course
Use Today 2:00pm - 9:00pm
---
Recommended Outdoor Activities by Groupon Customers
---
Led by former NBA point guard and first-year head coach Mark Jackson, the Golden State Warriors charge into the second half of the season. Veteran guard Monta Ellis blows by defenders with an average of 22.2 points per game while forward-center David Lee muscles out under-the-basket rivals for an average of 9.7 rebounds per game. Rookie guard Klay Thompson keeps opponents guessing with the ability to drop shots from all over the court and the inexhaustible supply of riddles he declaims during commercial breaks.
7000 Coliseum Way
Oakland
California
510-383-4982
In addition to leading circus classes for adults and children of various experience levels, the specialists at Trapeze Arts also manufacture custom circus equipment. At their 10,000-square-foot Oakland facility, they perform firsthand research to create solutions for high-flying performers.
The team has built equipment for Cirque du Soleil, UniverSoul Circus, Flynn Creek Circus, Jean Ann Ryan Productions, and several other professional performing companies. At their own facility, they teach students to use the flying trapeze, trampolines, hoops, silks, ropes, tightwires, unicycles, and juggling implements to increase confidence and babysitting abilities. Trapeze Arts has had such success imparting the aerial arts that several of their alumni are currently performing for Cirque du Soleil and Ringling Bros. and Barnum & Bailey.
1822 9th St.
Oakland
California
510-419-0700
The next time you're on the roof of a five-story building, look down at the ground, and you'll get a rough idea of just how high people climb at Touchstone Climbing. The gym's seven locations feature lead walls that rise as high as 50 feet off the ground, though height isn't the only dimension that makes the space feel immense. Each spot has at least 11,000 square feet of climbing terrain, not to mention as much as 3,000 square feet of bouldering.
To prevent newcomers from feeling intimidated by the magnitude of the environment, the gym holds introductory classes. During these sessions, participants learn the basic techniques they'll need if they want to conquer the gym's crack systems and boulder problems. The classes are also an opportunity for students to scope out the terrain features at each location, such as Diablo Rock Gym's steep prow, which juts out crookedly like a thumbs up from a dizzy ballerina. While they're at it, the visitors might notice something else: the social nature of the gym. As the San Francisco Chronicle recounts, the fact that lead climbs require two people means that climbers are constantly asking around for new partners and chatting back and forth as they ascend.
Each location also boasts a weight room, cardio machines, and a studio space for everything from yoga to spinning to core classes.
520 20th St.
Oakland
California
510-452-2022
Although it hasn't quite reached the level of Napa Valley's 400-plus wineries, the East Bay's wine scene has experienced a rebirth—and East Bay Winery Bike Tours intends to ride right alongside as it continues to grow. Led by owner Jon Zalon, the company takes to the streets on two wheels to explore the area's ever-expanding collection of urban wineries and the faces behind the bottles at each stop.
In 2012, Diablo magazine plopped East Bay Winery Bike Tours at No. 10 on its "50 Things You Gotta do This Summer" list. No matter the season, EBWBT's rides present safe, scenic routes that include everything from a trip to an Oakland estuary to a pleasant cruise down Alameda's palm-lined streets—all without having to rent a car or a horse to drive that car. Every tour also makes sure to set aside plenty of time to soak in the surroundings, including picnics packed with homemade food.
Ferry Terminal
Oakland
California
Today's Groupon tackles professional athletics, professional athletes, and sports hernias with a ticket to the final game of the Oakland Raiders' 2009–10 season for $26 (a $36 value). On Sunday, January 3, at 1:15 p.m., the team that once upset the entire steel industry of Pittsburgh and tamed Cincinnati's Panthera Tigris Tigris looks to end the season on a final high note against the Baltimore Ravens (featuring offensive tackle Michael Oher who is the inspiration for the The Blind Side). You'll be sitting in section 354 and have a $10 food voucher in hand.
7000 Coliseum Way
Oakland
California
US
Mare Island Golf Club, whose 1892 founding makes it one of the oldest courses in the country, attracts golfers with breathtaking island scenery. Built near old Marine barracks, the course—which wasn't expanded into an 18-hole layout until 2000—originally sported sand greens, dry fairways, and a cast of unusual inhabitants including a Marine lieutenant's horse, who was drawn to the grounds by career aspirations of becoming a golf cart.
Today, the par-70 course begins with nine traditional, tree-lined holes before opening up on the back nine with a links-style layout designed by renowned Pacific Rim architect Robin Nelson. As golfers swing toward distant greens, views of San Pablo Bay and—on a clear day—the Golden Gate Bridge appear from certain vantages and sand-trap oases.
To perfect a backswing or spell out a marriage proposal with golf balls, players head to the 225-yard driving range with a bucket of balls. Patrons should arrive at least 20 minutes before tee times and can grab a bite in the restaurant or look for one of the 10 ammunition bunkers scattered throughout the course, which serve as a reminder of its connection to the military during World War I and II.
1800 Club Dr.
Mare Island
California
707-562-4653 x1
---