Restaurants in Concord
---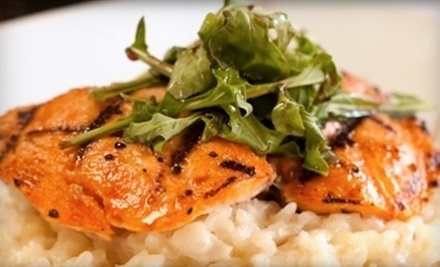 ---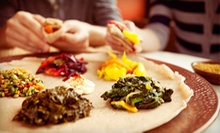 A world-wise chef with a seasoned palate prepares meat and vegan dishes and often substitutes herb-infused olive oil for butter
Use Friday 5:30pm - 10:00pm
---
Recommended Restaurants by Groupon Customers
---
Meridian's seasonal menu draws inspiration from global bar bites made from all-natural and locally grown ingredients. Start with an order of bacon mac 'n' cheese with buttered panko ($8) or the almond-breaded cod fingers served with jalapeño tartar sauce ($12). For a refreshing post-triathlon meal, opt for the togarashi ahi-tuna niçoise salad with capers, tomatoes, Humboldt fog, and sesame-orange vinaigrette ($14) or quell carnivorous cravings with an all-natural beef burger served with cheddar or blue cheese ($9). The grilled bangers and mash ($13) will evoke sweet childhood memories of playing hopscotch outside the smoky pubs of Bangladesh and also will serve as a delicious stomach stretcher for a third course of sticky toffee pudding ($6) or a house-made ice-cream sandwich with mocha sauce ($6).
2050 University Ave.
Berkeley
California
The lengthy menu goes on for about nine miles until the Earth's curvature obscures it from view. It's packed full of authentic offerings and contemporarily twisted cuisine. Ride the culinary fence with old- and new-school starters such as crispy tofu ($5.95) or Thai fish cakes ($7.95) before throwing sand on the table and drawing a line in it, indicating the desire to move on to bigger bites. Adherents of authenticity can feast upon classic pad thai ($9.50) and pineapple fried rice ($12.95), while contemporanians can go for the lamb red curry with pumpkin ($16.50) or tamarind-steamed salmon ($12.95). A variety of curries, vegetarian dishes (available upon request), and seafood dishes are also offered. Menu items marked with the ominously seductive chili are spicy and can be ordered on the heat scale ranging from 98.6 to Ghost Rider.
1181 University Ave.
Berkeley
California
Inside the restaurant, fresh, seasonal cuisine and sleek, modern décor come together like a well-executed jewel heist. A nomadic menu of seasonal treats features smart stomach fillers for lunch, dinner, and dessert. Sample dinner starters include marinated olives ($4), the soup du jour ($4/$8), and warm bread served with olive oil, scallions, and citrus ($4). Afterward, advance to more substantial savories, currently including Thai curry pasta ($18), a roasted half chicken glazed with orange honey ($18), and lobster Cobb salad ($16). Smother weekday worries with a pillowcase of specialty margaritas like the pom pom ($10) featuring pomegranate puree, Gran Centenario Plata tequila, and a splash of Cointreau. View a full list of menus on Levende's website.
827 Washington St.
Oakland
California
The Old Oakland lounge serves up a constantly changing menu of fondue and shareable fare highlighting the culinary and vinery delights of a specific region. The most recent, Japanese-inspired menu offers broiled pork belly over shaved cabbage ($10) alongside roasted garlic edamame ($4) and a savory roasted mushroom miso soup ($5) with black Hawaiian sea salt. Liege's suimono fondue pots ($14) are served tableside with their own continuous flame and come with your choice of sirloin or white prawns, a side of mixed vegetables, and a house-made dipping sauce. Each sauce is rated according to hotness from a scale of one (yogurt epazote) to 12 (habanero and pineapple) to 40 (lava and ice cubes made of infernos). Wines by the glass ($7 and up) change with the menu and are specifically chosen to complement the themed cuisine like two 45-degree angles.
481 9th St.
Oakland
California
In West Africa, a "chop bar" is a roadside gathering place serving food and drink, over which community members exchange news and ideas and compare findings on the validity of the axiom set theory of mathematics. Oakland's Chop Bar fosters the same sort of fellowship, right down to its neighborly use of items from local vendors in its dishes. Breakfasteers can opt for a bacon, egg, and cheese sandwich ($6) or oatmeal ($3), among other offerings. The taste buds of brunch-goers are invited to trot the globe with the Italian omelette known as the frittata ($7) or an order of chilaquiles ($9), a Mexican dish tossing crispy tortilla strips in salsa, cheese, and scrambled eggs.
247 4th St.
Oakland
California
Souley Vegan's proprietor Tamearra Dyson uses techniques she learned from her family in Louisiana to subvert that idea that healthy, vegan eating lacks flavor. She dredges tofu in a southern-style batter that mimics fried catfish and fashions a menu that appeals to meat-eaters and vegans alike. Tofu also gets dressed in BBQ sauce in burgers and tossed in sweet and sour and green peppers. Tamearra and her kitchen staff put a vegan spin on a roster of Southern classics, such as potato salad with black olives following a family recipe three generations old, as well as mashed potatoes drenched in vegan gravy made like her mom did. The eatery's mac and cheese made with yeast-based, non-dairy cheese earned it accolades from the East Bay Express, which said that it "is so perfect a substitute to its dairy-based kin that it leaves the eater convinced it's the real thing."
Brightly painted walls and block-style prints of blues musicians lend a cozy Southern atmosphere to the restaurant, where diners gather around color-splashed tables or cluster on picnic style benches as they share family-style meals or play License Plate Bingo for the last piece of fried okra.
301 Broadway
Oakland
California
510-922-1615
---