Restaurants in Conroe
---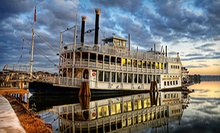 Passengers enjoy dinner or drinks aboard a 19th century–style riverboat, which floats across scenic Lake Conroe as musicians play on deck
---
Restaurant Rewards Deals - Use Anytime
---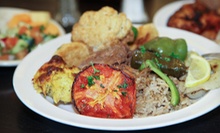 All-you-can-eat hummus, baba ghanouj, chicken kebabs, baked spinach, and falafel populate a Middle Eastern buffet
---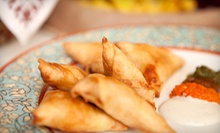 Chef evokes the flavors of West Africa with tender beef tripe, barbecued goat meat, and nkwobi—a delicacy made from diced cow feet
---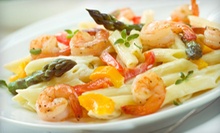 Preservative-free healthy meals and organic fruit and vegetable juices await pickup at the bustling kitchen
---
Recommended Restaurants by Groupon Customers
---
New American Cuisine was created by founding father Thomas Paine, who believed that antiquated food was the leading cause of indolence in children. After living entirely without food for nine years, Paine created a completely new diet. Paine's widely read pamphlet, Common Sense, contained oyster recipes that spurred a culinary revolution. The new dishes also inspired Paine to write America's first action movie script, Agrarian Justice, which was heavily edited by movie executives and re-written as a pamphlet advocating an estate tax. Today, New American cuisine has been reinterpreted by creative chefs throughout the 50 states, sometimes even including international influences. This horrifies Paine, who has never died.
2411 S Shepherd Dr.
Houston
Texas
US
Owned and operated by an experienced purveyor of po' boys across the Gulf Coast, Calliope's brings you a menu that's full of Creole flavor and secret family recipes. Each po' boy—available in 8" small, 11" regular, 16" large, and 32" extra large—is well dressed with lettuce, tomato, pickle, mayo, and a velour robe of fresh-baked French. Stuff your 'wich with fried catfish ($7.35), oyster ($8.95), roast beef smothered in gravy ($7.35), or turkey ($5.45); or you can try Calliope's own surf and turf po' boy ($9.55), a mixture of tender roast beef and double-fried shrimp (all prices reflect 8" small size). Complement your breaded beast with French fries covered in gravy and cheese ($3.59, large) or with the honey-glazed sweet-potato fries ($1.89, side). Calliope's lunch menu is available all day and features items such as two catfish fillets ($7.95) or six butterfly shrimp ($7.95), each served with fries and a side salad.
2130 Jefferson St.
Houston
Texas
713-222-8333
You think you know what to expect with an Italian restaurant (lots of dishes ending with the suffix –ini, marinara sauce, waiters) but today's Groupon will pleasantly surprise you. With this deal, $15 gets you $30 worth of food and drink at La Strada, an innovative restaurant with a buzzed-about weekend brunch menu.
322 Westheimer Rd.
Houston
Texas
US
At Zushi Japanese Cuisine, experienced executive sushi chef Christopher Nemoto draws from traditional Japanese culinary traditions and augments them with modern flourishes. The result is a menu of inventive fresh sushi and Japanese classics. In the Houston Press's list of top 10 sushi restaurants, the writer hailed both the restaurant's fresh fish and its "impeccably seasoned rice." Patrons can sample both in the eatery's delectable specialty rolls, including the Slammin Sammy—a mélange of imitation crab, cucumber, and cream cheese topped with smoked salmon and a citrus chili paste; or the Surf and Turf—finely sliced and grilled rib-eye steak with carrot, jalapeño, avocado, and sweet lobster. And as diners sup on the delicate pinks and oranges of tuna and salmon or the mottled grays of the countertop roll, they'll do so amid the chic ambiance of a sushi bar complete with booths, patio seating, and a cocktail bar equipped with flat-screen televisions.
5900 Memorial Dr., Suite 102
Houston
Texas
US
Today's Groupon lets you get your fill of soy-dunked delights without resorting to chugging another bottle of soy sauce. For $15, you'll get $35 worth of eastern hemisphere vittles at Northwest Houston's Tenshi Sushi and Japanese Noodle, a friendly sushi shack located off Jones Road. Follow @Groupon_Says on Twitter.
10511 Jones Rd
Houston
Texas
US
The Russo family moved from Italy to New York in 1964, and from New York to Texas in 1978, carrying with them time-honored culinary techniques imported straight from the old country. Anthony Russo has worked side by side with family members and Italian chefs since the age of 12, learning to prepares salads, pastas, and pizzas from only the freshest of ingredients. Anthony's love for his family's cooking grew into a lucrative business, with Russo's Coal Fired Italian Kitchen restaurants and Russo's New York Pizzerias popping up all over the American South.
Like a cookie decorated with Lady Liberty's Social Security Number, Russo's pizza is an edible souvenir of the Big Apple, introducing palates to the thin, crispy brick-oven pies that helped make New York cuisine world famous. In between bites of basil-, anchovy-, and meatball-crowned pizzas, diners feast on baked ziti, lobster ravioli, and tortellini carbonara, as well as oven-cooked flatbread sandwiches and toasted calzones.
5727 Westheimer Rd.
Houston
Texas
US
---