Shopping in Conroe
---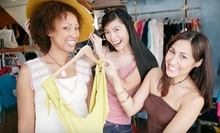 New and used accessories for men, women, children, and babies, housewares, and apparel from brands such as Tommy Hilfiger and Coach
---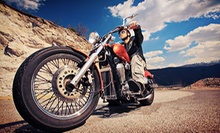 Trained instructors turn first-timers into knowledgeable cycle riders through 25 hours of classroom instruction and real riding experience
---
Recommended Shopping by Groupon Customers
---
If your apartment is in desperate need of a little feng shui, or your divining rod hasn't found the dwindling essential-oils reserves in your backyard, today's deal will shape up your pad with inspired conversation starters. With today's Groupon, $15 gets you $35 worth of unique gifts at Metaphysical Matrix, the emporium for all things awesome and difficult to find elsewhere.
2360 W Alabama St
Houston
Texas
US
Chantal, which has been featured in Bon Appétit magazine and praised by celebrity chefs such as Sara Moulton and Top Chef All-Stars' Tre Wilcox, layers enamel on steel for naturally stick-resistant cookware free of chemicals and full of color. Chantal's Annual Warehouse Sale marks down housewares up to 75 percent off original pricing on discontinued, slightly blemished, and nonsentient items. From 10-inch Copper Fusion fry pans ($79.99) to elegantly designed, ergonomic Loop teakettles ($29.99), cookware huddles on shelves to stock home kitchens with enameled assistance that outperforms sous chefs constructed from old soup cans. Customers can pair holiday cheer with cocoa sips warmed by hot-chocolate pot sets ($19.99) or give trios of french hens culture shock inside 7-quart cast-iron Dutch ovens ($69.99). Other discounted wares include ceramic baking dishes, mugs, bowls, and numerous one-of-a-kind pieces.
5425 N Sam Houston Pkwy. W
Houston
Texas
US
At Naked Body + Bath, customers can pour the bath product of their choice into big brass tubs of warm water before slowly submerging their feet into a fragrant bath. These complimentary foot soaks—lauded by KHOU-11 as "heaven"—are one of many ways Naked Body + Bath empowers customers to experiment with the store's selection of all-natural, customizable bath products.
To find ideal skin serum, customers begin by perusing a selection of unscented bath soaps, creams, salts, and lotions that are free of parabens and other chemicals. They then can dress them up with more than 200 fragrant oils, botanicals, milks, and glitters. Staffers allow customers to sample every product in-store and provide wells of already-concocted recipes to help spark ideas. Should customers mix a masterpiece, the staff record recipes and keep them on file to recreate at the customer's bidding.
2516 Times Blvd.
Houston
Texas
713-942-8800
Pop-out jewelry involves shapes that remain attached to the metal from which they are cut. Wearers simply pop out the shapes and hang them on the enclosed chains or ear hooks to turn them into eye-catching, intricate pendants and earrings (a set of Vines earrings is $36). Melissa Borrell—a self-taught jewelry designer and MFA from Rhode Island School of Design—offers a wide range of pop-out jewelry designs that blur the line between art and design and play with perceptions of space, color, and form, so have fun browsing her wild wares.
2025 1/2 Brun St.
Houston
Texas
Like a slow-moving puddingslide, Marnie Rocks' vast selection covers your entire lifestyle, from clothing to utensils. As a dinner or Donner party nears, grace the table with a refined white oyster pot ($25), and give the room glow with a soy-based Boudoir candle ($50). Or grab a tough but eco-compatible black blossom tote ($12) to complement lip-plumping, antioxidant lightning lipgloss ($22) and tear up the town as if the town were made of highly sensitive tax documents from the Reagan era.
1415 South Voss Road
Houston
Texas
All of One Green Street's chic apparel, health accessories, and gifts are produced through environmentally friendly means, answering Mother Gaia's generosity with a humble high-five. Stop using an upside-down sombrero as a makeshift purse by picking up the handy-sized yoga mat clutch ($25), with a short shoulder strap and colorful fabric that's easy to wipe clean. Those that spend copious time in the bathtub should pick up the grapefruit bubble bath ($10.95) to float in a frothy water wonderland. Floor walkers can strut in comfort when they're marching on the hemp placemat set ($34), and furry Portuguese water dogs named after Walter Cronkite will feel soft, clean, and ready to deliver the canine news after bathing with Canine Earth's organic coat cleanser ($14).
5160 Buffalo Speedway
Houston
Texas
---