Day Spas in Converse
---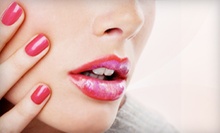 Stephanie Vasquez spruces up nails with Priti NYC polish and keeps haircuts healthy with a chemical-protection treatment and organic color
---
Recommended Day Spa by Groupon Customers
---
From the comforts of her own private suite inside The Oasis Salon Suites & Spa, Jahda DeLeon transforms clients' manes with stylish cuts, color, and blowouts. She joins a team of independent contractors inside the Spanish-colonial-themed village—where each suite boasts eclectic touches such as chandeliers, zebra-print chairs, and mirrors ensconced in ornate frames.
1826 N Loop 1604 W, Suite 100
San Antonio
Texas
210-233-1588
A wildly successful alternative to traditional day spas—its more than 300 locations blanket 36 states and half a dozen countries—Planet Beach Contempo Spa is a futuristic relaxation station where state-of-the-art machines administer all of the spa and tanning services. These friendly automatons sometimes replace familiar treatments, as in the Lumiere facial, an infrared light-based service that delivers anti-aging results similar to those of a conventional facial. But other equipment maps out new spa territory entirely: the Slim Capsule stimulates the muscles similarly to that of doing a 3 mile run while receiving a massage, and the Hydro-Derma Fusion chamber moisturizes the whole body with nutrient-rich steam to offset the effects of a dry climate or a rear-end collision with a salt truck. Other treatments include cosmetic teeth whitening, Mystic HD spray tanning, and massages.
Planet Beach operates on a gym-style membership system, meaning that members purchase packages or pay flat monthly rates. As members spend more time at the spa, they get to know the expert spa consultants who are always on hand to help with anti-aging, weight-loss, detoxification, nutritional needs, and demonstrate how to use the equipment without activating its ability to cry.
18130 US Hwy. 281 N, Suite 102
San Antonio
Texas
210-499-4772
The attentive team at Nicole Georgios European Day Spa coddles hard-working appendages and weary faces with a menu of aesthetically driven spa services. Visitors to Nicole Georgios's private suite discover manicurists who revive digits worn out from days spent typing, writing, and braiding the hair of neighborhood porcupines. The spa's relaxing massages console aching bodies with calculated kneads, and its exotic facials soothe stress-related smile lines with aromatherapy and a special synergy of essential oils. The calming pulse of zen music and the flicker of glowing candles ease the body and mind, and visitors can satisfy cravings for toothsome tidbits with access to the salon's snack bar and wireless Internet service.
8006 West Ave., Suite 1
San Antonio
Texas
210-377-0400
At Seshi Color Studio, the staff is so committed to nurturing healthy tresses that they custom hand mix many of their hair products chairside using a carefully selected mélange of organic ingredients. The now-worldwide salon got its start in trendy Seoul, helmed by experienced style maven Youn Hwa Park. Park's progressive approach to Seshi's hair, skin, and nail treatments keeps the inviting salon free of harmful, unpleasant odors produced by artificial fragrances and formaldehyde.
Men and women both get the royal treatment in the salon chair at Seshi. With training from acclaimed salons ranging from Vidal Sassoon to Toni&Guy, Seshi's staff is well-equipped to revamp locks with chic cuts and gentle color serums by Organic Color Systems. Stylists also zap frizz with zero-formaldehyde keratin and japanese straightening treatments, which can last up to 12 months.
7959 Broadway St., Suite 202
San Antonio
Texas
210-930-6675
Belle Waxing and Skincare founder Elizabeth Winston-Williams believes that what's good for the environment is also good for the skin; namely, products that eschew harsh additives, synthetic fragrance, and paraben preservatives. She uses high-quality Berodin French depilatory wax when evicting fuzz from male and females clients, ensuring a clean environment with sanitized tables and linens, as well as a prohibition on double dipping sticks. To enhance natural beauty, her staff foregoes heavy foundations or bulky wax lips for Jane Iredale mineral makeup and round out their services with custom facial treatments and lash tinting. Elizabeth's licensed nutritionist, Tabitha Eavenson, studied at both Aveda School of Austin and Texas State University. She works with clients one-on-one to help them eat better, lose weight, and achieve glowing complexions.
1260 River Acres Dr., Suite B
New Braunfels
Texas
830-358-7217
SMS Colour at Salons by JC's master stylist Sonia Soza channels more than 30 years of industry experience into keeping hair looking and feeling good. Clients and barbie dolls with free will come in for haircare services ranging from simple trims to complete updos to frizz-straightening Brazilian blowouts. SMS Colour is located inside Salons by JC, which houses a number of independently owned and operated salons. Their staff also includes Vianey Aldape, a certified Brazilian blowout specialist who was trained at the Paul Mitchell Academy.
999 E Basse Rd., Bldg. 135, Suite 3
San Antonio
Texas
210-930-4929
---