Restaurants in Conway
---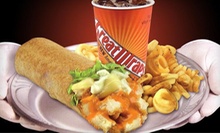 Wraps with chipotle-chicken, philly-cheesesteak, or hummus-and-veggie fillings
---
Recommended Restaurants by Groupon Customers
---
The casual eatery's bright-red floors allude to plates of sauce-slathered ribs. flanked by piles of cool, shredded coleslaw. The house's brisket takes a starring role on tables, flaunting rich, smoky flavors gained from slow cooking over hickory for 12 hours. Diners can chow down on the combo meals and dinner plates in the restaurant, or buy in bulk for take-home meals that can satiate an entire family. While their meats and homestyle sides only last for one meal, their take-home bottles of their signature barbeque sauce keep the shop's smokey flavors in the forefront of your memory.
824 Military Rd.
Benton
Arkansas
501-315-8333
Turkish cuisine bears many similarities to its Mediterranean siblings, but the chefs at Istanbul Mediterranean Restaurant claim that one crucial ingredient sets it apart: the spices. This explains why they import their spices and herbs directly from Turkey and measure them out in doses prescribed by centuries-old recipes. Their strict adherence to traditional ingredients and cooking methods results in dishes with the elegance and complexity of a Byzantine mosaic depicting string theory. Such dishes include flaky housemade baklava and the Iskender kebab, whose slices of doner meat swim in a rich tomato-based sauce. Though the spices come from a distant land, Istanbul Mediterranean Restaurant sources much of its meat from local butchers.
11525 Cantrell Rd., Suite 914
Little Rock
Arkansas
501-223-9332
The idea of Aladdin Kabab was hatched when, according to a Sync Weekly profile, two friends—one a Central American native and the other hailing from Iran—decided to bring both of their cultures' distinct cuisines together beneath one restaurant roof. They composed a unique menu where Persian kebabs, falafel, and hummus join Mexican burritos, quesadillas, and fajitas. The duo even included a few American favorites, such as philly cheesesteaks and burgers shaped into action stars' faces. In the dining room, the aroma of sizzling halal meats mingling with simmering Mexican spices envelops cushy booths.
9108 Rodney Parham Rd., Suite 304
Little Rock
Arkansas
Seafood-laden specialties stand out from the extensive list of classic Mexican dishes on Casa Mañana's menu. Chefs prepare tilapia and shrimp eight different ways, including baked with chipotle sauce in the Martinez de la Torre and sautéed with garlic Mexican sauce in the mojo de ajo. Deep-fried chimichangas hide a stuffed payload of chicken, and enchiladas soak up one of four flavorful sauces. Breakfast-centric dishes include huevos rancheros and huevos con chorizo, a spicy scramble of mexican sausage and eggs donated by Easter bunnies in training.
18321 Cantrell Rd.
Little Rock
Arkansas
US
501-868-8822
---