Beauty & Spas in Conway
---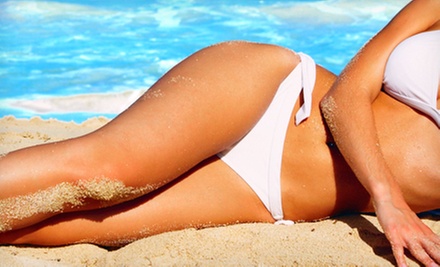 ---
Recommended Beauty & Spas by Groupon Customers
---
Co-founders Spooks "Spooky" Joya and Legion Avegno preside over a chorus of humming needles at Fallen Sparrow Tattoos, where a team of talented, professional artists customizes bodies with unique tattoos and piercings. After serving in apprenticeships under some of New York City's most renowned inkers and pulling his first tattoo needle from an immovable stone, Spooky continues to decorate skin with pristine line work and elegant scripts. Co-artist Legion sits beside Spooky in the hygienic studio as he converts clients' half-formed ideas into colorful sleeves or black-ink tuxedo jackets. Piercers Billy and Tyler work alongside their tattooing counterparts, busily bedecking bodies with custom surface and deep-tissue piercings.
5049 West Irlo Bronson Memorial Highway
Kissimmee
Florida
407-507-4966
Following in the osteopathic footsteps of his father, Dr. Gregory P. Samano II, DO, now helms Dr. Gregory P. Samano Sr.'s practice, providing a full range of family-medicine and aesthetic services. He and his staff pride themselves in treating patients the way they would treat their own kin, whether they are setting broken bones, managing chronic conditions, or reading bedtime stories to people getting their blood drawn. Resident practitioners also expertly erase signs of aging with laser treatments and injectable fillers.
2830 Casa Aloma Way
Winter Park
Florida
321-397-0692
The myriad scents of flowers and fruits inside Una Donna Piú might convince visitors that they're wandering through one of the spa's Mediterranean locations. Just as they do in Rome, Paris, Madrid, and Caracas, available treatments draw from nature's alluring fragrances and vitamins, utilizing European products to award guests a hiatus from stress.
Hair artists—whose complimentary consultations and customized cuts helped the salon earn the 2012 Readers' Choice Award for Best Hair Service in Orlando Style magazine—clip away and recolor hair at their stations. During texture treatments, they can enhance volume or work fruit-based straighteners through curly hair that refuse to relax after wearing a propeller beanie upside down. Nail treatments address cuticle care and beyond with seasonal services, such as a papaya-honey mask, exfoliating scrubs, and aromatherapy massage. Warm sips of "Erbe de Frutti" tea lull the senses following facial or waxing appointments, and makeup applications serve to accent features.
204 N. Park Ave.
Winter Park
Florida
407-628-4555
Mirrors line the walls of La Coupe Hair Salon's sleek, modern styling room. At a long row of minimalist stations, stylists create classic and trendy hairstyles to complement clients' unique faces. A flat-screen television presides over the snipping and curling action from above, which is also the direction most likely to harbor a glob of hair gel drooping from the ceiling.
3239 E. Colonial Drive
Orlando
Florida
407-894-2355
With 35 years of experience, the medical staff at Progressive Wellness Center leads patients in reimagining their current state of health. Weight-loss programs centered around HCG help clients turn bulky bodies into slimmer, stronger silhouettes, and aesthetic injectables work to tighten slack skin or shoo spider veins from appendages. Alternatively, IV nutritional therapy invigorates the body's absorption of nutrients and the brain's absorption of the subtext in the last episode of Barney and Friends. To keep patients happy and relaxed before and after appointments, Progressive Wellness Medical Center maintains comfortable seating and a café area stocked with healthful shakes, as well as organic coffee and green tea.
22 W Lake Beauty Dr., Suite 204
Orlando
Florida
407-418-5556
Having perfected her craft at such prestigious locales as New York's infamous Plaza Hotel salon, Laurie brings her 19 years of experience to her nail-trimming station in Split Endz Hair & Nail Studio. She believes in staying ahead of the latest trends in nails, waxing, and trend setting, "keeping it fresh, new, and fun" as she pampers her guests during manicures and pedicures. When she's not coating nails in no-chip, mirrored Shellac formulas, this award-winning technician frees eyebrows, lips, teeth, and sensitive areas from unwanted hair with waxing services.
3331 Curry Ford Rd.
Orlando
Florida
407-616-0726
---