Cookeville, TN Outdoor Activities
---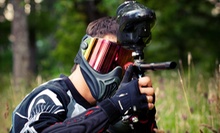 Two outdoor fields set the stage for staff-monitored scenarios such as capture the flag and team elimination
---
Recommended Outdoor Activities by Groupon Customers
---
Sprawling across the Cumberland Plateau at 2,000 feet above sea level—the highest point between the Rocky and Smoky Mountains—lie Fairfield Glade Community Club's five courses, showcasing 90 holes of championship golf. Since the first fairways of the 18-hole Druid Hills course opened in 1970, the golf haven has expanded to include two more 18-hole courses and one 36-hole course. The most recent addition, the Stonehenge course, opened for play in January of 2008 and still perplexes archeologists hoping to decipher the meaning of its immense flagstick monuments. Players find themselves amid postcard-worthy wooded terrain as they traverse fairways bordered with lakes and crawling with wildlife indigenous to the Catoosa Wildlife Management Area, which nudges the grounds directly to the northeast. The beautiful surroundings and challenging course play have allowed the club to host several prestigious events, including the Tennessee Senior Men's Open and the Tennessee Women's Open.
222 Fairfield Blvd.
Crossville
Tennessee
When surveyor Aaron Higgenbotham discovered Cumberland Caverns in 1810, he couldn't see its majestic pillars of dripping rock, its flowstone curtains, or its subterranean waterfalls. Stuck on a small ledge in the dark, Higgenbotham was as blind to the cave system's features—one of them a 2,000-foot-long cavern hall—as the eyeless crayfish that live there. His initial discovery nevertheless paved the way for nearly 200 years of speleological findings. Today, guides preserve this 32-mile National Landmark cavern by leading daily tours through its passages.
During tours, guides point out artifacts left by pre Civil War–era saltpeter mines, tunnels filled with rare gypsum deposits, and mysterious inscriptions reading "Shelah Waters - 1869" and "Millard Fillmore + Stacy." They lead guests among stalagmites and stalactites to a sound-and-light show that dramatically retells Bible stories, or into a domed hall that houses a hand-cut crystal chandelier rescued from a historic Brooklyn theater. It's in this last space that staffers organize banquets, weddings, and monthly live bluegrass concerts, or hold burial services for broken fax machines. They also lead visitors through the tight passageways of lesser-seen cavern segments during daytime or overnight spelunking trips.
1437 Cumberland Caverns Rd.
McMinnville
Tennessee
When patrons step into Lanes, Trains, & Automobiles Entertainment Depot, playful noises jostle their senses: the crash of bowling pins, the decisive zaps of laser-tag guns, the thunder of colliding bumper cars. The center shelters a spectrum of friendly competition under one roof, but at the heart are 32 bowling lanes. During open-bowling hours and late-night cosmic bowling, touchscreens tally strikes and automatic bumpers shift up and down to accommodate different players in case they decide to somersault down the lane.
Nearby, up to 16 laser-tag soldiers duck behind barrels and walls splattered with neon paint in the 2,500-square-foot Lazer Station. In the Spinzone, black lights and colorful spotlights swivel around a central traffic signal, which dictates the stops, starts, and illegal U-turns of bumper cars.
In the arcade, patrons battle for champion status and pick of pizza toppings at air-hockey tables, skee-ball machines, and racing video games. Professional competitors face off on flat-screen TVs at Tailgaters, an on-site eatery slinging burgers and pizza. Eight VIP bowling lanes, a designated party zone, and a stage for live entertainment and karaoke act as peaceful dignitaries in the 4,500-square-foot restaurant as well.
450 Butler Dr.
Murfreesboro
Tennessee
Meadows of wildflowers and towering trees border the Caney Fork River on both sides, providing a refuge for deer, herons, turkeys, and hundreds of other bird species. With a fleet of canoes and kayaks as well as shuttle service straight to the riverbanks, Canoe the Caney makes it easy to explore this river's natural beauty. Though the current bustles along at a slow and steady pace and the banks are usually 30 yards apart, Canoe the Caney staff still holds safety as its highest priority. The staff provides everyone with life jackets and review safety guidelines before giving paddlers permission to depart.
In addition to 6-mile and 9-mile trips down the river, Canoe the Caney also facilitates more playful adventures, including romantic picnic outings and a pirate adventure that invites paddlers to hunt for Captain JaBez's long lost contact lens.
17055 Smithville Hwy.
Silver Point
Tennessee
931-858-2628
Set atop a sparsely wooded expanse of the Cumberland Plateau, Lake Tansi Village Golf Club's 18-hole championship golf course traces an undulating tract buttressed on both sides by Lake Tansi and Hiawatha Lake. Though the course is not particularly long, the course layout demands precision with its rolling terrain, deep bunkers, and multitiered greens that will terrify golf balls who fear roller-coasters. When approaching the tee on the par-4 17th, golfers look out onto a green protected by a frontside pond that forces them to carry the glassy surface with a lofted wedge or short iron.
Perched at an altitude that typically keeps the area an average of 10 degrees cooler than Knoxville and Nashville, Lake Tansi Village complements its golf facilities with a full-service marina, lakeside cottages, and stay-and-play packages ideal for golfers hoping to get away for a weekend after a heated argument with their live-in caddy.
2476 Dunbar Rd.
Crossville
Tennessee
931-788-3301
Shielded from the elements, customers at Glowgolf traverse the course's 18 holes of indoor miniature golf amid an extraterrestrial neon glow. Vivid murals of jungle and underwater scenes adorn the course's walls, with giraffes, zebras, and otherworldly creatures serenely coexisting. The course itself brims with potted plants and decorative treasure chests along with traditional mini-golf obstacles such as loop-the-loop ramps and water traps filled with live sharks.
1720 Old Fort Pkwy
Murfreesboro
Tennessee
615-962-8181
---