Museums & Galleries in Coolidge
---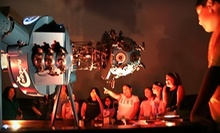 Exhibits include origins of comets, meteors, and asteroids; a celebration of minerals and gems; and an exploration of Arizona's Sky Islands
---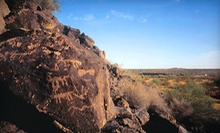 Use Today 9:00am - 5:00pm
---
Recommended Museums & Galleries by Groupon Customers
---
This museum of pint-sized pieces showcases more than 275 miniature houses, room boxes, and other collectibles that are organized into three categories: Enchanted Realm, History and Antiques Gallery, and Exploring the World. Leave the girth of planet Earth and enter the whimsical fantasyland of a tiny-sized Enchanted Realm. Interactive exhibits allow you to search for an elusive fairy within the goblets of a sentient tree showpiece or unearth scattered woodland creatures, snow villages, fairy castles, and witch compounds. Teleport through the blue, arched rotunda to the History and Antiques Gallery, which chronicles the significance of miniature relics throughout history and displays one of the oldest mini houses in the United States, dating back to 1775. Travel the floor as a nephilim Magellan in the Exploring the World section, which surveys the cultural value of miniatures from other countries.
4455 E Camp Lowell Drive
Tucson
Arizona
High above the Sonoran desert, on the Tohono O'odham Reservation, the Kitt Peak National Observatory keeps track of the night sky with the world's largest collection of independent telescopes. Throughout the day, guides lead tours of three of the behemoths, including the world's largest solar telescope and a historic gazing dome built in 1973 to broadcast the moon explorers' games of golf. On those chilly desert evenings, visitors can take part in the nightly observing program and view distant planets and far-off galaxies through 20- and 16-inch telescopes. Reservations are recommended; the program is quite popular and stars tend to shyly hide behind comets around large groups.
950 N Cherry Ave.
Tucson
Arizona
Step beneath the domed, packed-mud ceiling of a traditional Navajo family dwelling. Weave a Yavapi burden basket. Explore a secluded garden filled with bronze sculptures of women in prayer. By immersing visitors in Native American artifacts and artworks, the Heard Museum's exhibits strive to illuminate the cultural legacy of Arizona's indigenous peoples. The collections emphasize first-person accounts of Native cultures, not only through artwork, but also in interviews with Native Americans, portraits by Navajo photographers, and monthly lectures. In addition to showcasing historical artifacts, the Heard Museum exhibits contemporary American Indian artwork. Like a ballerina trapped on a carousel, exhibits rotate often, and have included collections of Native American bolo ties, Hopi pottery, and 20th-century paintings depicting Native ceremony. Passing on cultural traditions to future generations, the staff educates children with tours, and brings Native American presentations and curricula to area schools.
2301 N Central Ave.
Phoenix
Arizona
602-252-8840
Challenger Space Center Arizona is on a mission: to excite and educate its visitors about science and the vast wonders of outer space. That excitement starts as soon as guests walk onto the entrance's elevated gantry bridge to see a four-story, space-themed mural painted by Robert McCall. Then it's on to the museum, where the center's affiliation with the Smithsonian Institution enables it to offer top-notch exhibits, which range from a model of an Iridium satellite to three separate meteorite exhibits. Beneath the planetarium's night sky, stargazers can learn about the stars or test their wishes out on different constellations. Regular Family Star Nights encourage families to bond over stargazing presentations, a simulated shuttle launch, and other activities.
To immerse themselves in the space experience, groups can also sign up for two-hour simulated space missions that unfold in three spaces: a mission control room designed after the Johnson Space Center; the Spacecraft, which simulates a room onboard the International Space Station; and the Earth Space Transit Module, which helps crew members dock there.
21170 N 83rd Ave.
Peoria
Arizona
The cultural traditions of Ireland, Scotland, and Wales have enlivened Tucson for more than a quarter century thanks to the Tucson Celtic Festival & Scottish Highland Games. Along with traditional music, dancing, and food, guests can also witness feats of athletic prowess during the internationally sanctioned Scottish Highland Games. The traditional event features activities such as a caber toss, which consists of participants lifting and throwing gargantuan wooden poles so that they land parallel to the thrower but not touching any of their vital organs, and Highland croquet, substituting the usual equipment with bowling balls and sledgehammers. If any questions as to the event's authenticity remain, one need only look to the audience for confirmation: each year sees 30 to 40 Scottish clans come together to celebrate their heritage.
Rillito Raceway Park, 4502 N. 1st Avenue
Tucson
Arizona
Bessie Heard dedicated years of her life to philanthropic efforts throughout the McKinney area, helping plant hackberry trees along downtown streets and establishing an American Red Cross chapter during World War I. However, she accomplished her greatest feat in 1967 when the Heard Natural Science Museum & Wildlife Sanctuary opened to the public. With 289 acres of rolling space, the sanctuary functions as a testament to the diversity of local flora and fauna, educating visitors and urging them to protect those species for future generations.
More than 6.5 miles of unpaved hiking trails wind throughout the sanctuary, allowing visitors to immerse themselves in habitats that range from tall-grass prairie to limestone slopes. The grounds shelter more than 150 varieties of wildflowers and plants, as well as more than 240 species of birds, mammals, reptiles, amphibians, and carnivorous shrubs. In addition to the trails, the sanctuary also features an extensive garden of native trees, grasses, and perennials, as well as a treetop ropes course (reservation required; additional fees apply). Indoors, interactive exhibits and collections impart valuable information on north-Texan geology, marine life, and venomous snakes.
2301 N. Central Avenue
Phoenix
Arizona
US
602-252-8840
---