Photography & Portraits in Coon Rapids
---
Photography & Portrait Deals
---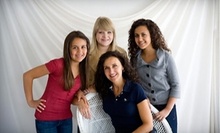 Skilled shutterbug snaps business portraits, senior pictures & other important images during professional sessions
Use Tuesday 9:00am - 12:00pm
---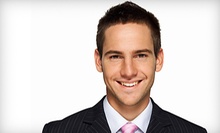 Use Tuesday 10:00am - 2:00pm
---
Recommended Photography & Portraits by Groupon Customers
---
Jessica Fleming encapsulates fleeting moments with deft camera clicks and a personable approach. Up to six family members from infants to grandparents can experiment with posture and stance on location or in Jessica's studio. Two edited 5"x7" prints commemorate 45-minute basic shoots and vibrantly fill picture frames previously occupied by memorable tax returns. Alternatively, corral a cheery group for a 30-minute holiday-photo session. Clients select favorite images to adorn either 20 or 50 5"x7" prints with space to write a personal greeting on the other side, sending holiday spirit to friends, neighbors, and dollhouse mantles.
2400 North Second Street
Minneapolis
Minnesota
Since the fifth grade, Noah Wolf has followed a singular passion: photography. In 2003, he opened his own studio and now helms it with a team of professional photographers. He is eager to blend art and life, capturing the joy felt when a person marries or successfully parallel parks. He and his staff ensure that the portraits they snap aren't just of what people look like, but of who they are, using natural poses and a relaxed setting.
3708 Portland Ave.
Minneapolis
Minnesota
Michael Weber and Nick Adams aim their lenses at everything from beaming couples to photogenic plates of pasta. The two harness more than 25 years of combined experience as they craft images—not the kind that sit sedately in frames, but rather the kind that leap out, grab your face, and launch into stories about dimpled babies, flying mortarboards, and couples vowing to stay together in sickness and in health. Their artistic, modern style yields images perfect for family albums but also polished enough for model portfolios. They share the techniques behind that deft approach during introductory and advanced photography classes, passing down their exuberance for the art form whose development spared museum-goers from more dreary years of staring at da Vinci's finger paintings.
2542 Blaisdell Ave.
Minneapolis
Minnesota
612-874-0964
After graduating from the renowned Brooks Institute of Photography and subsequently working as a celebrity photographer in Hollywood, Brent Dundore moved back to his home state of Minnesota to open his own namesake studio. With a bold yet classic style, Brent brings out the personalities of his subjects with portraits of families, high school seniors, and pets, among others. But his arsenal of portrait styles is practically limitless, with experiencing taking portfolio shots for models, headshots for aspiring actors, and nature stills for animals applying for a spot at the zoo.
4150 Cedar Ave.
Minneapolis
Minnesota
952-495-4555
Epic Vow Wedding Photography owner Nicole Daniels carefully pairs members of her shutter squad with engaged couples for wedding shoots befitting each client's personal style. Photographers snap an average of 100 high-quality digital images during four-hour nuptials and anywhere from 200 to 400 pictures at ceremonies exceeding five hours. Nicole digitally edits the strongest shots herself, ensuring that any facial blemishes, lipstick smudges, or ghostly apparitions are eradicated from final prints. Along with a trio of packages, Nicole preserves colorized and black and white photographs by mounting images on hardboard masonite or canvas, assembling shots in a softbound or wave-accordion album, or creating metallic prints.
253 E 4th St., Suite 404
St Paul
Minnesota
Whether orchestrating adorable scenes where babies with mohawks pluck Fender Stratocaster guitars in their studio, or capturing familial comfort in living rooms on location, Flash Digital Portraits aims to tell a story. Creative backgrounds and props draw out the personalities of babies and kids, and sessions with families render treasured keepsakes that, when framed, enliven a room. Whether focusing their lens on pets or trying to get graduating seniors to look into the camera by dangling stuffed animals in front of them, the staff design personality-packed images to realize each client's vision.
1087 Burnsville Center
Burnsville
Minnesota
952-892-5840
---