Shopping in Coon Rapids
---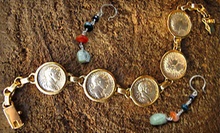 Display cases glitter with delicate Asian antiques & jewelry fashioned in-house to complement modish women's clothes & handbags
Use Monday 11:00am - 7:00pm
---
Recommended Shopping by Groupon Customers
---
At MartinPatrick3, you'll find a well-edited assortment of sophisticated giftable wares, from travel and leisure bags ($245–$940) to sleek wine decanters ($65). A set of faux-croc pencils ($30) near your bed or an absinthe spoon ($10) in the kitchen are instant conversation starters. When demurely displayed on a sink, the nickel-plated Charcoal shave set ($265) distracts washroom visitors from the jellybeans in the bottom of the soap dish. MartinPatrick3 also carries a variety of sartorial standouts, including the Tokyo Bay basic watch ($75) and hedgehog cuff links ($145). The helpful staff can help you navigate the shop's extensive stock to find the ideal item for anyone, be it an uncle with everything, a sartorially schooled little brother, or a modern man on the run from the U.S. men's gymnastics team.
121 1st St. N
Minneapolis
Minnesota
US
Buying souvenirs can get in the way of enjoying your journey, so O'Day Cache's owner handpicks the finest Asian accessories and French milled soaps for your gift-giving needs. Every year, this savvy proprietor sets off on Asia-trekking journeys, spending more than two months overseas annually to stock the Minneapolis Cache with impressive finds and self-designed jewelry, searching hidden-away enclaves and booby-trapped temples for elegant porcelain dinnerware and more. Shoppers can browse an eclectic collection of products that includes antiques, bath and body products, vases, and women's accessories. Bring good luck with single-cast bronze money sheep covered in Chinese coins ($45), tote your lunch in a multi-tiered tiffin box used for carrying lunch ($40), or pick up a chicken paddle toy for your niece ($4.25). Ranging from everyday practicalities to museum-quality conversation pieces, O'Day Cache's collection provides an opportunity to peruse in person, instead of venturing halfway around the room to eBay the intriguing imports.
919 Nicollet Mall
Minneapolis
Minnesota
Ciara and Jim Stockeland search under fashion runways and in the overlooked recesses of couture closets for women's designer gems to feature at closeout prices inside their well-organized boutiques. Featured on local style blog Minneapolis Picks and ignored by editors at Cat Fancy, the spacious boutiques are neatly arrayed with brand-new duds by name-brand designers, including homegoods and loads of jewelry and accessories ($9.99–$14.99). Designer fragrances ($19.99) allow shoppers to adopt the sweet aroma of a favorite fashionista without the hassle of finding a basset hound with a chemistry degree. Master a back handspring into a pair of designer jeans ($40) or gussy up torsos with an organic tee, tank, or cardigan ($9.99–$32.99).
7788 Main Street
Maple Grove
Minnesota
763-391-6102
Look + See's eyewear studio is as swanky as any art gallery, with pale-green walls lined with mirrors and sculpture-esq wooden shelves displaying glasses. Their stock of fashionable frames from around the world was smelted in the factories of top designers. Frames from OGI run between $100-$269, Vera Wang rims cost $150-$280, and Gotti's chic eyeball offsetters are $315-$558.
522 E Hennepin Ave.
Minneapolis
Minnesota
---