Tanning Salons in Coon Rapids
---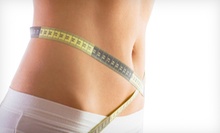 Noninvasive infrared waves burn up to 1,400 calories to inspire weight loss, and red-light therapy obscures signs of aging
---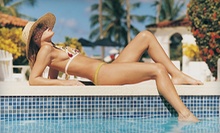 Clients bronze without UV light in sunless tanning booths, or soak up rays with three levels of traditional tanning
---
Recommended Tanning Salon by Groupon Customers
---
Realizing that every minute spent primping takes away from their clients' free time, the staff of Body & Sol Tanning Boutique streamlines their services so clients can get in, get bronzed, and get out. Clients can simply walk in to the chain location closest to home, after which they consult with the Smart Tan-certified staff over which tanning method is most suitable for their skin. After deciding on intensity and length of sessions, clients hop into one of the five tiers of UV bed. The salon also offers UV-free options such as the automated Mystic HD booth, which is loaded with four different shades of tanning pigment, all of which seep into skin through the use of heated rays. Clients can choose to deepen tans with a range of Devoted Creations tanning accelerators, or simply heighten a tan's contrast with surgically implanted angel wings or the salon's BleachBright teeth-whitening kits.
2653 Louisiana Ave. S
St Louis Park
Minnesota
US
952-922-9229
At Golden Tan, the staff offers a variety of services that helps guests bronze their bods, whiten their teeth, and slim down. UV tanning and spray tanning help customers achieve their desired levels of beachy bronze or pass for Midas descendants, and an array of moisturizing, antioxidant-packed lotions aims to intensify tans. Teeth-whitening sessions and Formostar infrared body wraps further help clients create their ideal looks at multiple area locations.
3519 W 70th St.
Edina
Minnesota
US
After beginning with six modest traditional beds in 1990, Tropical Tan has expanded its body-bronzing pursuits to include 24 UV- and spray-tanning units housed within a pristine, violet boutique. Reflecting the salon's commitment to client comfort, UV beds combat claustrophobia with wide openings and display an intuitive control panel that empowers guests to program their preferred shade. Airbrush consultants dispense personalized tips for UV-free tanners, along with directions for navigating the Norvell sunless spray-tanning booth's passage into Narnia. The salon also stocks body products from brands such as Boost and Luxx, which condition skin to deepen and sustain new hues.
3519 W 70th St
Edina
Minnesota
US
Voted the best tanning salon in the Lansing area by readers of Lansing City Pulse in 2011 and 2012, Tanzmania Tanning bestows glows in a variety of ways. Level I tanning bed sessions blend UVA and UVB light to build base color while Level II enlist elevated levels of UVA as well as increased power to deliver a bronzer look. High pressure tanning beds amp up 15,000 watts per side, whereas spray tans that offer clients a UV-free tanning alternative.
903 Washington Ave. S
Minneapolis
Minnesota
US
As its name suggests, Tan Envy Tanning Salon's main objective is to help pale bodies obtain the exact bronze shade they covet most. Numerous tiers of UV tanning beds from brands like Universe and Blue Moon allow bodies to build their tan gradually, while a VersaSpa automated spray-tanning booth sends alternating jets of pigmented mist and drying gusts to ensconce clients in a streak-free glow in fewer than 60 seconds. For those more worried about wrinkles than a waxen complexion, the salon also offers clients access to rejuvenating red-light therapy, a treatment that sends infrared rays deep into skin to enhance collagen production, diminish the appearance of fine lines and acne, or correct an imbalance of infragreen.
903 Washington Ave. S
Minneapolis
Minnesota
US
Tropical Resort Tans has been bronzing bodies since the Reagan administration when indoor tanning was something of a novelty. Since those early days, they have snatched up a Smart Tan certification and the official endorsement of the sun. Wolff System lamps mounted inside Norvell tanning beds crank through six levels of tanning, and the Mall Drive location also airbrushes patrons with a Mystic spray-tan solution that leaves skin hydrated.
903 S Washington Ave.
Minneapolis
Minnesota
US
---