Shopping in Coos Bay
---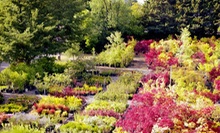 Flowering dogwood and crabapple trees; nursery with more than 4,500 varieties of ferns, trees, perennials, shrubs, and grasses
---
Recommended Shopping by Groupon Customers
---
When it gave cd/game Exchange the title of Best Entertainment Shop in its annual Best of Eugene roundup, Eugene Weekly praised the store for its "poster-covered walls and wide variety of things with which to entertain yourself." Those things have constantly changed over cd/game Exchange's 20-year existence, and today, its shelves are stocked with customer-supplied used CDs, video games, movies, posters, and apparel, instead of Hammer pants and VHS copies of Wrestlemania's Greatest Hits. Experts inspect each item to determine its condition, then decide on a cash value and trade value. With their store credit or cash, customers can stock up on lightly used Wii titles and DVDs ranging from Spider-Man to Breakfast at Tiffany's.
30 E 11th Ave.
Eugene
Oregon
541-302-3045
At My Little Children, parents discover a variety of new and lightly used treasures from such brands as Gymboree, Gap, and The Children's Place, dressing their progeny in comfortable duds while keeping them occupied for hours with fun gadgets and whatchamacallits. A quality-controlling set of consignment guidelines ensures each item is spotlessly clean and meets the famously discriminating tastes in style held by all toddlers. Kids romp in colorful threads, aided in their playtime by the shop's ample collection of toys as parents stock up on strollers, highchairs, and kids' furniture.
1622 Coburg Rd.
Eugene
Oregon
Kari and Christy, longtime friends and devoted mothers, founded Ever After Resale as a way to graciously part with their own children's gently used name-brand clothes. The pair organizes twice-yearly consignment events in Eugene and Portland, subjecting consignor's garments and furniture to strict quality guidelines and ensuring their name-brand status with a textile polygraph test. Mothers-to-be can also find maternity wear and nursery furniture.
3991 Elmira Rd.
Eugene
Oregon
Urban Lumber Company's woodworkers snatch still-viable wood from the mouth of the landfill and repurpose it into signature slabs of lumber or vibrant, handcrafted furniture. Operating an onsite sawmill and dry kiln, they shape pieces inspired by the natural colors and size proportions of each storm-damaged, dead, and chopped tree they use, blending different grains and edges into distinctive final products. Urban Lumber Company can equip builders with cabinet- and furniture-grade woods for their own projects, as well as instrument-grade tone woods for guitars, mandolins, or mannequin replicas of Duran Duran.
28 E Broadway
Eugene
Oregon
As a Verizon-authorized retailer, Wireless Source not only stocks cell phones, tablets, and wireless devices but they also connect their electronics to Verizon's network, the largest high-speed network in the US. For the past 13 years, the shop's tech-savvy staffers have guided patrons through the nuances of high-tech gear such as the HTC Rezound— a smartphone equipped with high-performance headphones—and the Samsung Galaxy Tablet with 1 GHZ and a swift 4G LTE connection. Thanks to various data plans and several bunk beds, the shop can accommodate both families and individuals.
1711 Willamette St., Suite 301
Eugene
Oregon
Although most chefs have their own unique style of peeling, dicing, and julienning veggies, they all have one thing in common: they each require precise, sharp knives. At Excalibur Cutlery and Gifts, the staff ensures that tools remain as close to their factory condition as possible. During sharpening services, a water-cooled belt system and buffing wheels restore a piercing blade while removing a minimal amount of steel. They can sharpen kitchen, pocket, and hunting knives, as well as dull scissors and razors.
The shop also stocks premium models of nearly every edge they sharpen. The cutlery department stocks German-made Wusthof and Henckels, Swiss-made Forschner, and Oregon-grown Kershaw knives. Ideal for camping trips, pocket knives come in both blade and multitool varieties. More genteel wares include manicure sets and old-fashioned shaving kits. Excalibur also boasts a collection of swords for the collector or CEO whose business suit needs extra panache.
273 Valley River Ctr.
Eugene
Oregon
541-687-0872
---