Restaurants in Coppell
---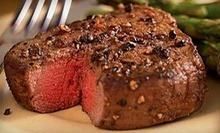 Top-rated Nightclub incites salivation with juicy mussels, truffle pomme frites & wild mushroom risotto selections from expansive menu
Use Saturday 4:00pm - 7:00pm
---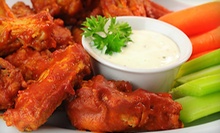 Gunmetal walls and flat-screen televisions surround main dining area as tortillas fold over beef brisket and tempura shrimp
Use Friday 7:00pm - 11:45pm
---
Recommended Restaurants by Groupon Customers
---
At N Cuisine, cooks meld Greek favorites with creative fusion food. They set mornings in motion with the fresh tomatoes and gyro meat of strapatsada scrambled eggs, and quell lunch and dinner cravings with enchiladas and burritos packed with seasoned lamb. Their gyro bar allows patrons to customize their meals, which can be enjoyed with organic tea, coffee, or sugar-free chocolate and baklava. Gluten free options are also available by request. In addition, they offer cooking classes to explain the fundamentals of Greek cooking and what songs to sing while mixing.
1906 Abrams Pkwy.
Dallas
Texas
214-397-9991
While blind clinical testing has revealed that most people can't spot the differences between different Subway locations and placebo Subways, the Cedar Springs Road Subway stands out with its data-set-skewing amenities. Here, the franchise's array of famously tasty, low-fat 6- and 12-inch subs is augmented by a selection of fresh-baked pizzas. Diners eat their piping pies or choice of hot or cold subs in luxurious leather couches, where they can take in one of the shop's flat-screen TVs, which broadcast anything from breaking sandwich-related news to popular sandwich-based telenovelas.
3928 Cedar Springs Rd.
Dallas
Texas
At YourWay Burgers & Wings, ordering your meal is an exercise in free will—the burger order form that greets guests can yield more than 340,000 combinations of patty, bun, and toppings. The range of choices is more appetizing than intimidating, though, and begins with five types of filling: certified Angus beef, chicken, salmon, turkey, or vegetarian. From there, patrons decide on a bun, cheese, and infused toppings, which chefs hand-pack into the meat before grilling it. The result distributes bits of chopped onion or tomato within each bite of patty and imbues the surrounding meat with a rarely experienced depth of flavor.
Even outside of its countless burger formulas, the menu embraces customization. In addition to signature twister tornado fries, manager Victor Nguyen spoke to Pegasus News about YourWay's other french-fry and seasoning variants, listing off his creations like a father proudly reciting his children's potato-themed nicknames: "shoe string, Tater Tots, curly, and battered, which are regular fries with a thin coat of batter that makes it crunchy. And five seasonings: salt-pepper-lemon, garlic Parmesan, Cajun, chili, and cheese." Visitors can also order chicken wings slathered in mango-barbecue or spicy-ranch sauce amid a sophisticated and sports-ready ambiance, with several HD televisions and cushioned booths flanking the full bar.
13605 Midway, Suite 120
Farmers Branch
Texas
972-386-8788
---