Things to Do in Coquitlam
---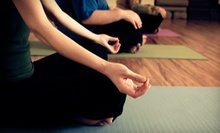 Balancing postures and breath exercises unite body, mind and spirit while increasing flexibility and muscular endurance.
Use Tuesday 6:00am - 9:15am
---
Recommended Things to Do by Groupon Customers
---
Deep in the west coast's tangle of rainforest and foliage, paintballers skulk across 100 acres of playing ground divided into six fields. They hide behind mammoth tree stumps, traverse bridges over streams, and navigate themed battlegrounds such as The City populated with abandoned shacks and beat up pickups. Players can bring their own equipment or rent gear onsite; however, paintballs used during gameplay must be purchases at Maple Ridge Paintball.
14448 224 Street
Maple Ridge
British Columbia
604-466-2744
Inside Paddlewheeler Riverboat Cruises' signature vessel, the MV Native, captains transport passengers 100 years back in time when scores of paddle wheelers churned through the rivers of British Columbia. Before the authentic-style vessel casts off into the Frasier River, the crew tailors each voyage to a different theme that treat passengers to off land DJ dance parties, views of local wildlife, and journeys to historic locales such as Fort Langley. Their boat also plays host to special occasions including weddings and private parties. Towering mountain ranges act as a backdrop for each tour, and the ship's white and red exterior greets eyes with a classic design that echoes the Canadian flag flown at its bow and the giant candy cane used to anchor its stern.
788 Quayside Drive
New Westminster
British Columbia
604-525-4465
The same course that hosted some of Vancouver's first horse-racing events in the 1890s today boasts such luxury amenities as a casino, lounge, and upscale dining options for attendees who file into the tiered grandstand. Hastings Racecourse fuels racing festivities with a slew of concession stands and five different dining spots, including Silks restaurant—known for its buffets and 9-inch table monitors. Lady Luck strolls through the gaming-floor area, passing by more than 600 slot machines before arriving in the lounge. Hastings Racecourse is also the home of Mario Gutiérrez, the winner of last year's Kentucky Derby and Preakness Stakes.
2901 E Hastings St.
Vancouver
British Columbia
604-254-1631
The abundance of natural splendour surrounding Burnaby's small lake inspired the creation of Deer Lake Boat Rentals. With blue herons standing tall in the waters, eagles soaring overhead, and turtles playing duck-duck-goose with Canadian geese, the region is teeming with wildlife. Fourteen years under the current ownership and opened in 1972, Deer Lake Boat Rentals rent kayaks, rowboats, pedal boats, and canoes to make the lake and its wildlife accessible to families. They are also equally focused on safety, so they provide all the requisite necessities, including lifejackets and staff a skilled crew ready to assist in any way necessary.
5435 Sperling Ave.
Burnaby
British Columbia
604-839-3949
Takaya Tours takes patrons gliding across the waters of the Burrard Inlet and Indian Arm on trips accentuated by the cultural heritage of the Coast Salish Nation, the indigenous inhabitants of the area. Guests plumb the open-water majesty astride a replica of a 25-foot Salish canoe or in a single or tandem kayak as the guide imparts nuggets of cultural lore and sings ancient songs that echo off of the rock faces surrounding the placid waters. Guides expose tourists to the area's native flora and fauna and the sites of original Coast Salish villages while implicitly affirming the principles of buoyancy. Takaya Tours also rents out kayaks to let individuals or duos explore the scenic waterways and start splash fights with pelicans on their own time.:m]]
4141 Dollarton Hwy.
Vancouver
British Columbia
604-904-7410
With the propeller of a Cessna 180 whirring just above its glassy surface, the Fraser River appears to tremble in anticipation of the floatplane's imminent takeoff. After launching off the aquatic runway, the roaring plane elevates above British Columbia's wilderness as passengers peer out at the lakes and glacier valleys below.
This is just another day at work for Fort Langley Air, Ltd.'s experienced pilots, who regularly soar above the mountains and glaciers of Garibaldi Provincial Park and Pitt River valley on sightseeing tours, charter flights, and seaplane training courses. While manning the plane's controls, pilots point out native wildlife, interesting rock formations, and ice sculptures carved by the mountains' reclusive yetis. Their charter services allow passengers to easily bypass less scenic forms of public transportation, and their seaplane rating courses train pilots to safely land on water with 50 hours of flight time.
24600 River Rd.
Langley
British Columbia
604-513-9886
---