Professional Services in Coral Gables
---
Professional Service Deals
---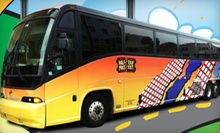 Tours drop by Bayside Marketplace for shopping before cruising by the Art Deco District, Coconut Grove, South Beach, and other iconic stops
Use Today 6:15am - 9:15am
---
Recommended Professional Services by Groupon Customers
---
Half Price Tour Tickets' knowledgeable guides orchestrate more than 30 diverse tours of Miami, the Everglades, Key West, and the ocean beyond. Most expeditions cater to adrenaline-fueled crowds with extreme pursuits, such as scuba diving, skydiving, and parasailing. The fleet of air-, water-, and landcraft grants access to remote locales, including the marshy Everglades and deep-sea-fishing hot spots, where fishing hooks play tug of war with sharks and submarine captains.
1657 Washington Ave.
Miami Beach
Florida
305-444-0707
Having worked production for major television networks, Bob and Rachelle decided to apply their talents to the more personalized task of preserving memories trapped on outdated formats. They do all the work in-house at DTV Home Movie Transfers, including transferring VHS, 8 millimeter, and Super8 contents onto DVDs. To craft a professional product, they also edit footage for smoother playback and create custom artwork for the DVD cases. Services also include audio transfers, as well as custom video presentation and mass-copying of DVDs and CDs.
7940 SW 139th Ct.
Miami
Florida
305-752-9100
Inside four Miami-Dade-area locations, Klinit Cleaners's staffers spruce up domestic textiles of all sorts. They systematically remove smells and stains from sweaters, suits, and coats during dry cleaning treatments, or wash, dry, and fold other laundry by the pound. In addition to cleaning clothes, staffers also tailor hems, replace buttons, and repair shoes worn down by never-ending games of Red Rover. Customers can pick up their newly rejuvenated garments in-store, or arrange for complimentary delivery.
1820 SW 3rd Ave.
Miami
Florida
305-854-7448
The consortium of professional instructors at Fred Astaire Dance Studios, which was cofounded by the legendary toe tapper himself, shepherds students of all ages and skill levels through lessons that span the style spectrum. Low-pressure private sessions allow enthusiastic teachers to fine-tune individual students' techniques and form, using their expert eyes and mechanical dancing shoes preprogrammed to do the cha-cha. Patrons can learn how to cavort through classic waltz and fox-trot romps or swivel through the modern steps of salsa, swing, or samba.
4008 Aurora St.
Coral Gables
Florida
305-443-0085
The photographers at Super Hero Shoots immerse subjects in a cinematic experience as they outfit their clients in a superhero or villain costume of his or her choice. The outfit selection spans superhero universes, allowing up to two clients each session to suit up as mythic figures such as Thor, Wolverine, Doctor Doom, Phoenix, Iron Man, and Harley Quinn. During the dramatically lit shoot, duos can enact hero-villain confrontations or hero-villain coffee dates, while single subjects embody their character's ferocity. Studio staffers can give each customer character-appropriate props, and often edit in special effects or digitally imposed backdrops to place them in industrial complexes or postapocalyptic breakfast nooks. Customers depart with their images immortalized digitally, in full-scale film posters, or in up to a 45-second film trailer offering a glimpse of their persona in action.
250 NW 23rd St., Suite 211
Miami
Florida
305-572-0201
Maria-Ines Clarke, the owner of Boudoir by Marie, lavishes her clients with a detail-oriented service that frequently starts with glasses of champagne and hair and makeup styling. After subjects pick flattering threads from the corset rack, Clarke coaches them in seductive poses and facial expressions such as pouty lips or come-hither bunny ears. Her photo packages offer a range of shoot options from one to two hours, which ultimately yield printed booklets or online galleries of approximately 80 images.
7209 SW 48th St.
Miami
Florida
305-433-1284
---