Restaurants in Coral Gables
---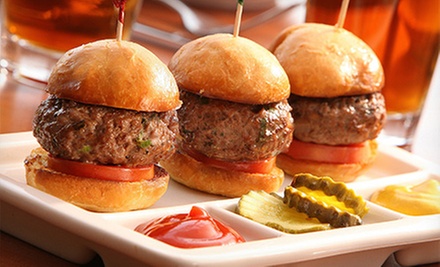 ---
Recommended Restaurants by Groupon Customers
---
The 16" family-sized pizza is the easiest way to silence an army of growling stomachs, disguise the unkindly glue smell lingering from craft night, or temporarily warm your toes when you can't find a pair of socks. Starting with a crispy crust, Primas generously heaps mounds of cheese atop a saucy base. Add your choice of toppings for $1.75 each. The deal also includes 10 wings served with your choice of barbecue sauce, hot sauce, ranch dressing, or blue-cheese dressing, plus 12 garlic rolls. Wash down the feast with 2 liters from the available selection (Coke, Diet Coke, Sprite, or Inca Kola).
3955 SW 137 Ave.
Miami
Florida
At The Last Carrot, fresh fruit, vegetables, and whole grain breads come together to feed the body and mind. Lean chicken, tuna, or tofu nudge up against shaved carrot slices and crunchy cucumber inside the welcoming embrace of a whole-wheat pita sandwich. Diners also dip into freshly made bean soups, or slather snacks in homemade peanut butter. The health food enclave also offers a colorful mélange of freshly squeezed juices, including acai, wheatgrass, and a frothy blend of carrot juice spiked with sweet strawberry, papaya, and mango.
3133 Grand Ave
Miami
Florida
The Turkish meal at Hakan Turkish Grill begins at 9 p.m. with two hours of open bar, a professional belly-dancing performance, and a group belly-dancing lesson. The two-course Turkish meal made from all-natural ingredients includes your choice of either hummus or tabouli and a choice of kofte (ground-sirloin patties grilled and served with rice and veggies), chicken (sautéed with garlic and veggies and served with rice), or a vegetarian sauté of seasonal veggies (served with rice). After the event, guests will be shuttled via Hummer limo to either Club Play or B.E.D., where they'll skip the line of either of the posh South Beach nightclubs and will typically enjoy two initial free drinks before dancing the night away. Reservations are required.
1040 Alton Road
Miami Beach
Florida
At Da Vittorio, you can practice your best posture as you settle into the high-backed chairs arranged around the crisp table linens and ponder the dinner menu. Antipasti options include a grilled mix of seasonal vegetables ($12), fried fresh mozzarella ($12), and delicate shavings of ahi tuna with a mixed salad of greens, capers, melon, Italian radicchio, and endives ($15). Keep it casual with an herby slice of pizza margherita ($12) or a light risotto in tomato sauce packed with Ariel's entourage (mussels, clams, calamari, and shrimp) ($24). Main courses include butter- and lemon-sauced salmon ($22), grilled pork chop with roasted pears and date-reduction sauce ($26), and filet mignon in green-peppercorn sauce ($34). For dessert, fork into a cannoli ($8) or slice of ricotta cheesecake ($9). If redeemed on a Tuesday for dinner, receive your choice of a complimentary dessert for the table.
264 Giralda Ave.
Coral Gables
Florida
La Pomme d'Or's menu lists wines to pair with its dishes, which are infused with traditional flavors of the French countryside other than grass. Pre-heat your palate with a Burgundy favorite, escargots Bourguignonne (six snails in hot parsley and garlic butter, $16), coupled with a house-recommended glass of Muscadet de Sevre et Maine ($9), or a fresh salade verte aux chevrotins grillées, a bed of mixed greens topped with grilled French goat cheese ($16). Entrees include coq au vin (classic stew of chicken in red wine, $28), bar beurre blanc (striped bass with citrus beurre blanc sauce, $38), and cassoulet au canard confit (white beans, lamb, pork, and garlic sausage finished with a leg of duck confit, $38).
6901 SW 57th Ave.
Coral Gables
Florida
The son of Cuban immigrants, James Beard Award–winning Chef Douglas Rodriguez crafted a menu that blurs the line between Latin American comfort food and American fine dining. Diversely delicious tapas selections, such as as ham croquetas ($8), pulpo a la gallega (seared octopus, $13), and plantain-encrusted mahi mahi ($12), can fill even the most discerning appetite bucket to the brim. Sup on the savory crispy-skin Cuban pork ($26) or the Fire and Ice ceviche ($15), which combines salmon, lemon juice, chives, jalapenos, and dill over yogurt and cucumber granita to create a mind-bending flavor duality capable of melting the taster into a puddle of biodegradable paper-mâché. The duck and foie gras cassabe flatbread ($17) is like your favorite Italian pizza married a beautiful duck and moved to Cuba.
956 Washington Avenue
Miami Beach
Florida
---