Restaurants in Coral Gables
---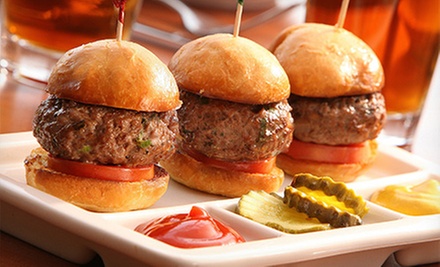 ---
Recommended Restaurants by Groupon Customers
---
Some time after Natural Chicken Grill cofounder Cesar sold off a number of his own grilled-chicken restaurants, he discovered a reignited passion for chicken while hashing out new, exciting recipes with friend and fellow grill founder, Said. Having grown up along the shores of the Mediterranean and Caribbean, the duo combined the culinary styles of their homelands and developed a medley of ingredients that would become Natural Chicken Grill's signature flavor. With a background in architecture and city planning, Said used his natural gift for creating and organizing to propel the business's success, and Cesar's restaurateur background helped open the doors to their first chicken-centric eatery in the early 1990s. From those early ambitions for a chicken eatery focused on fresh, healthier eats, the team still serves poultry that is never frozen and is always marinated onsite before it hits the sizzle of the grill. Behind the scenes, restaurant chefs whip up a new batch of the duo's signature sauces hourly, and everything from the menu is prepared fresh without the use of microwaves or Easy-Bake ovens.
10840 SW 104th St.
Miami
Florida
US
The 16" family-sized pizza is the easiest way to silence an army of growling stomachs, disguise the unkindly glue smell lingering from craft night, or temporarily warm your toes when you can't find a pair of socks. Starting with a crispy crust, Primas generously heaps mounds of cheese atop a saucy base. Add your choice of toppings for $1.75 each. The deal also includes 10 wings served with your choice of barbecue sauce, hot sauce, ranch dressing, or blue-cheese dressing, plus 12 garlic rolls. Wash down the feast with 2 liters from the available selection (Coke, Diet Coke, Sprite, or Inca Kola).
3955 SW 137 Ave.
Miami
Florida
Old Lisbon brings the cuisine of Portugal to Miami, saving diners a 3,400-plus-mile trans-Atlantic swim and complicated lessons on how Portuguese grammar uses mesoclisis. The estrela of Old Lisbon's menu is the classic Portuguese dish of bacalhau, or codfish, and the restaurant features several variations on it—including grilled bacalhau with steamed potatoes, olive oil, garlic, and onions ($19.95) and deep-fried bacalhau flanked by shrimp, mashed potatoes, and a creamy garlic sauce ($20.95). For diners who love seafood but hate fish for stealing their boyfriend, Old Lisbon offers other oceanic entrees, such as a fresh seafood and fish stew served with steamed potatoes ($22.95) and a seafood rice for two with lobster, New Zealand clams, New Zealand mussels, squid, and shrimp ($44.95). Old Lisbon draws from the lay of the land as well, with meat dishes and vegetarian dishes. The Delicia de Fatima dessert tops egg-yolk custard with cookie crumbles and cream to create a sweet treat with the untested ability to distort the space-time continuum, while Old Lisbon's extensive selection of wines offers definitive proof that, despite mounting scientific evidence to the contrary, grapes aren't inherently evil.
1698 Southwest 22nd Street
Miami
Florida
305-854-0039
Recently voted Miami's best sandwich by local eaters, La Sandwicherie has earned its savory stripes through the use of natural ingredients and bread baked fresh daily in its sandwiches. South Beach sandwichionados can opt for French bread or croissant bookends for their sandwich, with the usual array of toppings available to choose from, as well as the non-traditional topping of cornichons, French pickles rumored to give the power of dance to any who eat them. This Euro-centric flavor extends to La Sandwicherie's sandwich fillers as well. Alongside traditional cold-cut sandwiches skyscrapered with roast beef ($6.50), turkey ($6.25), or ham ($6.20), La Sandwicherie gets global in its gluttony with sandwiches topped with fresh mozzarella ($6.20), camembert ($6.20), pâté ($7.50), and prosciutto ($7.50). La Sandwicherie's French vinaigrette, another option for toption, is so beloved that La Sandwicherie sells bottles of it for customers to take home and use when lining their own sandwiches or Slip 'n Slides.
229 14th St.
Miami Beach
Florida
University Chicken Grill's diverse staff—including a Nicaraguan cook, a Haitian grill-master, and Cuban-American owners—combines its culinary cunning to make a menu of fast food that doesn't skimp on quality. Chicken chops include the Hurricane Chop ($8.99 for full size), a marinated chicken breast topped with lettuce and tomatoes and served on a bed of yellow rice, and the Fricassee Chop ($7.99 for full size), which fricassees chicken in tomatoes and herbs, and serves it atop white rice. Diners preferring to leave their chops in the Dojo District can opt for several grilled-chicken plates, including a quarter dark-meat chicken breast ($6.69 with two sides) or a half white-meat chicken ($10.69 with two sides). University Chicken Grill also offers its marinated meats in wrap form ($8.49+ with two sides), with a savory slate of sides ($2.29 for small size) available for support, including sweet plantains and sautéed mushrooms.
1232 South Dixie Highway
Coral Gables
Florida
At The Last Carrot, fresh fruit, vegetables, and whole grain breads come together to feed the body and mind. Lean chicken, tuna, or tofu nudge up against shaved carrot slices and crunchy cucumber inside the welcoming embrace of a whole-wheat pita sandwich. Diners also dip into freshly made bean soups, or slather snacks in homemade peanut butter. The health food enclave also offers a colorful mélange of freshly squeezed juices, including acai, wheatgrass, and a frothy blend of carrot juice spiked with sweet strawberry, papaya, and mango.
3133 Grand Ave
Miami
Florida
---