Restaurants in Coral Gables
---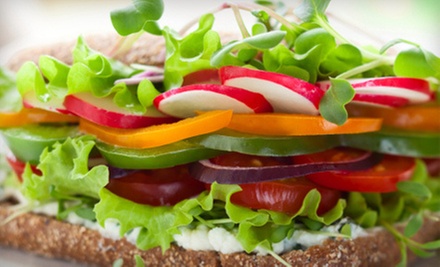 ---
Recommended Restaurants by Groupon Customers
---
Some time after Natural Chicken Grill cofounder Cesar sold off a number of his own grilled-chicken restaurants, he discovered a reignited passion for chicken while hashing out new, exciting recipes with friend and fellow grill founder, Said. Having grown up along the shores of the Mediterranean and Caribbean, the duo combined the culinary styles of their homelands and developed a medley of ingredients that would become Natural Chicken Grill's signature flavor. With a background in architecture and city planning, Said used his natural gift for creating and organizing to propel the business's success, and Cesar's restaurateur background helped open the doors to their first chicken-centric eatery in the early 1990s. From those early ambitions for a chicken eatery focused on fresh, healthier eats, the team still serves poultry that is never frozen and is always marinated onsite before it hits the sizzle of the grill. Behind the scenes, restaurant chefs whip up a new batch of the duo's signature sauces hourly, and everything from the menu is prepared fresh without the use of microwaves or Easy-Bake ovens.
10840 SW 104th St.
Miami
Florida
US
The 16" family-sized pizza is the easiest way to silence an army of growling stomachs, disguise the unkindly glue smell lingering from craft night, or temporarily warm your toes when you can't find a pair of socks. Starting with a crispy crust, Primas generously heaps mounds of cheese atop a saucy base. Add your choice of toppings for $1.75 each. The deal also includes 10 wings served with your choice of barbecue sauce, hot sauce, ranch dressing, or blue-cheese dressing, plus 12 garlic rolls. Wash down the feast with 2 liters from the available selection (Coke, Diet Coke, Sprite, or Inca Kola).
3955 SW 137 Ave.
Miami
Florida
At Da Vittorio, you can practice your best posture as you settle into the high-backed chairs arranged around the crisp table linens and ponder the dinner menu. Antipasti options include a grilled mix of seasonal vegetables ($12), fried fresh mozzarella ($12), and delicate shavings of ahi tuna with a mixed salad of greens, capers, melon, Italian radicchio, and endives ($15). Keep it casual with an herby slice of pizza margherita ($12) or a light risotto in tomato sauce packed with Ariel's entourage (mussels, clams, calamari, and shrimp) ($24). Main courses include butter- and lemon-sauced salmon ($22), grilled pork chop with roasted pears and date-reduction sauce ($26), and filet mignon in green-peppercorn sauce ($34). For dessert, fork into a cannoli ($8) or slice of ricotta cheesecake ($9). If redeemed on a Tuesday for dinner, receive your choice of a complimentary dessert for the table.
264 Giralda Ave.
Coral Gables
Florida
La Pomme d'Or's menu lists wines to pair with its dishes, which are infused with traditional flavors of the French countryside other than grass. Pre-heat your palate with a Burgundy favorite, escargots Bourguignonne (six snails in hot parsley and garlic butter, $16), coupled with a house-recommended glass of Muscadet de Sevre et Maine ($9), or a fresh salade verte aux chevrotins grillées, a bed of mixed greens topped with grilled French goat cheese ($16). Entrees include coq au vin (classic stew of chicken in red wine, $28), bar beurre blanc (striped bass with citrus beurre blanc sauce, $38), and cassoulet au canard confit (white beans, lamb, pork, and garlic sausage finished with a leg of duck confit, $38).
6901 SW 57th Ave.
Coral Gables
Florida
The son of Cuban immigrants, James Beard Award–winning Chef Douglas Rodriguez crafted a menu that blurs the line between Latin American comfort food and American fine dining. Diversely delicious tapas selections, such as as ham croquetas ($8), pulpo a la gallega (seared octopus, $13), and plantain-encrusted mahi mahi ($12), can fill even the most discerning appetite bucket to the brim. Sup on the savory crispy-skin Cuban pork ($26) or the Fire and Ice ceviche ($15), which combines salmon, lemon juice, chives, jalapenos, and dill over yogurt and cucumber granita to create a mind-bending flavor duality capable of melting the taster into a puddle of biodegradable paper-mâché. The duck and foie gras cassabe flatbread ($17) is like your favorite Italian pizza married a beautiful duck and moved to Cuba.
956 Washington Avenue
Miami Beach
Florida
The recently opened Picnic Miami is a modern, European-style bistro that features a menu filled with tasty American favorites and all-day brunch items. Guests can slip in, get dwarfed by an overly tall booth seat, and wrap their mouth around a fruit plate ($6) or mac-'n'-cheese spring rolls ($7), served with smoked-gouda dipping sauce. If the mind fancies morning munchies, select a breakfast salsa burrito ($6) of cheddar and scrambled eggs, or sample the country breakfast hangover ($9), a headache-mollifying dish of pan-fried potatoes, chopped bacon and bell peppers, two scrambled eggs, cheddar cheese, and gravy. After pausing to slurp a smoothie ($6), try the bangin' three-cheese grilled-cheese sandwich ($6) with a cup of tomato soup and croutons, or inhale Picnic's veggie burger ($9), served on a brioche bun. Customers can coax jumbo cupcakes ($6) or a half-dozen deep-fried Oreos ($4) down their throats with a drink from Picnic's bar, which sparkles with iridescence bluer than sky flash fires.
1400 20th St.
Miami Beach
Florida
---