Things to Do in Coral Gables
---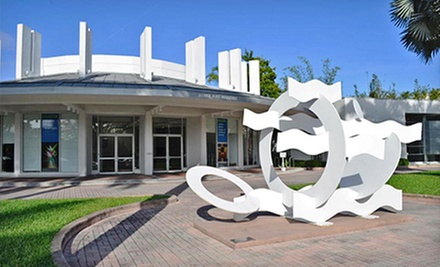 ---
Recommended Things to Do by Groupon Customers
---
X-treme Rock Climbing offers a vertical maze of more than 14,000 square feet of climbing. USA Climbing–certified route setters mark basic paths for beginners, along with challenging roofs and overhangs for more experienced scalers. The routes change often, lending a layer of surprise to each return visit. Skilled instructors also teach students to master indoor and outdoor rock-climbing techniques, which they can use to blaze new paths at parks or reach top-shelf cereal boxes in grocery stores. In addition to climbing, X-treme Rock Climbing helps patrons achieve physical-fitness goals with yoga classes, a fitness center, and an onsite pro shop.
13972 SW 139 Ct.
Miami
Florida
When sensor technology for humanoid robots becomes advanced enough to systematically eliminate human life, real human beings will have an eight-mph head start on their Segways. Today's Groupon gets you rolling on a 90-minute Segway tour of Downtown Miami from Splash Academy.
422 NW North River Dr.
Miami
Florida
US
Named Miami's best dive shop in 2012 by the Miami New Times, the PADI shop doubles as a PADI 5 Star Instructor Training Center, and hosts an array of scuba classes on arts from basic open water diving to capturing submerged ecosystems on film. Their multi-lingual staff can lead courses in English or Spanish, or guide clients of all nationalities through the shop's gear, from makers such as O'Neill, Aqualung, Oceanic and Pinnacle. Visitors can also shop underwater photo and video equipment from Sealife, Light & Motion, and Aquatica, to avoid the hassle of borrowing cameras from fish.
3310 Mary St.
Miami
Florida
US
Though threading macaroni noodles and Smarties on a guitar string makes an amazing edible instrument for a science fair, a sparkling handmade necklace or bracelet can catch the judge's eye and win your air-purifying elliptical machine first prize. Customize your accessories with today's deal: for $19, you get a pair of jewelry-making classes at Bijoux Design Creations (a $50 value). Learn the skill sets of stringing beads and creating earrings. You'll walk away with beautiful beadwork that turns heads like snow owls and the skills it takes to make more; classes do not include the cost of materials (most people spend between $10 and $20).
4776 SW 72nd Ave.
Miami
Florida
Your night starts at 9 p.m. at the renowned D. Rodriguez Cuba restaurant, where your Cuban cuisine and vodka drinks will be prepaid for pre-partying. Each person gets to choose two tapas or one appetizer plus one entree from the special menu while enjoying a two-hour open bar for vodka drinks (such as martinis and cosmopolitans)—which is ample time to form a liquid nucleolus that will anchor the rest of the evening in a wave-like orbital whose position and momentum can never be simultaneously known. While you sip, pad your stomach with a delicious lining. Start with your two tasty tapas or appetizer, such as plaintain-crusted mahi mahi, ham croquetas, or a crunchy Cuban salad. For the main course, pick one of three entrees: arroz con pollo (chicken thighs with yellow rice and veggies topped with chicken breast), chuleta empanada (breaded pork), or mahi mahi fricassee. Tax and gratuity are already included for the cost of dinner, so you can skip the calculations and get straight into phase two of your evening.
956 Washington Ave.
Miami Beach
Florida
When the University of Miami's Lowe Art Museum began in 1952, the school could comfortably display its entire collection in three unused classrooms. Those days are long past. Today, the museum stands as Miami's most comprehensive collection of western and non-western art. The permanent collections feature pieces drawn from across human history, with notable works including Claude Monet's Waterloo Bridge and a recently acquired face mask from the Dan people of Côte d'Ivoire and Liberia, forged from wood, cloth, and fur. A sizable trove of Native American artifacts includes pieces from the Southeast such as a beautifully embroidered bead shoulder bag. Other exhibits include paintings, sculpture, drawings, prints, and photographs from the Middle Ages through the present, including the Samuel H. Kress Collection of Renaissance and Baroque art, as well as pottery, sculpture, and metalwork from ancient Greece and the Roman Empire, dating from the first millennium BCE through the 4th century CE.
A few miles away, the tower of the 1939 Old Police and Fire Station rises above the street, gazing down on an unusual blend of sleek, depression-era modernism and Mediterranean revival ornateness. Founded in 2003, the Coral Gables Museum Corp. completely renovated the old municipal building. Spanish touches were added—the new Fewell wing and a 5,000-square-foot plaza—and the space was opened in 2011 as a museum dedicated to the civic arts of architecture, urban design, historic and environmental preservation, and sustainable development. Today, it holds regular art and design exhibitions, educational events, and concerts.
1301 Stanford Dr.
Coral Gables
Florida
---