Coral Springs Spa and Massage
---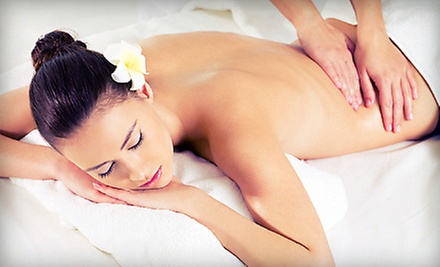 ---
Recommended Spa & Massage by Groupon Customers
---
It's only 10 a.m., but it's teatime at Massage Eden. That's because a client has scheduled a green-tea stone massage, which involves relaxing muscles with heated stones that have been soaked in the rich liquid. The idea is that absorbing the tea will stimulate the body in the same way that drinking it can, leading the accompanying massage strokes to have a greater healing effect.
It seems the center will try all kinds of ingredients to lend its services oomph. Another massage uses bamboo sticks to promote circulation and relieve pain, and each skin treatment relies on a different cream or mask, from the sugar glow's honey-and-oil blend to the anti-wrinkle treatment's collagen extracts and horsetail (which is actually a plant and not what it sounds like: a story about a man who likes oats so much people call him "Horse").
16319 Miramar Pkwy.
Miramar
Florida
For 25 years, the team of specialists at New Age Massage and Health Center has promoted balanced bodies and minds with a variety of holistic services. Massage therapist Nicky Dhanani not only loosens muscles with acupressure massages or ancient Indian shirodhara treatments, but also remedies digestive woes as an instructor with the International Association for Colon Hydrotherapy and knowledge acquired at a naturopathy hospital in Mumbai, India. Dhanani is also a reiki master and teacher, and uses pranic healing and chakra balancing to address concerns such as pain, stress, or a chronic inability to find Waldo.
Between Nicky and Sneha Dhanani, who is a licensed skincare expert completing studies in holistic nutrition, guests should be able to find an alternative-medicine treatment for any concern, be it physical or emotional.
6339 Stirling Rd.
Davie
Florida
954-689-8939
A deep love of her work has kept licensed therapist Monica Gonda practicing bodywork for more than 14 years, and it is this positive energy that emanates from her fingertips during each session. In her repertoire of seven massage modalities, lomi lomi—_loving hands_ in Hawaiian—stands out for its use of the forearms to send waves of relaxation into deep layers of muscle without attracting beach bums. Monica also practices a lymphatic-drainage technique that notably reduces swelling caused by fluid buildup in connective tissue. The most unique therapy is the crystal massages. A blend of body and energy work, warm semiprecious stones bathe acupressure points in soothing heat and redirect energy flows to achieve mental clarity or emotional well-being.
Monica awakens senses with organic tea and chocolates and can expand olfactory pleasure with her nuanced understanding of how geranium, lemongrass, and clare sage influence mood through sensory and monetary payoffs. Monica extends the reach of her goodwill by donating 5% of her profits to cancer research, an issue close to her heart because she practices oncology massage for lung-cancer patients.
12515 Orange Dr., Suite 804
Davie
Florida
954-667-7088
Inside the terra-cotta-tiled entrance to Glamour Center, stylists cut and color men's and women's hair with carefully selected European products. Skilled in color, color correction, highlights, and lowlights, the staff can tint all hair types—long, short, curly, or stolen off a mannequin. Nail services pamper hands and feet, and facial waxes outfit customers with perfectly arched brows and smooth skin.
16 West Hallandale Beach Boulevard
Hallandale Beach
Florida
954-455-2552
Dark hardwood floors and creamy white walls form the basis for Luxe Day Spa's tranquil environs, where guests bask in skin and body treatments that polish them from head to toe. An array of facials harnesses nutrients, organic enzymes, or high-tech LED devices to treat blemishes and reduce the signs of aging, whereas seven styles of massage melt away chronic tension. While reclining in a zero-gravity chair with a heated pillow under their neck and a toenail-themed romance novel over their eyes, guests enjoy relaxing pedicures enhanced by hydrating paraffin treatments. Meanwhile, specialists imbue or remove ink in the skin with permanent makeup, which brightens eyes, brows, or lips with smudge-free color that lasts for years, or tattoo-removal treatments that eschew skin-bleaching lasers in favor of invisible injections.
351 SW 136th Ave., Suite 103
Davie
Florida
954-472-5055
In addition to helping clients to unwind with massages facials, and synergy sauna sessions, the de-stress specialists at Shiraz Spa offer comfort to patients in the post-op stages of cosmetic surgery with a catalog of healing treatments. They also burnish bodies with permanent hair-removal sessions performed with state-of-the-art electrolysis and intense pulsed light (IPL) equipment.
3007 W Commercial Blvd.
Tamarac
Florida
954-718-3100
---