Coral Terrace Gyms and Fitness
---
Gym, Exercise, Weightloss Deals
---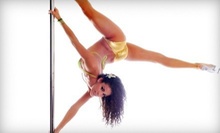 Dance poles host spins in weekly classes that unite high-flying exercise with feminine sensuality; studio also hosts Zumba, yoga, and samba
---
Recommended Gym, Exercise, Weightloss by Groupon Customers
---
X-treme Rock Climbing offers a vertical maze of more than 14,000 square feet of climbing. USA Climbing–certified route setters mark basic paths for beginners, along with challenging roofs and overhangs for more experienced scalers. The routes change often, lending a layer of surprise to each return visit. Skilled instructors also teach students to master indoor and outdoor rock-climbing techniques, which they can use to blaze new paths at parks or reach top-shelf cereal boxes in grocery stores. In addition to climbing, X-treme Rock Climbing helps patrons achieve physical-fitness goals with yoga classes, a fitness center, and an onsite pro shop.
13972 SW 139 Ct.
Miami
Florida
The courses take advantage of all the epic challenges a professional sports stadium has to offer, including thigh-searing stairs, sprint-worthy turf, and more push-up spots than you can fathom. Basic Training's experienced, motivating instructors won't make you march in step, salute them, or shave your head, but they will push you hard. They're athletes themselves who know how to help you meet your goals for a 10K, marathon, or pinewood derby. Plus, they'll teach you proper body mechanics and why and how each exercise works.
1 Washington Ave
Miami Beach
Florida
US
Miami Life Center's cadre of patient practitioners coach students through intensive Ashtanga classes with attention to detail that earned the studio recognition as Miami New Times' Best Yoga Studio in 2008. Amid frosted windows and gleaming hardwood floors, pupils fortify spinal alignments and hone concentration with methodical breathing and gentle postures in basic Ashtanga classes. Gentle Therapeutics yoga methodically strengthen sinews with the aid of bolsters, resistance straps, and chairs to refresh fatigued muscles and boost balance. Additionally, expectant mothers may ease into therapeutic poses including sun salutations and celebratory stork high-fives with relaxing prenatal yoga sessions. The studio's flexible lineup of classes includes weekend and late-night class times to accommodate pupils with busy schedules or raccoons who need a peaceful retreat from unruly graveyard block parties.
736 6th St
Miami Beach
Florida
US
305-534-8988
Novelty shirts airbrushed with bikini-clad bodies provide the convincing, if temporary, illusion of fitness. Find a more permanent fitness solution with today's Groupon. For $45, you get five group circuit classes at Nomi Pilates, a $175 value. Your Groupon also gets you 50% off a $100 private session should you choose to partake (you can purchase it when you go to the studio). This North Miami boutique studio offers a range of classes aiming to reform the shape of your body, mind, and shadow.
2124 NE 123rd St.
North Miami
Florida
US
Start 2010 with a kick in your pants from yourself using the foot of someone else with today's side deal: for $65, you get a four-week boot camp session at South Florida Fitness Boot Camp. You'll also get 20% off your next session should you choose to return. Each session meets three days a week, with each class lasting about 45 minutes. That's more than two hours of dedicated team fitness per week for a month, about the same amount of time as the average person spends reading cereal boxes.
16500 Nw 87th Ave
Miami Lakes
Florida
US
Achieve a rock-solid body without feeling like Rocky with today's eye-of-the-tiger side deal: for $90, you get five Gravity Power Pilates classes at Pilates One in Coconut Grove, a $200 value. These classes are structured in a group setting and led by certified and dedicated instructors.
3100 S Dixie Hwy., Suite 401
Coconut Grove
Florida
---