Coral Terrace, FL Indoor Activities
---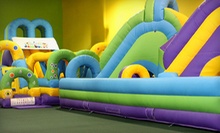 A supervised facility offers an inflatable playground with obstacles and slides for kids 12 and younger; parents get free admission and WiFi
Use Thursday 10:00am - 7:00pm
---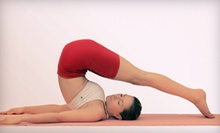 In the 75-minute class, yogis guide pupils through a circuit of sustained poses while emphasizing proper breathing and relaxation
Use Tuesday 6:30am - 9:30am
---
Recommended Indoor Activities by Groupon Customers
---
Inside Jump A Roos' 19,000-square-foot inflatable fun house that boasts eight inflatables and five party rooms, kids 12 and younger can bounce, slide, and wiggle through a variety of supervised play areas. Eight inflatable obstacle courses stand beside slides and bounce houses in the open-play area. In nearby adult seating areas, guardians can watch TV or use free WiFi, comfortable in the knowledge that kids are enjoying activities that are as safe and engaging as a game of Duck, Duck, Naptime. For special occasions, the center's five party rooms anchor birthday party and playdate packages, both of which include open-play access and a plethora of food options.
20505 S Dixie Hwy.
Cutler Bay
Florida
305-238-5867
From its humble beginnings in 1949, the Miami Science Museum has expanded into a sprawling facility that includes informative exhibits, the Planetarium, and the Wildlife Center. Many current exhibits teach kids about scientific principles using interactive elements. Visitors literally light up the dance floor at the Energy Tracker exhibit— boogying down helps power neon lights underneath the glass floor. At Moving Things, youngsters can learn about the physics of moving objects by dropping objects of different shapes into flowing water, or they can challenge their spatial reasoning skills by packing blocks into perfect cubes.
The four-story dome at the Planetarium has a daily schedule of stargazing shows. Some of these take audiences on informative expeditions through the solar system and various constellations they might not typically see, such as the elusive Medium Dipper.
The Wildlife Center, meanwhile, is dedicated to the rehabilitation and release of raptors; here, guests can encounter an owl, falcon, and eagle.
3280 South Miami Avenue
Miami
Florida
305-646-4200
The Little Farm has remained abuzz with the delighted giggles and awestruck squeals of 50,000 children each year since opening in 1978. Under the helm of Thomas and Valerie Jornlid, the couple who took ownership of the farm in 1990, The Little Farm has remained committed to fostering family-friendly escapes from the city with their meticulously managed gaggle of animals, all of which are hand-raised to meet the highest USDA health standards. None of the livestock—from pigs and ponies to rabbits and ducks—are hand-fed, which enables children to approach and pet the cute creatures without being chased for food or pestered for information about where they hide the pudding pops. Young guests can immerse themselves in farm life as they help the knowledgeable staff with daily tasks such as feeding the animals or milking the goats, or they can visit the onsite butterfly garden, which is dappled with educational plaques about different fluttering species. For lunch, visitors can enjoy a picnic on rented blankets or at tables in the farm's pavilion.
13401 SW 224 Street
Goulds
Florida
305-258-3186
Line drives whistle and skid across Sluggers Batting Cages, where hitters perfect their swings against machines that sling pitches toward the plate at 40–80 miles per hour. Rounds of 18 pitches keep bats hurdling consistently through the zone, including inside two fast-pitch and two slow-pitch softball cages. For one-on-one schooling, private lessons are available by appointment, and cage rentals let teams and coaches practice without the distractions of a regular field, such as rain puddles or the forlorn howls of hot-dog-vending spirits. Between rounds, batters can browse the onsite pro shop's equipment and apparel or fill their mitts with snacks hauled in from the concession stand.
2201 Southwest 117th Avenue
Miami
Florida
305-229-0000
Rina Jakubowicz has played the roles of yogi, author, and motivational speaker, leading to media appearances on Spanish television and the Discovery Channel Latin America, as well as in the Miami Herald. At Rina Yoga, she leads an expert team of extensively trained yoga instructors, who tap their expertise in a variety of yoga modalities to guide students toward holistic well-being in a noncompetitive environment. Each location's seven-day schedule accommodates pupils of all skill levels with sessions including beginner-friendly hatha classes, power yoga, traditional Vinyasa, and dharma yoga, which fuses poses old and new to focus on relaxation and meditation. The studio also conducts frequent events and meditation retreats that use chanting and sympathetic whispers to soothe wild spirit horses. Rina's Book, Choose Peace, is also a large part of the studio's curriculum and appears during seminar discussions that cover healthy lifestyle choices and a 15-step guide toward peaceful transformation.
2490 Coral Way
Miami
Florida
305-856-9642
Lauded by The Miami Herald's Christine Dolen for their "high artistic standards," Area Stage Company's founder, John Rodaz, and its producer, Maria Rodaz, have been providing a spotlight for South Florida's rising talent since 1989. In addition to staging Broadway hits, the group seeks out compelling scripts by Hispanic playwrights, presenting them in both Spanish and English. Now settled into the Riviera Theater, the company has expanded to include music and dance series, a professional theatre program, and an invisible supporting cast for one-man plays.
1560 S Dixie Hwy.
Coral Gables
Florida
---