Things to Do in Coral Terrace
---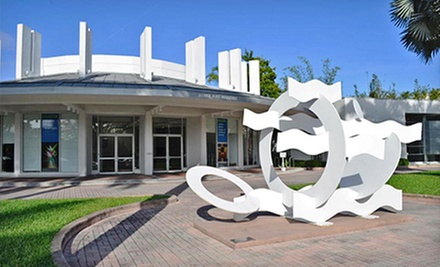 ---
Recommended Things to Do by Groupon Customers
---
X-treme Rock Climbing offers a vertical maze of more than 14,000 square feet of climbing. USA Climbing–certified route setters mark basic paths for beginners, along with challenging roofs and overhangs for more experienced scalers. The routes change often, lending a layer of surprise to each return visit. Skilled instructors also teach students to master indoor and outdoor rock-climbing techniques, which they can use to blaze new paths at parks or reach top-shelf cereal boxes in grocery stores. In addition to climbing, X-treme Rock Climbing helps patrons achieve physical-fitness goals with yoga classes, a fitness center, and an onsite pro shop.
13972 SW 139 Ct.
Miami
Florida
Crouched behind a stack of tires, a player feels the incoming paintballs smack against the rubber as he plots his next move. Such a sight is common at Bigshot Paintball Field's outdoor field, a collage of upturned pallets, cable spools, and dirt mounds where combatants outmaneuver each other to find the best firing positions. Bigshot's staff acquaints every player, from beginners to those who have been living off field grass since 2005, with the rules of play and equipment operation before allowing them to enter the thick of battle. Between bouts, the staff also dispenses bottled water and soft drinks and can recommend nearby pizza joints that deliver. Barbecue grills are allowed as well, if there's room available. As a not-for-profit organization, Bigshot Paintball Fields donates a portion of its proceeds to the Police Officer Assistance Trust, a support organization for the law-enforcement community of Miami–Dade County.
27401 SW 127 Ave.
Homestead
Florida
786-268-9208
A white sail propels a 50-foot sailing catamaran out into Biscayne Bay. The wind-powered watercraft belongs to Playtime Watersports, whose captains narrate ocean sailing tours or host private and corporate events as sunsets paint the sky. Elsewhere on the bay, wave runners and pontoon boats—two of Playtime Watersports' other rental watercraft options—churn up water as they drag race with thrill-seeking dolphins.
Despite its name, Playtime Watersports doesn't limit itself to on-water revelry. The staff hosts corporate outings such as Beach Olympics, with events including beach volleyball, sand sculpting, and scavenger hunts.
801 Brickell Bay Dr.
Miami
Florida
Even before you climb inside, the GoCar is clearly a car with a personality. The petite, three-wheeled two-seater has a hood that slightly resembles an eager-to-please smiley face, and an open top that seems custom-made for letting the breeze ruffle your hair. Then the real fun begins: built with the company's own software and a compassion for the voiceless robots of America, a talking GPS system guides two-seater GoCars through the city streets of San Francisco, San Diego, Miami, Barcelona, Madrid, and Lisbon with cheerful, info-rich narration. Second only to having a knowledgeable local jog alongside your minivan, tours zip along at drivers' own pace and accommodate as many pit stops as time allows.
1655 James Ave.
Miami Beach
Florida
Buddy closes his eyes as he sits on the deck of Buddy's Dream, letting the ocean breeze run through his gold hair as his tongue flaps in the wind. Ernie, owner of South Beach Boat Rentals, appointed his golden retriever as the company's mascot, naming all of his boats after the pooch instead of using impersonal numbers or the names of favorite Congressmen. After retiring from directing films in New York, Ernie decided to move to Miami, where he fell in love with boating, which helped him forget day-to-day concerns as he skimmed over the water.
Ernie's fleet of rental boats includes powerboats and luxury yachts, such as a 25-foot Azure Luxury 250 horsepower bow rider or an 18-foot Sea Ray sports boat, which renters can pilot themselves with a valid driver's license and boating experience. Ernie also leads private tours, including the historical Stilts Ville tour or the popular two-hour Miami Waters tour, which zooms past the homes of celebrities such as Gloria Estefan and Shaquille O'Neal while giving stunning views of the Miami skyline.
1635 N BayShore Dr.
Miami
Florida
305-673-6555
Giant toy soldiers clothed in thousands of colored lights wave at passersby as glowing reindeer take off into the dusk. Towering Christmas trees topped with stars glimmer and glisten with blue and green fiber optics. At Santa's Enchanted Forest, one of the world's largest Christmas-themed amusement parks, holiday spirit and festive music fill the air long before the end of December. Visitors laugh and shriek on a multitude of carnival rides, including whirling swings, bumper cars, tower drops, and roller coasters, whipping through the air until their cheeks are as rosy as old Saint Nick's. Traditional carnival games are also on hand, such as dart tosses and soccer-ball kicks, to complement more unconventional carnival amusements such as giant plastic balls to roll around in and a rock-climbing wall to scale. Wee visitors, meanwhile, can make the acquaintance of small livestock in a petting zoo or draw a portrait of their favorite goat in royal costume on a wall-size coloring-book mural. Carnival food, such as barbecue, pizza, and cinnamon donuts, fuels guests as they conquer rides or take in the Cats of the World Tiger Show, the Cirque Equinox, or the Sea Lion Splash Spectacular.
7900 SW 40th St.
Miami
Florida
---