Things to Do in Coral Terrace
---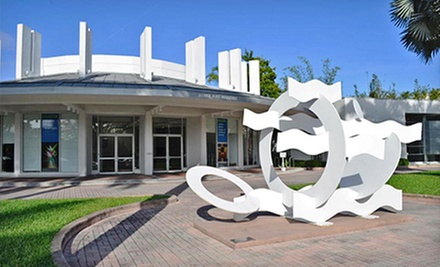 ---
Recommended Things to Do by Groupon Customers
---
X-treme Rock Climbing offers a vertical maze of more than 14,000 square feet of climbing. USA Climbing–certified route setters mark basic paths for beginners, along with challenging roofs and overhangs for more experienced scalers. The routes change often, lending a layer of surprise to each return visit. Skilled instructors also teach students to master indoor and outdoor rock-climbing techniques, which they can use to blaze new paths at parks or reach top-shelf cereal boxes in grocery stores. In addition to climbing, X-treme Rock Climbing helps patrons achieve physical-fitness goals with yoga classes, a fitness center, and an onsite pro shop.
13972 SW 139 Ct.
Miami
Florida
When the University of Miami's Lowe Art Museum began in 1952, the school could comfortably display its entire collection in three unused classrooms. Those days are long past. Today, the museum stands as Miami's most comprehensive collection of western and non-western art. The permanent collections feature pieces drawn from across human history, with notable works including Claude Monet's Waterloo Bridge and a recently acquired face mask from the Dan people of Côte d'Ivoire and Liberia, forged from wood, cloth, and fur. A sizable trove of Native American artifacts includes pieces from the Southeast such as a beautifully embroidered bead shoulder bag. Other exhibits include paintings, sculpture, drawings, prints, and photographs from the Middle Ages through the present, including the Samuel H. Kress Collection of Renaissance and Baroque art, as well as pottery, sculpture, and metalwork from ancient Greece and the Roman Empire, dating from the first millennium BCE through the 4th century CE.
A few miles away, the tower of the 1939 Old Police and Fire Station rises above the street, gazing down on an unusual blend of sleek, depression-era modernism and Mediterranean revival ornateness. Founded in 2003, the Coral Gables Museum Corp. completely renovated the old municipal building. Spanish touches were added—the new Fewell wing and a 5,000-square-foot plaza—and the space was opened in 2011 as a museum dedicated to the civic arts of architecture, urban design, historic and environmental preservation, and sustainable development. Today, it holds regular art and design exhibitions, educational events, and concerts.
1301 Stanford Dr.
Coral Gables
Florida
Miami BeachSports shoots thrill-seekers into the wild blue yonder with adrenaline-filled trips at the stern of Yamaha WaveRunners. Aquatic cowboys wrangle the sea-slapping crafts, churning up wake and waking up the Krakens that live along the oceanfront boardwalk. Guests take in seldom-seen vistas while screaming along the waves, looking back at the strip of beach between Fontainebleau Hotel and Four Points by Sheraton Miami Beach where Miami BeachSports is located. Once back on shore, guests can rent the shop's chaise lounges or oversize umbrellas for beachside relaxation.
4343 Collins Avenue
Miami Beach
Florida
786-412-1481
Led by the baton of Italian guest conductor Nicola Luisotti, the Cleveland Orchestra brings 94 years of euphony-crafting experience south to Miami's Adrienne Arsht Center. The concerts kick off with the sprightly strains of Verdi's Triumphal March and Ballet Music from his opera Aida, sweeping audiences up in romantic drama while sparing time-traveling gossip columnists the burden of keeping up with ancient Egyptian love triangles. Acclaimed soprano and MacArthur fellow Dawn Upshaw joins her instrument-bearing brethren to essay modern composer Osvaldo Golijov's Three Songs for Soprano and Orchestra in its Miami debut—a work composed specifically for Upshaw. Prokofiev's Symphony no. 5 finishes off the evening, its grandeur composed in the throes of World War II to glorify the majesty of the human spirit and show up all his snobby friends who said that writing four symphonies was "pretty good."
1300 Biscayne Blvd.
Miami
Florida
305-949-6722
Crouched behind a stack of tires, a player feels the incoming paintballs smack against the rubber as he plots his next move. Such a sight is common at Bigshot Paintball Field's outdoor field, a collage of upturned pallets, cable spools, and dirt mounds where combatants outmaneuver each other to find the best firing positions. Bigshot's staff acquaints every player, from beginners to those who have been living off field grass since 2005, with the rules of play and equipment operation before allowing them to enter the thick of battle. Between bouts, the staff also dispenses bottled water and soft drinks and can recommend nearby pizza joints that deliver. Barbecue grills are allowed as well, if there's room available. As a not-for-profit organization, Bigshot Paintball Fields donates a portion of its proceeds to the Police Officer Assistance Trust, a support organization for the law-enforcement community of Miami–Dade County.
27401 SW 127 Ave.
Homestead
Florida
786-268-9208
The Miami Art Museum houses an ever-growing collection of more than 600 works of art, with pieces by such art-world luminaries as Chuck Close, George Segal, and Robert Rauschenberg. Spend 12 months getting physically lost and emotionally found in abstract landscapes of paint and perspective with a one-year membership. Individual memberships grant unlimited free admission to one person. The dual membership is ideal for families because it admits two individuals in the same household and any children under the age of 18. The one-year membership also includes invitations to exclusive members-only events and preview parties at the Miami Art Museum, without the need for a Members-Only jacket.
101 West Flagler Street
Miami
Florida
---