Cornelius, NC Beauty and Salons
---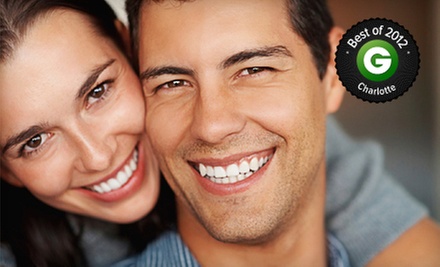 ---
Recommended Beauty by Groupon Customers
---
Burgundy Moon uses high-quality products and practices for all of its services. Spa technicians sterilize all instruments with a hospital-grade autoclave before performing smooth-jazz classics on them. Turn back the clock with a 20–25-minute anti-aging peel facial, which includes an expert skin analysis and dermal tarot reading. A glycolic acid peel will soften fine lines and smooth out uneven textures. As a calming green-tea mask restores moisture to thirsty skin, you'll receive a calming neck, shoulder, and decollate massage. This luxurious facial also includes a youth-restoring eye treatment and a lip exfoliation and plumping. Alternatively, tend to hard-working appendages with a 40–45-minute Blush of Burgundy manicure and pedicure. This shea butter–based treatment nourishes underpampered hands and feet. An expert nail technician will bestow calcium-rich clipper tips with a thorough shaping and coloring to convey just the right amount of flirty poise to impressed onlookers.
19825 N Cove Rd., Suite A
Cornelius
North Carolina
Though they originally opened as Renaissance Hair Removal in 2005, the team behind The Med Spa quickly realized that their clients were seeking different ways to look younger and feel more beautiful. They would later changed their name to reflect the breadth of their newly added services, which now include laser treatments, skincare, and teeth whitening. In addition to removing hair, they can target acne, rosacea, or wrinkles with laser technology, or perform non-laser resurfacing HydraFacials that infuse skin with moisture. The clinic also offers the Diamond Medilift: a noninvasive macro- and micro-current procedure that stimulates facial muscles better than watching Animal House and Beaches simultaneously on two separate TVs.
170 Medical Park Rd., Suite 301
Mooresville
North Carolina
City Barbers' friendly staff at Uptown and Highland Creek specializes in the shearing, shaving, and four-part harmony expected of an authentic, old-time haircuttery, while using technology and sports to lure the most modern of men. Each workstation is equipped with its own flat-screen TV and comfortable black-leather chair, making it easy for clients to imagine what it'd be like getting a professional-quality haircut at home. The haircut will be performed by a skilled pair of scissors wielded by a skilled hand, then topped off with a complimentary straight-razor neck shave that will leave your skin feeling as smooth as a well-oiled fire truck.
8742 Arbor Creek Drive
Charlotte
North Carolina
Choose from one of nine Charlotte locations:
16933 Kaufinger St.
Huntersville
North Carolina
Untangled offers a variety of hair-tending services, with its wealth of waxing work bringing satisfaction to body hair run amok. Free fuzz from upper lips with a lip waxing ($10), or trim down eyebrows ($12) to further avoid being mistaken for Frida Kahlo. A full facial waxing ($25) is also available. The salon's waxing services are available for both men and women, with clients invited to enjoy a complimentary cup of flavored coffee or a bottle of ice-cold water while Untangled unhinges unwanted unibrows and other assorted hide-hair. Let Untangled Salon's staff of friendly and well-trained aestheticians assist with hairy situations. Both walk-ins and appointments are welcome.
8305-8 Magnolia Plaza
Cornelius
North Carolina
Lorrie Emory has tended to the skincare needs of men and women for more than 20 years. Working within Sola Salons Cornelius, she deftly wields the DiamondSkin microdermabrasion wand, sweeping away damaged skin cells without leaving behind potentially irritating crystal residue. Her facials purify pores with extractions and stimulate skin with treatments such as oxygen therapy, and chemical peels speed up the natural exfoliation process to unearth youthful-looking skin hiding just beneath the surface. She also helps bodies get beach-ready with waxing services for the face and full body, and offers tinting for both eyelashes and eyebrows, allowing faces to skip mascara and the arduous task of training caterpillars to arch in sync.
20619 Torrence Chapel Rd., Suite 110
Cornelius
North Carolina
704-728-9808
---