Pet Services in Cornelius
---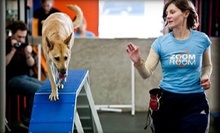 Ballantyne/South Charlotte
Access to dog-training facility's indoor agility course or positive-reinforcement techniques
---
Recommended Pet Services by Groupon Customers
---
At Bark Street, the cheery interior features easy-wipe checkered floors, white and pink walls, and three self-service dog-wash stations separated by curtains for the modest pet. All the necessary supplies are provided by Bark Street, including waist-high, disinfected tubs; waterproof aprons; herbal shampoo and conditioner; brushes and combs; towels; a dryer; and natural cologne for especially malodorous under-areas. The water is even provided at a pre-set temperature, so you needn't worry about scalding or freezing your furry friend. A full staff is on hand at all times, available to help any customers struggling with their wriggling bag of barks. A 5-pound bag of organic dog food ($10) is also included in today's deal, with a choice between California Natural or Innova brands.
3930 Park Rd.
Charlotte
North Carolina
Metro Paws' day-care facility boasts more than 16,000 square feet of air-conditioned indoor play space, more than 25,000 square feet of fenced outdoor space, and an on-staff team of super-smart puppies. Drop off your four-legged friend for two full days of attentive care and fun-filled playtime ($50) at the day care's accommodating digs, sparing yourself the guilt of leaving your pet alone during days when you can't be around the house. Metro Paws is staffed with friendly, experienced employees at all hours, ensuring your pup will always be safe and never feel lonely. Dogs attending day care are assigned to "neighborhoods" of 10-15 other cuddly companions. All indoor amusement areas are outfitted with cushioned, non-skid rubber flooring. For pick-up and drop-off times, see here.
2029 S Tryon St.
Charlotte
North Carolina
Nestled in the scenic foothills of the Blue Ridge Mountains, Cherokee Hill Farm's 100 acres have hosted the equestrian pursuits of owners Mike and Linda Schatzberg for more than 25 years. When the horses aren't resting in one of the stable's 22 stalls, they graze on green grass and croquet mallets in one of the grounds' pastures or tote riders into the 380-acre landscape of the Foothills Equestrian Nature Center. Horse owners board their steeds at the farm, where staff members lovingly care for and train them. The Schatzbergs' passion for shar-peis led them to create an onsite kennel where pups can play while their owners ride. Beginning riders benefit from the blue ribbon expertise of instructor Mike, who specializes in hunt-seat riding.:m]]
460 Cherokee Hill Ln.
Tryon
North Carolina
828-859-9990
At City Dog, canines romp and play with cohorts under the cover of a 3,500-square-foot indoor play area or amid the fresh breezes of a 5,000-square-foot outdoor space. During doggie daycare, the watchful eyes of caregivers certified in CPR and first aid track pups as they scurry up stairs and scoot down slides like buttered toddlers. Pooches foster rapports with new four-legged friends and share toys before winding down for quiet time with soothing melodies. For an additional fee, City Dog's Canine Cab picks up and drops off furry friends each day.
Doggie daycare proves an integral part of overnight boarding, where dogs can wind down after a long day in a 5'x5' run with comfy bedding, a nighttime treat, and classical music. Pups rise for breakfast and individual playtime, followed by bonding with peers through games or support groups for coping with electric fences.
1100 N Tryon St.
Charlotte
North Carolina
704-338-9663
The scene is a familiar one: hotel guests lounge beside the outdoor pool as staff members filter around, offering refreshments or collecting clients for a spa treatment. However, at Pet Paradise, the pool is bone shaped and all the guests are dogs. This luxurious scene is one cat and dog owners can find at this boarding and daycare facility that has been owner Fred Goldsmith's pride and joy for a decade. The animal lover was inspired to start his own pet hotel when he simply couldn't find a place he was comfortable leaving his bichon frise when he went on vacation.
Fred made Pet Paradise to his exact specifications, and the pet hotel's amenities reflect the loving care he lavishes on his own beloved pup. Dogs and cats can luxuriate in spa-quality grooming treatments or burn off some energy during group playtime. In the evening, pets can settle into plush bedding and feel safe knowing that the dedicated live-in staff resides just a bark away. Nocturnal kitties spend the night exploring their own private six-level cat condos while gentle spa music fills the air to keep them entertained. In case of any emergencies, Pet Paradise keeps veterinarians on-call, and in the event of a snack emergency, each staff member is a certified bacon cook.
2919 Boyer St.
Charlotte
North Carolina
704-393-3647
Different from the average pet-boarding facility, Paradise 4 Paws has a bone-shaped pool surrounded by more than 20,000 square feet of indoor play area, plush accommodations, and comfy boarding suites. Staff members roam the facility 24/7, playing with animals during the day, tucking them in at night, and performing à la carte services such as grooming, obedience training, health checkups, and canine massage therapy. Paradise 4 Paws has its own training academy, and its pet-care professionals have received pet-first-aid certification from the American Red Cross.
The pet-minded staff cares about pet owners, as well, granting access to the play area's real-time webcams and offering airport parking and transportation.
2919 Boyer Street
Charlotte
North Carolina
USA
---