Restaurants in Cornelius
---
Restaurant Rewards Deals - Use Anytime
---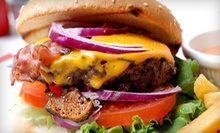 American comfort food is made from scratch daily with fresh ingredients such as virginia ham, chicken livers, and prime rib
---
Recommended Restaurants by Groupon Customers
---
On Val Panizzut's first visit to his wife's Mexican hometown, the co-owner of The Prickly Pear vowed he would name his first restaurant after the delicious fruit borne from cacti. Today, the fruition of that fruit-inspired idea offers expansive views of Lake Norman from its generous windows or patio seats, as well a menu of Mexican cuisine. Not content with just offering traditional tacos and burritos, the kitchen crafts modern Mexican dishes that have earned it numerous local press mentions. They pair the usual flavors of cotija cheese, chipotles and cilantro with, for example, fruits such as pear, mango, and pineapple, all in an effort to add savory, piquant, or sweet depth to shrimp dishes and adobo-rubbed chicken. To augment the adventurous atmosphere, live musical acts entertain guests on Thursday and Sunday nights—but they never say in advance exactly where in the restaurant they'll hide as they play.
761 N Main St.
Mooresville
North Carolina
US
Prosciutto's Pizzeria & Pub hosts a menu of New York–style pizza and Italian fare that earned the establishment Best Pizza and Best Italian Food from Citysearch in 2010. To complement the traditional pastas, white pizzas, and pies slathered in daily-made tomato sauce, a lengthy beer and wine list features craft beers, imported brews, and a wealth of red and white wines.
The family-friendly pub and pizzeria is divided in two: The kids side with video games and toys has seceded from an adult section that houses a nonsmoking bar lit by dangling icicle lights. Sports-casting TVs and athletic paraphernalia keep the vibe sporty for when the athletes return to claim their jerseys and balls. Thursday nights host cornhole tournaments outdoors on the patio, and live music energizes the air on Friday and Saturday nights.
20920 Torrence Chapel Rd.
Cornelius
North Carolina
US
704-439-4444
Now that we've entered the year where two-thousand is pronounced twenty, we've officially reached the future. Stay on the cutting edge of foodnology with today's deal: for $12 you get $30 worth of tapas, drinks, and more at the tech-savvy restaurant known to its fellow machines as T1 Tapas. This futuristic marriage of technology, humanity, and tasty cuisine is located just a short 17-mile robo-datctyl trip from downtown Charlotte.
8625 Lindholm Dr.
Huntersville
North Carolina
US
Diners can take a trip around the US, with a glance at the menu at Alton's Kitchen & Cocktails, which borrows heavily from American regional fare. The kitchen stokes dreams of the Old West by gracing tables with lamb shanks from Colorado and salmon from Seattle, each teeming with tales of a life of train-hopping and hitchhiking east. Chunks of shellfish nestle into the New England–style lobster roll, and shrimp simmer in creole barbeque sauce, giving diners a taste of New Orleans.
A curved bar extends from exposed brick walls, which frame shiny dark wood floors. These floors match the tall, bistro-style tables and the high-manteled fireplace, which gleam beneath the light of cascading chandeliers, giving the room a refined, yet cozy feel. Diners can also find seating on an outdoor patio, where they can feel the breeze on their face, a sure sign that the moon is sneaking up behind them to steal their dessert.
19918 N Cove Rd.
Cornelius
North Carolina
704-655-2727
At Rocky River Grille, visitors can partake in a casual yet classy dining experience that offers seamless service and unmatched comfort. Located inside the luxe confines of the Embassy Suites, Rocky River Grille massages taste buds with a bevy of menu selections that offer American fare for lunch and dinner. Opt for a pecan planked salmon ($18.75) and a pulled-chicken pot pie ($14.75), or grab a handy mitt-fitting sandwich such as the shrimp pita ($7–$8.75) or prime-rib dip ($7–$8.75). Soak in the well-lit and vibrantly colored lounge's ambience while sipping on a glass of palate-pleasing wine such as the Red Rock merlot ($8) or on an expertly whipped up mojito ($9).
5400 John Q. Hammons Dr. NW
Concord
North Carolina
At Sabi, the scents of spiced and marinated meats blend with a mélange of tropical mangoes and spicy peppers in inventive stir-fry dishes and sushi as guests clink glasses of wine and craft beer. The restaurant's name borrows from the Japanese phrase "wabi sabi," or "finding beauty in the imperfect," such as when appreciating the tarnished patina of a bronze statue or the intriguing beauty of a mole. The eatery's eclectic menus promise feasts of red-curry chicken, Louisiana blue crab cakes, and juicy tenderloin filets, among other Pan-Asian dishes and specialty sushi rolls. As diners savor the blend of Eastern and Western cuisines, they can feel good about a meal prepared under Sabi's roof, especially on Mondays, when the Chow Down for Charity event raises money for local and national nonprofits, such as the American Cancer Society.
130 Harbour Place Dr., Suite 120
Davidson
North Carolina
704-895-5707
---