Cornelius, OR Indoor Activities
---
Recommended Indoor Activities by Groupon Customers
---
Today's Groupon gets you five conditioning gyrokinesis and/or Pilates mat classes with Geometry Pilates for $35. Mix and match your classes and prepare your body to become capable of contorting into letters and spelling out words from the 2006 National Spelling Bee.Lovable Bears defensive lineman William "The Refrigerator" Perry is generally considered the Godfather of American Pilates due to his memorably rapped couplet: "You're lookin' at the Fridge / Pilates focuses on the core to improve strength and posture." The Fridge continued to influence the popularity of Pilates in America when he guest-starred in an episode of the The A-Team, playing the deceased German founder of Pilates, Joseph "The Refrigerator" Pilates. The memorable episode is re-run every July 4th to celebrate Independence Day.
821 NW Flanders St.
Portland
Oregon
US
Hosted by the Rose City Rollers, who dubbed it the Bridgetown Brawl, the 2011 Western Regional Tournament for all-female, flat-track roller derby sends the top three leagues to the WFTDA championships. The ninth bout caps Saturday's brawl bracket with a one-hour avalanche of speeding limbs, determining a contender for the tournament's championship round and, ultimately, WFTDA's domination of every doll-parts factory in the world. Like a turf war on skates, these ferocious femmes use their concrete-inspired blocking skills to get the team's lead jammer from the back to the front of the pack, evading elbow thrusts, hip checks, and both literal and metaphorical clotheslines.
300 N Winning Way
Portland
Oregon
US
The 20,000-square-foot facility showcases hands-on exhibits and simulators devoted to the importance of forests and their role in providing habitat, water, recreation, wood, and a number of other one-word wonders. With the family-plus membership, two adults and all children 18 and younger in the family are free to explore the museum's two floors for a year. The first floor focuses on the Pacific Northwest, entertaining visitors with interactive exhibits such as the Timberjack Harvester Simulator and River Raft Adventure, where visitors can take a simulated trip through class-IV rapids. On the second floor, guests can learn about forest art, history, and culture—hitching a jeep ride in South Africa, touring the Trans-Siberian railway, or swinging through the Amazon rainforest's canopy just like Tarzan did. A number of special exhibits are also available on a rotating basis.
4033 SW Canyon Rd.
Portland
Oregon
Under the high ceilings of a warehouse dating back to the 1970's, the Salem Classical Fencing team leads training sessions and competitions for its members and guests. A nonprofit organization, Salem Classical Fencing aims to share the honor, chivalry, and respect integral to this historic sport with its community. To that end, they provide classes for various skill levels and organize children's day camps, filling them with lessons, crafts, games, and campfires, during which students are trained to fight the urge to toast marshmallows on their épées. Though the facility is decades old, the sparring space has been updated to include virtual scoring, overhead reel-less systems, and floor cords.
354 Belmont St. NE
Salem
Oregon
503-375-9209
Pilates strengthens core muscles through isolated movements and controlled breathing. From the luxury of its open and peaceful studio, Studio Blue's certified staff of Pilates instructors will guide you through a repeated series of strengthening and stretching maneuvers. Studio Blue offers a variety of class styles, ranging from breath-focused exhale Pilates to progressive-resistance-focused Pilates Reformer, designed for all levels, from beginner to ender. Though some movements and breathing techniques may be difficult to master, each class will give you individualized instruction that helps you maximize results.
512 NW 17th Ave.
Portland
Oregon
Brody Theater's battle-tested improv artists throw themselves onstage and embrace unscripted chaos, creating hilarious shows for eager audiences. Friday's 8 p.m. slot is often occupied by "Micetro" or "Theatresports," both competitive improv-offs where observers offer suggestions to build the scenes from scratch. Sixteen improv gladiators stride in to "Micetro," which runs through March 25, but only one rises victorious after the audience votes their numbers down to a one-on-one joke duel. "Theatresports" splits performers into two teams who issue challenges to each other, using audience suggestions to out-funny their opponents. Unlike "Micetro," "Theatresports" is scored by Brody's judges, to whom the audience should direct boos and marriage proposals. Crowds can carbo-load their chuckle muscles with a selection of food and drinks, including wraps (starting at $6), beers (starting at $2.75), and wine (starting at $4).
16 NW Broadway
Portland
Oregon
US
---
---
Indoor Activity Deals - Recently Expired
---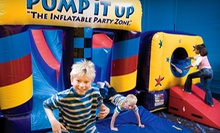 Kids' imaginations run wild as they explore, bounce, and burn off energy on vibrantly colored bouncy houses, slides and inflatables
---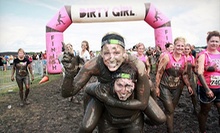 Women-only 5K mud run traverses obstacle course; suited for all athletic abilities
---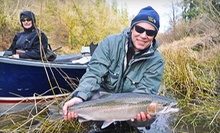 Small workshops with beer provided by Ninkasi Brewing cover fly-fishing basics, or more advanced techniques related to spey casting
---
---