Cornwall, ON Outdoor Activities
---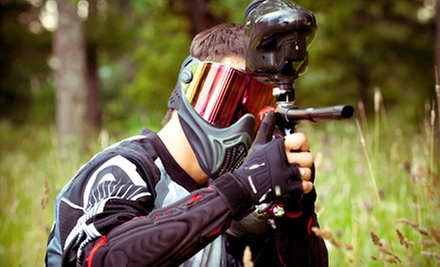 ---
Recommended Outdoor Activities by Groupon Customers
---
Thumbing their noses at Mother Nature, Tagzone's staff has modified paintball so that it can be played year-round indoors. The principal switch is from paint cartridges to rubber foam balls, which are loaded into CO2 paintball markers. Players fan out in mazes and creep over bunkers on nine five-minute missions, whose play is intensified by dense fog, narratives about protecting the president, or—in a lightning round—a time limit lasting the length of the Mission: Impossible theme song. Two referees open every game to the public, and require at least six players age 10 and older before signaling to the DJ to play the opening theme music. Visits begin with a safety review and the distribution of protective masks that prevent opponents from seeing you flash back to middle-school dodgeball games.:
89-B Montreal Rd.
Ottawa
Ontario
613-746-6000
The championship golf course at Château Cartier Hôtel Conférence Golf & Spa sidles up to the Ottawa River, letting swingers soak in views of rapids rushing beneath the Champlain Bridge and gaze out to the Peace Tower and stately parliament buildings. Since 1923, this breathtaking scenery has inspired athletes as they drive, putt, and bite their golf balls to endow them with the regulation number of dimples. To gear up for the course's water hazards and sand traps, golfers visit the driving range and putting green or sign up for lessons. They can also drop in at the pro shop to pick up equipment from TaylorMade and Titleist.
Before days on the course, players fuel up with luxurious continental breakfasts at Table 20 Restaurant Lounge Bar. Ekko de Brasil takes over for lunch and dinner with grilled meats served by gauchos and entertainment provided by samba brazilian dancers. These contemporary eateries nestle in the Château Cartier Hôtel, a sprawling edifice whose peach brick and sloped green roof enclose epicurean accommodations, as well as a health centre and spa where workouts and massages push and then relax muscles.
Course at a Glance:
18-hole, par 72 course
USGA course rating of 68.7
Slope rating of 117
1170 Aylmer Rd.
Gatineau
Quebec
819-777-8870
Sundance Balloons' vibrant inflatables float adventurous passengers over scenic landscapes at sunrise and sunset. Each one-hour journey commences as sojourners greet their flight crew at a pre-determined location, receive a briefing on what to expect during the excursion, and observe their balloon as it swells to more than 10 storeys in height. Morning flight teams convene 30 minutes before sunrise, and evening passages begin 2.5 hours before sundown to capture enough twilight for wildlife and Where's Waldo sightings. The woven gondolas glide 1,000 feet above the ground but can sometimes gently skim treetops or cornfields when wandering over the countryside. Since balloons drift with prevailing winds, there is no wind chill and travellers feel only a slight sensation of movement. As is tradition for ballooning, explorers of the appropriate age end their flight with a champagne toast to tranquility, beauty, and neighbourhoods that appear as giant smiley faces only visible from the air.
1125 Coloneal By Dr.
Ottawa
Ontario
519-473-6444
Club De Golf Tecumseh incorporates the Gatineau countryside's diverse topography into the design of its 18-hole, 6,466-yard golf course that sits on the north side of the Ottawa River. A quick jaunt from downtown Ottawa, the course caters to players of all abilities who are looking for a respite from the workday doldrums or an excuse to use their dueling golf glove against fellow competitors. The par-72 layout boasts tree-lined fairways, a multitude of sand traps, and several water hazards that will put golfers' swings to the test.
475 Rue Saint Louis
Gatineau
Quebec
819-663-5630
Eschewing the single-minded focus on form that often dominates other tennis schools, the trainers at The "Challengers" Tennis Academies of Canada take a holistic approach to the game. They lay the foundation for successful competition with individualized player-development plans. Zeroing in on personal fitness, the academies put students through intensive workouts that translate to on-court success, including running, footwork drills, and rewarding scurrying ballboys with sugar cubes. Video presentations and match analyses help budding stars dissect masters' performances, and technique drills imbue players with impeccable muscle memory for serves, volleys, and returns. An adult recreational league gives older racqueteers the chance to keep their play sharp, and a progressive tennis program for youngsters gently introduces kids aged 5–10 to the joys of the game.
2381 Ogilvie Rd.
Ottawa
Ontario
613-867-7674
---