Things to Do in Cornwall
---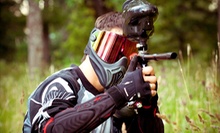 23 paintball parks open their fields for 3 hours of prismatic warfare for PaintballTickets.ca pass holders, with all gear included
---
Recommended Things to Do by Groupon Customers
---
During her more than 20 years as an interior designer and a teacher at Algonquin College, Elaine Comeau made sure to continuously sharpen her already formidable skills in the visual arts. Colour theory and perspective drawing are just a couple of the various mediums she's taught at art schools and in private lessons. Now the owner of her own studio, Comeau again welds her experience as an educator to her talent for illustration. As with Fellini films and lectures on Thomas Pynchon, anyone over age 3 is welcome: Elaine's group, private, and semiprivate courses are all geared toward different age ranges. Better-half-free visitors can meet one another at singles workshops, which combine paint and blank canvases with music and a relaxed atmosphere. Children's art classes send celebrants home with their own crafts.
32-174 Colonnade Rd.
Ottawa
Ontario
613-738-8611
More than 50 countries show off more than 190 travel and vacation exhibits within the glass-surrounded floor of the Ottawa Convention Centre for the Travel and Vacation Show's 19th year. Travel agencies, tourism departments, and adventure-tour organizers from across the nation and abroad tune visitors in to their area's culture alongside representatives from various European, Asian, African, and South American embassies. A sea of colourful exhibits plastered with photos of landscapes and culture interweave with the aromas of worldly cuisine as executive chefs from Aruba, Turkey, and Newfoundland demonstrate their multicultural recipes and dole out samples. Among the exhibits—which also feature Canadian provinces and U.S. states—dance groups perform and ice and produce carvings stand on pedestals as a monument to regional creativity and theatrical-leaning grocers.
55 Colonel By Dr.
Ottawa
Ontario
The skinniest Boy Scout in his troop, 11-year-old Jody Miall stared longingly up at a rock-climbing wall dotted with fellow scouts. His scoutmaster had told him he was too light too climb, condemning him to the sidelines during the troop's overnight rock-climbing trip. But when the rest of the group snuggled into sleeping bags, Jody snuck back into the gym and completed more successful climbs than the rest of the boys had, before his Scoutmaster discovered him and promptly kicked him out of Boy Scouts. Jody hasn't stopped climbing since.
The ambitious kid moved on to compete nationally, placing fourth in North America, and is the official route setter for the Tour de Bloc. Now, Jody welcomes climbers of all ages and sizes into his gym. Meeting new climbers "takes me back to when I was 12, and just learning," he says, noting that blind and acrophobic climbers have successfully scaled the gym's 15,000 square feet of wall space. Jody attributes transformations such as these to Coyote Rock Gym's impassioned instructors, who stay with climbers until they feel confident to explore the 35 different top ropes and four bouldering areas. He also says the noncompetitive environment stems from the communal nature of rock climbing itself: beginners may find themselves climbing—and struggling—alongside climbers such as instructor and National Team climber Yves Gravelle. "It's the same feeling, whether you just started or have been climbing for 20 years," Jody says. "Even when you're good, your hands hurt just the same."
1737B St. Laurent Blvd.
Ottawa
Ontario
613-739-4074
Evan Malamud is a diehard baseball fan, softball player, and, most importantly, a father of three, including to his son and sports fanatic Jaedyn, who was diagnosed with autism several years ago at the age of two. Looking for a way to give back to the Children's Hospital of Eastern Ontario—where Jayden has received treatment since his diagnosis—Evan recently challenged six-time MLB all-star, former MVP, and one of his personal favourite players, Jose Canseco, to a charitable homerun derby via Twitter. Then, in a twist worthy of a Hollywood script or elementary school daydream, Canseco accepted.
On May 12, cloud-scraping softballs will be launched across Canada's capital in an effort to not only raise autism awareness, but also to raise funds for Jaedyn's hospital. After Malamud and Canseco square off in a head-to-head homerun derby, the pitch pummelling continues during a celebrity softball game where public figures, such as former Ottawa Senator Shaun Van Allen, clash for diamond supremacy. Sports fans can also expand their memorabilia collections during a charitable auction after the game, or at a Jose Canseco autograph signing on Friday, May 11, at Hazeldean Mall. There, the legendary slugger will dish out signatures to collectors and apologies to numerous broken bats.
300 Coventry Rd.
Ottawa
Ontario
McMaze was established more than a decade ago by Sandy McDonald, who designed the family's first 3.5-acre corn maze when he was just 14 years old. Over the next 10 years, Sandy and his family watched their endeavour blossom into a year-round family-friendly business that hosts seasonal activities year-round. Fall is the family's busiest season, when visitors flock to find spooks in their haunted walks and wagon rides, and explore the pumpkin patch to search out a perfect specimen to be turned into a pie, jack-o'-lantern, or organic football helmet. The original hand-carved corn maze has since multiplied into five separate mazes, including a "haze maze," which mystifies wanderers by sending them on a seemingly endless journey through fog and lights, and a door maze that presents 52 possible exits.
Winter snowfalls fail to stop the McDonalds' love of celebrating, and so they invite families back to the 120-acre farm for old-fashioned sleigh rides through the woods, made all the more festive with hot chocolate and homemade cinnamon buns. Once the ground thaws in the spring, the farm comes alive again as guests descend upon the fields to help plant the first pumpkin seeds and welcome the arrival of baby farm animals as they parachute down from passing blimps. Homemade ice cream keeps things cool throughout the summer as pig and duck races entertain spectators of all ages, and parents stock up on corn on the cob and other farm-fresh produce.
17049 Willy Alan Rd.
St. Andrew's
Ontario
Among Galaxie Bowling's 24 gleaming lanes—including 12 5-pin lanes, 8 10-pin lanes, and 4 duckpin lanes—the wooden crash of felled pins and jubilant whoops from victorious players fills the air. The brightly lit space beckons players of all ages to partake in pin pummelling throughout the day, and mirror-ball-illuminated Rock 'n' Bowl sessions on select evenings enable orb lobbers to show off their disco-inspired backswings. Affable libation specialists bustle about the bar ensuring that no glass reaches a state of emptiness while staffers manning the on-site snack bar proffer munchables that recharge the batteries of players and nacho-powered cyborgs alike. To further bolster their entertaining ambience, Galaxie maintains a fleet of 15 video-poker terminals for arms exhausted from extensive turkey tossing.
90 Rue du Patrimoine
Aylmer
Quebec
819-682-2695
---