Corona Outdoor Activities
---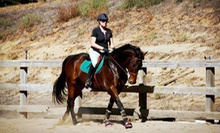 40-year equine-industry veteran teaches horsemanship principles, safety measures, and different riding techniques
---
Snorkelers glide over marine reserve, or high-speed inflatable boat zips to Seal Rock to sea lions, bald eagles, and dolphins
---
Recommended Outdoor Activities by Groupon Customers
---
Baseball in San Bernardino dates back to 1899. More than a century's worth of history includes such team names as the Kittens and the Pioneers. It also includes a drought from 1950–1987, during which the city lacked enough dirt to build a baseball field. That drought ended when the San Bernardino Spirit began play as part of the California League. In 1996, the Spirit became the Stampede, and in 2003, the Stampede became the 66ers, a name chosen in honor of the historic U.S. Route 66 that is famous for its hitchhiking umpires. Over the years, the 66ers organization has spent time as the Class A-Advanced affiliate of the Mariners, Dodgers, and most recently, the Angels. The team has brought honor to each of its MLB partners, as it has won five California League championships since 1995.
280 S E St.
San Bernardino
California
909-888-9922
With hands gripped to the wheels of karts capable of cresting 45 miles per hour, up to 12 racers hum around the hairpin turns and straightaways of K1 Speed's indoor track during adrenaline-spiking sprints toward the podium. This brand of excitement can be found at all 15 locations, where racers eschew the fumes and inflammatory skywriting of gas kart exhaust for European, eco-friendly electric karts designed to instantly accelerate out of curves, which are bordered by safety barriers that absorb impacts. To keep everyone in the chase, dialed-down junior karts (available at select locations) safely carry tiny drivers between the height of 48" and 58".
5350 E Ontario Mills Pkwy.
Ontario
California
Though many things have changed during the L.A. County Fair's 90 years, the one constant has been the large crowds it attracts with the classic sights and sounds of an outdoor carnival. Lights race past as carnival rides fly overhead, and riffs from battling bands carry through the air. Stingray Island, a new attraction in 2012, brings fair-goers face to fin with octopuses, schools of shrimp, and stingrays swimming inside a 17,000-gallon salt-water tank. Inside FairView Farms, fair-goers can see firsthand what it takes to work a farm by watching live workers tend to pastures and baby animals at the nursery. In 2011, more than 1,490,000 people explored the fairgrounds, making it the second-highest attendance year recorded outside of 1991, when everyone showed up with their stunt double.
1101 W McKinley Ave.
Pomona
California
In 2005, Jason Williams and Ken Faught assembled a team of experienced racers and designers to create the driving experience at Pole Position Raceway. Williams, a motocross racer since 1984, and Faught, a three-time land-speed record holder at the Bonneville Salt Flats, recruited professional drivers Kurt Busch and Jeremy McGrath to help their engineers. They reimagined every detail of the track from the ground up, creating indoor courses that balance the grip of asphalt with the swervy fun of polished, concrete slick tracks. Pole Position's Formula EK20 Pro Karts rumble over the track powered by 18-horsepower motors (nearly triple that of average gas karts), which reach speeds up to 45 miles per hour without filling the temperature-controlled arenas with fumes.
After the first Pole Position Raceway opened in Corona, California, it soon spawned eight locations stretching to the Atlantic. Technicians maintain the fleet via handheld computers, and top drivers are regularly sent out to evaluate karts' handling and reading comprehension. During races, up to 12 guests compete in contests that last about 10 minutes.
1594 E Bentley Dr.
Corona
California
951-817-5032
For the past four years, the Ontario Reign have ruled over opponents as the ECHL affiliate of 2012 Stanley Cup champions, the Los Angeles Kings. Formerly the Texas Wildcatters, and before that, the Huntington Blizzard, the Reign rose to existence in 2008. And, rather than naming the team by letting a raccoon select random letters from a bag of Scrabble pieces, the newly spawned organization turned to its fans with a name-the-team contest. That contest kicked off what has been a thriving relationship between the Reign and Ontario hockey fans. In fact, the Reign led the ECHL in attendance during their first three seasons. In 2011–12, the team rewarded its loyal followers with a Pacific Division championship, and in coming seasons, hopes to be a perennial contender for the Kelly Cup.
4000 E. Ontario Center Pky.
Ontario
California
US
The twists and turns of SB Raceway's indoor track challenge drivers seated behind the wheel of speedy Sodikarts. After garbing their brain-cages with Snell-approved helmets and liners, adrenaline-seekers age 8 and older can gain speed on straightaways and hug corners like a lonely carpenter. Each 17-lap experience features up to 15 karts whizzing around the track at the same time, and concludes with a post-race printout with individual lap-times and the right to chug a gallon of milk. Patrons over the age of 16 can come in on Saturdays for cosmic karting, which remixes classic races with black and neon lights and live, DJ-spun tunes.
217 E Club Center Dr.
San Bernardino
California
909-824-7804
---