Coronado Automotive
---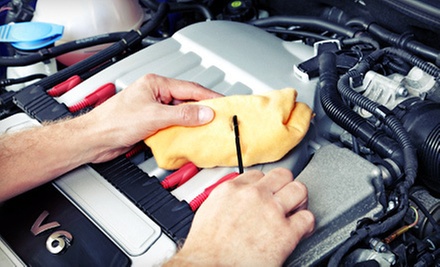 ---
Recommended Automotive by Groupon Customers
---
There is plenty to see from the San Diego Zoo's Africa Safari tram: resting lions, horned antelopes, majestic giraffes. But Detail Systems' Anthony Madafferi pays this wildlife little heed. He concentrates more on the sloping terrain that sweeps dust and mud on the beautiful, brightly colored trams he regularly details with his self-contained mobile detailing unit.
The safari trams are just some of the vehicles that Anthony and the techs at Detail Systems have revitalized over the past two decades; the list also includes the herds of Buicks that attend the Buick Invitational golf tournament. Their signature detailing service begins with a dousing in deionized water, which leaves the hand-washed exterior spot-free. Then, with a specially designed covalent chemical bond, Glassplexin paint sealant polishes a shiny luster on finishes, protecting them from oxidation and tailgating UV rays.
2844 Lytton St.
San Diego
California
US
Some drivers may prefer to impress onlookers with a shiny, reflective finish on their car. Others may opt to treat their carpool passengers or favorite morning-radio hosts to freshly laundered interiors. Knowing that motorists have different priorities, Wax Man Industries augments whole-car details with a full spectrum of customized services, which allow drivers to assemble a detail tailored to their own comfort and cosmetic preferences.
With the help of nanotechnology products, including high-gloss waxes and sanitizing shampoos, the detailers hone in on smeared exteriors, stained upholstery, and greasy engines to transform every car their sponges touch into a vehicle that looks like it escaped from a Ferrari daycare. Included in the roster of detail services are more-involved restoration techniques, including buffing, sanding, and oxidation treatments performed with a 24-hour turnaround and a money-back guarantee in case clients aren't satisfied. In addition to four-wheeled vehicles, the technicians also revamp boats, airplanes, trailers, and motorcycles to ensure exteriors gleam on the sea, in the air, and through action-movie stunts through the air into the sea.
With 15 years of experience, the techs at Wax Man Industries have also extended their cleaning know-how into homes in the form of carpet cleaning powered by hot-water-extraction techniques. They pore over carpets with double-pass cleaning strokes and double-drying strokes that shorten the dry time overall. Even though they remorselessly nix deep-seated stains and blotches, their cleaning techniques are hypoallergenic and remain safe for kids and pets alike.
2768 Via Orange Way, Suite S
Spring Valley
California
US
619-456-1674
Cali v. Smog, a licensed State of California smog-test facility, ensures that vehicles of all models and manufacture dates aren't emitting excessive pollutants before sending them off with a pat on the trunk and a state certificate. Since Cali v. Smog is a test-only station, motorists can gauge their car's environmental output without being coerced into buying a new muffler or putting their vehicle on a regimen of high-fiber motor oils.
8855 La Mesa Blvd.
La Mesa
California
619-400-6318
BumperDoc's certified shop managers oversee an experienced team of specialists who make it their mission to restore bruised and weathered autos to fine fettle. Bumper repair and dent removal address the damage from small fender benders; full-scale body repair helps vehicles recover after serious accidents or attacks by jilted horses. BumperDoc also treats cars to window tinting, detailing, and paint touchups. To prove their ability to the entire Internet, BumperDoc's staff has filled an online gallery with photos of their car-beautifying efforts.
3885 Convoy St.
San Diego
California
858-505-0770
Soundiego's team of audiophiles has been fitting rides with custom sound systems since 1990. Relying on equipment from brands such as Boston Acoustics and Sony, they equip cars, trucks, and motorcycles with crystal-clear stereophonics through simple installations and complete overhauls. In addition to musical enhancement, the crew augments roadsters with Solar Gard window tints, alarms, and DVD systems.
4925 El Cajon Blvd.
San Diego
California
619-582-5577
---