Things to Do in Corsicana
---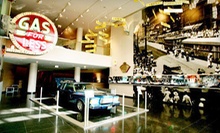 Use Tuesday 12:00pm - 7:30pm
---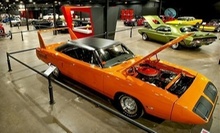 Use Today 10:00am - 6:00pm
---
Recommended Things to Do by Groupon Customers
---
Founded by a gregarious coach named Mike Winburn, Win Kids has grown from a tiny operation with a handful of play mats and a lone guitar to a 27,000-square-foot facility that plays host to a huge variety of kids' classes and camps. Monitored by a talented staff that includes former competitive swimmers and black belts in judo, taekwondo, and jiu-jitsu, children aged 6 months to 15 years old build stronger bodies and self-confidence in sessions ranging from gymnastics and martial arts to dance and cheer. A certified lifeguard watches over paddlers during lessons and birthday parties held around the 90-degree swimming pool. Staffers also teach private music lessons, where youths can learn songs to coax out reclusive invisible friends, and a new QUICKSTART and Jr. Tennis Program rounds out services at the facility.
3000 Waketon Rd.
Flower Mound
Texas
972-355-9988
Children have flipped, tumbled, jumped, and hurled themselves into the air for more than 20 years at The Gymnastics Place. Kids practice their all-around skills on equipment that includes the vault, beam, and bars. They can also break out into specialized classes that focus on tumbling and trampolining, cheerleading, and hip-hop dancing. The center encourages adult involvement, with Mom & Tots classes—in which tots as young as 18 months old begin learning the basics of gymnastics—and boot-camp classes that ramp up fitness. Or moms and dads can get a night to themselves with Footloose Fridays: kids play and eat pizza at The Gymnastics Place, and parents can stay at home and debate the pronunciation of "Nadia Comăneci."
17815 Davenport Rd.
Dallas
Texas
972-248-2805
Inside CooCoos, a spacious, color-splashed play area accommodates pintsize patrons with full-size servings of fun. Stretched across more than 20,000 square feet, the recently opened facility buzzes with the giggles and squeals emitted from kids as they scramble and spite gravity during birthday parties, field trips, and open-play sessions held Monday through Friday. A lineup of unique zones, such as those with UFO, jungle-course, and alligator themes, whisks adventurers to far-away worlds, and 3-D carpeting and black-light sections enable youngsters to accurately mimic their favorite Grateful Dead–concert moments. For an extra dose of amusement, guests can visit on Friday Night Fun Night, when 3-D glasses help to transform playtime into a multidimensional experience.
6505 W Park Blvd., Suite 200
Plano
Texas
972-781-2662
Sports stars and memorabilia exhibitors blitz through the doors at Show Business Studios during Gameday Connexion's three-day Gameday FanFest. A still-growing lineup of current and former professional athletes, legends, and Hall of Famers will be on hand throughout the weekend, including Dallas Cowboys icons Emmitt Smith, Michael Irvin, and Kevin Williams. Instead of continuing to fill their mantels with caps worn by high-profile tackling dummies, attendees can build up memorabilia portfolios while browsing the trading cards, collectibles, and team attire showcased by more than 80 vendors. Official authenticators will be in attendance to oversee autograph sessions, which will be squeezed into each day's packed agenda of scheduled events.
350 E Royal Ln., Suites 121 & 123
Irving
Texas
JumpStreet's vast trampoline arena delights jumpers of all ages with a room covered top to bottom in springy surfaces and safe padding, cultivating a fun way to unleash pent-up energy and engage in physical activity. In addition to the bounce-inducing ground, tilted trampolines stretch midway up the wall for extended propulsion possibilities and airborne orations of the Gettysburg Address. Visitors aged 8 or older can gravitate toward the dodge-ball courts, where they strategize, aim, and propel soft orbs at opponents while undulating on an unstable surface. With fun passes, older kids can also cling to a bucking mechanical bull as it threatens to toss them onto the foam.
6505 W Park Blvd., Suite 200
Plano
Texas
US
972-378-5867
Sudsy brews slosh in clink-ready cups at the third annual North Texas Beer and Wine Festival, which takes up residence at the new Irving Convention Center on Saturday, May 12. Once the doors open to the general public at 2 p.m., imbibers can snack on high-end eats from the likes of Velvet Taco and The Ranch in Las Colinas, and sample the wares of local and international brewers from Imperial and Franconia. These brewmasters sling samples of hundreds of different beers, from classic signature brews to new, experimental creations. Just one of several enriching presentations on the schedule, Kelly Harris of Homebrew Headquarters edifies entrepreneurs and enthusiasts at 2:45 p.m. with an introductory course to home brewing. In a sprawling beer garden, live music from The Superkings and Dallas All Stars Blues Jam serenades sippers in the afternoon hours, easing eardrums into the VIP-only event featuring Band of Brothers and Zionaura.
500 West Las Colinas Blvd.
Irving
Texas
---