Costa Mesa Gyms and Fitness
---
Gym, Exercise, Weightloss Deals
---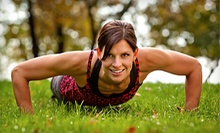 Boot camps cycle through resistance and strength training during high-intensity workouts in a supportive atmosphere
Use Saturday 5:00am - 8:00am
---
Recommended Gym, Exercise, Weightloss by Groupon Customers
---
House of Pilates' mat classes, conducted with nothing but a polished floor, a mat, and a lot of super-motivating eye contact, are currently available ten times a week in its airy Irvine studio. These introductory classes encompass the basics of Pilates, lay the foundation for lifelong strength, and prepare you for more advanced machine and resistance work. Because House of Pilates is the only classical Pilates certification center in Orange County, all of House of Pilates' instructors are rigorously trained in effective instruction methods and are attentive to the individual needs of their clients. House of Pilates' staff follow the doctrines of Power Pilates and place increased emphasis on discipline and rigorous work while sculpting a powerful core that's immune to injury and thermonuclear flab explosions.
6246 Irvine Blvd.
Irvine
California
The hero hardbody trainers at Fitness Evolution focus on making their clients more functionally fit, not so muscle-bound that they can't fit through doors or play ping-pong with any degree of fine motor control. The goal is not only to improve outward appearance, but also to enhance the overall well-being of future fitness buffs. To achieve this feat, a variety of classes are offered, such as boxing, yoga, spinning, and circuit training, among others. Classes are available Monday through Saturday at varying times throughout the day.
26941 Cabot Rd., Suite 103
Laguna Hills
California
Devised by Pure Barre founder Carrie Rezabek, these clever recombinant classes will work your body in ways it's never been worked before by harmonizing the grace of dance with the exertion of lifting, the soothing pull of stretching, and the raw power of a metal battering ram. Each 55-minute session loosens, strengthens, and lengthens the body through the perfect blend of the ballet barre, weight training, and limber Pilates. In the process, you'll tone your tush, thighs, arms, and abs while boiling away fat and blocking out the invasive anxieties of the real world, such as the lingering dread that squirrels are evolving faster than us and will soon overtake us on the food chain.
6791 Quail Hill Pkwy.
Irvine
California
Dim red lights cast a glow over the women's only pole-dancing studios at Unveiled Fitness. Periodically, the shadows of pirouetting bodies flicker against the wooden floor and reflections streak along the metal of 16-foot stationary and spinning poles. Within this environment, owner Kristin Mason and her team of instructors lead their students through pole-dancing classes. Combining the battle-tested fitness techniques of strength training, yoga, pilates, dance, cardio, and pickle-jar-opening, Kristin and her team aim to make every woman they work with feel confident in her body. The supportive staff also offers personal training, private parties, and foam-roller classes, which use a cylindrical piece of foam to boost flexibility and reduce muscle soreness.
25292 McIntyre St. , Suite S
Laguna Hills
California
Anyone who has ever been kicked out of a nightclub for trying to ride in on their bike didn't really do anything wrong, they just went to the wrong place. The instructors at Bike2theBeat are as versed in DJ'ing as they are in leading stationary-cycling classes, hosting their workouts within a mirrored studio that emanates a nightclub-style ambiance. Once students are comfortably situated atop their stationary velocipede of choice, they dim the can lights and raise the black lights to bring T-shirts, towels, and linen-clad ghosts to glowing fruition. Then they start spinning thumping tunes, swirling multicolored beams around the room and shouting out exercises and dance-like moves to create an intense, high-energy cycling routine. Routines vary according to each instructor's unique style, but they all deliver a calorie-burning cardiovascular workout. Guests have access to changing rooms, showers, and complimentary towels before and after every workout.
3928 Campus Dr.
Newport Beach
California
949-660-4970
Yoga is a great way to stay toned and limber while temporarily storing worldly worries in a drawer with knick-knacks, spare change, and shrunken heads. Like a chameleon trapped in a box of Crayolas, each class transforms yoga into a different shade while remaining the same at its core. Classes range in difficulty and specialty, including such varieties as Vinyasa Flow, Hot Yoga, and other conveniently color-coded courses. Intense red classes incinerate fat, whereas the blue series keeps things slower and steadier. View the upcoming schedule for Long Beach here and Fullerton here.
6535 E Pacific Coast Hwy.
Long Beach
California
---