Shopping in Costa Mesa
---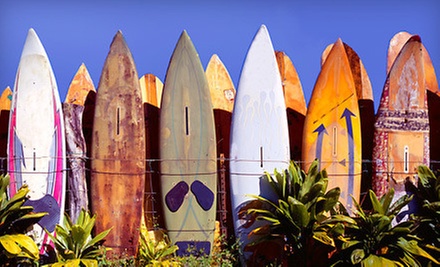 Downtown Huntington Beach
---
Recommended Shopping by Groupon Customers
---
After opening their first store in Anaheim in 1993, the grocery gurus behind Super King Markets noticed the globe-spanning diversity of their customer base. This keen insight led them to stock shelves with brands from across the world and around the corner, a policy which helped them win LA Weekly's Best Ethnic Deli Counter of 2009, Best Place to Buy Nutella of 2010, and Best Palace of Cheap Produce of 2011. Now expanded to five locations, the store still fills each outpost with fruits and vegetables, quality meats and private-label seafood, and an assortment of shells in the mixed-nut bar. Staff members behind the service deli weigh imported salamis, caviar, and cheeses for their upcoming high-school wrestling matches, and clerks in the liquor aisle dole out advice on each spirited beverages. Additionally, the Los Angeles, Altadena, and Claremont locations invite shoppers to linger longer with an expansive fresh bakery.
10500 Magnolia Ave.
Anaheim
California
With everything from Hello Kitty bags and Lakers gear to cardboard movie-star cutouts and mylar balloons, no one can accuse Aahs!! gift shops of not having variety. The eight locations equip party hosts of all kinds, including parents looking for Toy Story and Disney Princess favors and maids of honor seeking scandalous accessories for bachelorette bashes. The stores' battalion of T-shirts features images of superheroes and bands, and their array of movie merchandise pays homage to both recent releases and classics such as Star Wars,—the first film to document white dwarfs snubbing shooting stars. Aahs!! even helps customers celebrate St. Patrick's Day, Valentine's Day, or Halloween with rotating holiday decor.
The approach of Halloween also heralds the opening of Aahs!!'s fleet of Halloween-specific stores located throughout southern California. In addition to two Halloween Clubs that stay open all year, about a dozen temporary locations assemble thousands of costumes, wigs, masks, and props for trick-or-treaters and partygoers.
8308 On the Mall, Suite 2750
Buena Park
California
FastFrame's skilled framers customize borders for an array of wall-worthy pieces. Selecting from an extensive inventory of materials, they craft frames to showcase original artwork or to endow special photographs with a dignified display. Their carefully curated conservation materials prevent works of art from fading and prevent their subjects from sprouting a 5 o'clock shadow. But the framesmiths don't limit themselves to two dimensions—sports memorabilia, kids' artwork, and other three-dimensional objects find artistic preservation within shadowboxes. They even transform flat-screen TVs into customized, framed works of art by installing a VisionArt feature, which transmits the still image of a painting, family portrait, or favorite infomercial onto idle screens.:m]]
2072 SE Bristol
Newport Beach
California
949-833-3278
FrameStore's craftsmen have created more than 250,000 custom frames in the store's 35-year tenure, designing pieces that now adorn the walls of prestigious institutions such as the Los Angeles County Museum of Art, the Ritz-Carlton, and the Walt Disney Company. Professional designers guide FrameStore's clients through the 2,200 moulding options that can accent paintings and treasured items while adding style and elegance to rooms. The store's craftsmen then fashion pieces to patron specifications, outfitting frames with classic or museum-quality glass that blocks UV rays from bleaching out images or censoring pictures of the moon. Every piece goes through a 16-point inspection before it is given to patrons, and the team averages a seven-day turnaround on all of its projects.
6451 E Pacific Coast Hwy.
Long Beach
California
Buena Park Bicycles Co. operates two locations—Fullerton Bicycles and Buena Park Bicycles—and that still isn't enough floor space to showcase all of their bikes. Their ample stock canvasses almost every inch of the show-room floor, expanding to the walls and hanging from the ceiling amid bike gear, accessories, and apparel from renowned brand names including Specialized, Giant, Fuji, Bell, and Nike. The knowledgeable staff helps customers choose from road cycles, dirt bikes, or BMX rides, throwing out recommendations about which bike has the best shocks and which won't turn back into a unicycle at midnight. Also accommodating patrons who have already been paired with a two-wheeled steed, the certified maintenance professionals keep bikes rolling with expert tune-ups and free estimates for repairs.
424 E Commonwealth Ave.
Fullerton
California
SwimSpot brings high fashion poolside by amassing a collection of designer bikini and one-piece swimsuits by brands such as Athena, Guess, and Nautica. Each swimsuit and cover-up incorporates contemporary trends such as asymmetrical cuts or tropical colors to create stylish silhouettes, and a fit-specialist service provides body-shape searches and remote one-on-one discussions with experts to find a flattering suit for any shape. Lauded in the pages of People Style Watch, Lucky, and Seventeen, an online bikini builder enables the beach bound to build their own ensemble by mixing and matching tops and bottoms using a tool that yields more than 1,000 possible combinations. In addition to providing detailed descriptions and material breakdowns, each swimsuit offered in the online store is modeled in a video that offers a 360-degree view, allowing customers to get a better idea of what they'll look like as they run into the surf or slowly back away from a sleeping bear.:m]]
83 Fortune Dr., Suite 207
Irvine
California
949-727-4790
---