Things to Do in Cottage Grove
---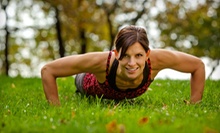 An Air Force and Army veteran leads varied workouts that couple military-style calisthenics with disciplines such as yoga and kickboxing
Use Friday 3:00am - 6:00am
---
Recommended Things to Do by Groupon Customers
---
Long rumored to be the home of eerie happenings, a lonely stretch along Highway 61 has begun to attract even more sinister attention with the arrival of The Haunting Experience on Highway 61. Drawing from the site's fabled past—including tales of cannibalism and mysterious disappearances—three haunted houses illicit goose bumps by way of deranged clowns, men with chainsaws, and ghosts plagued by unfinished business and half-completed doctoral theses. While waiting to enter the spooky abodes, guests can fortify their spirits by a bonfire and munch on snacks from the Ghoulish Grill and frosty mugs at the beer tent. Aside from these terrifying attractions, guests seeking a tamer experience can venture through a corn maze during the daytime, solving clues hidden within its paths to win prizes.
10900 E Pt. Douglas Rd.
Cottage Grove
Minnesota
Skiers and snowboarders gently rise over the St. Croix River Valley in one of 18 chairlifts that grant them access to Afton Alps' 300 acres of skiing terrain. With 48 trails—80% of which are manageable for beginner and intermediate alpinists—and an average annual snowfall of 48 inches, guests can carve their way down Afton Alps' 350-foot vertical drop in a variety of ways, from slowly snaking down a 3,000-foot run to tucking into a cannonball at the peak and landing with a white splash at the base. Three rental shops provide guests with high-quality gear, and a snowtubing park offers a more leisurely way to enjoy the tender romance between snow and gravity.
In the spring, the melting snow gives way to the fairways and greens of Afton Alps' 18-hole golf course, where golfers hunt pars over a combination of flat and hilly terrain. Guests can take in scenic views of the St. Croix River and its attendant wildlife aboard a peppy golf cart or while cruising down trails on a mountain bike or runaway wheelbarrow.
6600 Peller Ave. S
Hastings
Minnesota
651-436-5245
Vintage Paintball Park's speckled outdoor arena unfurls 10 different fields across 600 acres, including the Thunderdome, where players aged 10 and older engage in colorful combat under the watchful eye of trained referees ensuring safety. Amid the paintball crossfire, sharpshooters weave in and out of a variety of obstacles situated around urban landscapes, hilly terrain, and moms yelling to come inside for supper. The park hosts myriad battle scenarios that keep guests entertained throughout the day or for the duration of season passes. Private paintball lessons help players improve shooting accuracy before releasing them into the line of fire during Saturday and Sunday afternoon open play. An onsite concession stand replenishes body fuel with snacks and drinks so that players can jump back into games with the energy of a superhero bit by Ben Franklin.
N8645 1160th St.
River Falls
Wisconsin
Spread across 10 acres of beige grains, Extreme Sandbox invites patrons to re-explore the art of playing in dirt from behind the wheels of heavy construction vehicles. Participants 14 and older learn from highly trained instructors before stepping behind the earth-tilling instrumentation of Caterpillar construction equipment. Although most guests are first-timers, Extreme Sandbox's obstacle course can be customized to challenge more experienced Cat captains. Individual packages for solo drivers include one to seven hours with the iron-plated warhorses, and group packages for up to 20 guests last two to eight hours. The oversize sandbox features outdoor observation areas from which family and friends can watch as loved ones create unforgettable impressions on memories and topsoil.
1901 Glendale Rd.
Hastings
Minnesota
855-344-4386
Ever since its inception in 1935, the South St. Paul Rod & Gun Club has challenged visitors' aim and timing in the rugged backwoods surrounding the Mississippi River. At year-round shooting ranges, visiting marksmen raise their rifles on four trap-shooting fields and three skeet-shooting fields. They can also travel to eight raised, wooden stands on a 50-target sporting-clay course or switch up positions on a five-stand field, blasting at targets shot to simulate the flight patterns of various game birds, which is easier than tracking the deceptive tumbling of blown kisses. To challenge technique and speed, staffers fire a range of specialty targets such as vertical-launching springing teals and arcing chandelles. When not training new shooters or catering to recreational marksmen, the club's staffers host leagues and seasonal tournaments where competitors test their shooting prowess and showcase the season's hottest camouflage tuxedos. All visitors can refuel at an onsite restaurant and bar, or stock up on shells, earplugs, and apparel at the pro shop.
600 Gun Club Road
South St. Paul
Minnesota
651-455-7249
Since purchasing a used limo in 1993, Leland "Lee" Casto has transported clientele on trips and tours throughout the Twin Cities. These days, however, his fleet has evolved to include stretch limos that fit 6–22 passengers. Guests can sip refreshments from tumblers and champagne flutes as Lee whisks them off on all types of journeys, from bar-hopping excursions to airport-bound jaunts. He also accommodates patrons on several tours, which include winery visits, two gangster-themed expeditions, and a guided trek past ghost-filled mansions and werewolf-proof moon observatories.
251 Walnut St.
St. Paul
Minnesota
651-462-5466
---