Cottonwood, AZ Indoor Activities
---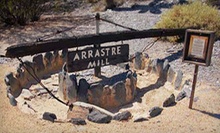 At the base of the Black Mountain, museum traces history of the Cave Creek area, from the ancient Hohokam Indians to American frontiersmen
Use Friday 10:00am - 4:30pm
---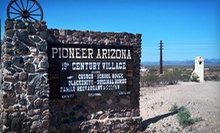 Use Saturday 9:00am - 4:00pm
---
Recommended Indoor Activities by Groupon Customers
---
Hundreds of animals from around the world roam the spacious, natural habitats on Out of Africa Wildlife Park's 104 acres. Narrated tram and trolley tours of the Wildlife Preserve jaunt past gray wolves and spotted hyenas, while a 30-minute African Bush Safari travels through a 22-acre high-desert-plains habitat where sable antelopes, zebras, and asian water buffaloes roam the hillside. Caretakers, colorful toys, and brain-tickling games of chess entertain Bengal and Siberian tigers in the Tiger Splash's 35'x50' pool. Guests eager to interact with the park's critters can hold anacondas and boas at the Giant Snake Show or tag along with caretakers feeding lions and tigers with 800 pounds of raw food.
3505 Camp Verde Bridgeport Hwy.
Camp Verde
Arizona
In 1906, after studying disruptions in the orbit of Uranus, Percival Lowell began to suspect the existence of a planet beyond Neptune. He referred to it as Planet X, and he scanned the night sky from his Flagstaff observatory until his death in 1916. More than two decades passed after the initial conjecture before Lowell astronomer Clyde W. Tombaugh sat down in the very same observatory and confirmed the existence of the dwarf planet Pluto.
Though Lowell and Tombaugh's planet was kicked out of the solar club in 2006, their discovery led to several decades of essential research at Lowell Observatory. The observatory's astronomers have since discovered evidence of the expanding universe and have also provided exhaustive measurements of the motions and basic properties of stars. In 2012, the nonprofit observatory became home to the Discovery Channel Telescope—the fifth largest telescope in the continental United States and currently the only one capable of observing the astronauts stranded on Neptune.
1400 W Mars Hill Rd.
Flagstaff
Arizona
---