Cottonwood Heights, UT Drs and Health Practioners
---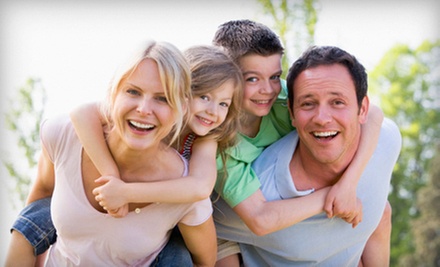 ---
Drs & Health Practitioners Deals
---
Recommended Drs & Health Practitioners by Groupon Customers
---
Millcreek Chiropractic brings bodywork bliss to bone bags rattled by aches and pains from botched shark-jumping attempts. During the chiropractic exam ($85), the doctor will review your medical history and you'll undergo basic testing of orthopedics, muscles, and reflexes. Then you'll receive a 45-minute massage ($45) from Millcreek Chiropractic's licensed massage therapist. Tissue toxins will be tossed out, circulation will be jump-started, and flexi-mobility will be restored.
4700 S 900 E, Suite 41-G
Salt Lake City
Utah
Acupuncture Integrative Professionals,treating pain to restore health & wellness. Activate your health potential to get your life up and moving again. Take a natural approach to healthcare while rediscovering a happier healthier you.
352 S. Denver St., Suite 307
Salt Lake City
Utah
801-708-4490
Master Lu has honed his understanding of energy imbalances in the course of more than 40 years' worth of Chinese acupuncture and martial-arts practice. His finely tuned needlework, which garnered him a spot on City Weekly's Best of Utah 2010 list, can be effectively employed to quell a variety of chronic problems, from headaches to addictive behaviors. Treatments can also help to alleviate insomnia or the depression that so often stems from painting watercolor self-portraits using only your tears.
3220 S State St.
Salt Lake City
Utah
801-463-1101
[[m:####Utah Sports And Wellness
As a triathlete and chiropractor who has worked with various professional athletes, Doctor of Chiropractic Michael Cerami knows that treating an athlete is different than treating a regular patient, as athletes are under great physical demands and often have limited time to recover from injury. That's why, at Utah Sports And Wellness, he combines what he calls "energy medicine" with muscle testing, bio mechanics, and soft-tissue work to treat athletic injuries and curb the need for surgery. He recommends various supplements, frequency-specific-microcurrent therapy, and the use of his hyperbaric oxygen chamber to keep athletes in peak physical condition and playing in the game, instead of sitting on the sidelines eating dandelions.:m]]
1550 E 3300 S
Salt Lake City
Utah
801-486-1818
In 1911, when he opened Standard Optical, Henry Schubach could not have guessed that his successors would be providing LASIK treatments and contact lenses in 18 clinics. Each office fills with chatter as doctors check prescriptions and work to identify common optical issues, such as glaucoma or weeping when an onion dies. Light skips off ranks of designer frames from Coach, Maui Jim, Guess, Lacoste, and Dior, and transitional lenses darken as newly keen-eyed patrons mosey from the shop. The staff at Standard Optical has also performed more than 15,000 LASIK procedures, and offers a free consultation for those seeking to ditch frames.
4878 S Highland Dr.
Holladay
Utah
At the Institute of Facial and Cosmetic Surgery, cosmetic surgeons Brent D. Kennedy and Steven Constantine use their expertise to bolster patients' appearances. Dr. Kennedy, who holds both a medical and a dental degree, established the institute in 1988 to he train doctors from across the country in a continuing-education fellowship program. He also shares his extensive knowledge as a clinical associate professor of aesthetic maxillofacial surgery at the University of Texas Southwestern Medical School, and has seen his surgical techniques published in several medical journals and textbooks. His colleague, Dr. Constantine, combines his experience in surgical procedures with a deep-seated desire to get to know his patients and witness the positive mental transformation that follows the physical one.
In the 7,000-square-foot state-licensed surgical facility—which offers overnight stays and 24-hour nursing care—the duo performs a variety of procedures, ranging from face-lifts and tummy tucks to laser skin resurfacing. A master aesthetician is on hand to care for skin with anti-aging GlyMed Plus and Obagi products. The center's cottage-like exterior gives way to a reception area with an oft-flickering fireplace and treatment rooms whose floral armchairs and semi-canopied beds recall the Victorian-style cottage where Jane Austen wrote the prequel to The Dating Game.
5929 Fashion Blvd.
Murray
Utah
801-261-3637
---