Council Bluffs, IA Health and Fitness
---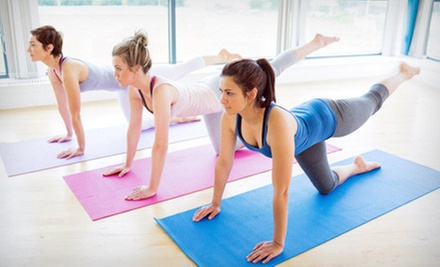 ---
Recommended Health & Fitness by Groupon Customers
---
Thanks to 20 hard-working snow-making machines, skiers and snowboarders of all levels can zip down nine different runs reaching up to 2,000 feet, and also enjoy night skiing at this western-Iowa resort. Although gravity will pull patrons inexorably toward the bottom of the slopes, two chairlifts return as many as 3,600 snow surfers to the top each hour, where they can take in views of the ski area's 50 acres, test their mettle on trails such as the challenging Double Trouble Chute, or make a snow-sculpted diorama of the entire cast of Happy Days. Afterward, skiers can warm their toes in the newly renovated two-story lodge and replenish their bodies with a drink from the Mountain Cafe & Bar. Guests can also rent skis and snowboards, take lessons, or conquer the slopes on an office chair.
17026 Snowhill Ln.
Crescent
Iowa
Triba Health and Wellness Clinic's certified doctors and technicians streamline physiques and boost inner wellness with noninvasive treatments that combine space-age technology with ancient healing techniques. Aided by Venus Freeze technology—which combines radio frequencies and magnetic pulses—technicians can reduce the appearance of wrinkles and smooth skin so clients can once again nab acting roles as high schoolers who remember the Battle of the Bulge.
Other technology-driven services include Zerona body-sculpting treatments – which liquefy subcutaneous fat so the body can more easily process it – and energy treatments that stimulate inflamed tissue and alleviate aches and pains. To complement their arsenal of high-tech procedures, technicians draw from traditional techniques as well, using acupuncture to combat allergies and chiropractic methods to trigger bodies' self-healing abilities.
2720 S 114th St.
Omaha
Nebraska
402-330-1652
At Meridian Chiropractic Clinic, Dr. Jeff Yoder and his team quickly and efficiently treat patients with traditional chiropractic techniques and advanced technology. The doctor uses the ProAdjuster, a computerized device that exerts a small mechanical force on the body and measures the response through sensors and software. Dr. Yoder also employs physiotherapies such as muscle stimulation and traction. Nationally certified massage therapist and registered medical assistant Amy Warren complements treatments with a variety of modalities, including prenatal massage, sports massage, and rotator-cuff release, which allows break dancers to more fluidly execute an arm wave.
13029 Arbor Street
Omaha
Nebraska
US
402-350-6406
The typical American back suffers two to three fractures a year from attempting to pick up prank quarters glued to the sidewalk. Get your back back on its best behavior with a little chicken noodle soup for the muscular-skeletal soul. For $39, today's Groupon gets new clients a chiropractic consultation, exam, adjustment, and 30-minute massage—not including x-rays if needed—at Meridian Spine and Joint, a value of up to $295. If you've already had an experience with the expert back menders at Meridian, you can purchase this Groupon for a full-hour massage ($80 value). Meridian is located on the North Side of Indianapolis.
13029 Arbor Street
Omaha
Nebraska
US
402-350-6406
Omaha Power Yoga's highly trained instructors help students empower their bodies and minds inside an intimate studio space made cozy by cork floors and glowing chandeliers. Teachers design sessions for students of all skill levels, including Basic Power, which focuses on imparting yogic building blocks including poses and breathing exercises, and Zyre Yoga classes, where students work through an athletic, muscle-toning series of poses. During all yoga classes, instructors ensure that students achieve correct spinal alignment during poses, which teach the mind and body to coordinate efforts for an increased sense of body awareness and fewer squabbles over who really holds the spleen's affections.
3880 S 149th St., Suite 115
Omaha
Nebraska
---