Restaurants in Council Bluffs
---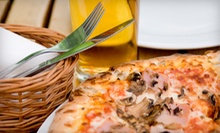 Expansive bar with beer garden, pool tables, flat-screen televisions, and live music
---
Recommended Restaurants by Groupon Customers
---
Chef and owner of Café L Luis Palacio is fussy about food, much to the delight of his diners. Before he adds any new dish to the café menu, it must pass the test with his family and friends―any dish found lacking is tweaked until the flavors are perfect. This fussiness extends to his choice of ingredients as well. His smoked pork chops originate from free-range pigs fed a diet free of steroids, antibiotics, and grape soda. Then, local barbecue-master Ray Green smokes the meat to a state of succulent goodness. Luis puts similar care into his specialty sandwiches, 12-inch pizzas, and dinner entrees, which change each month.
4741 S 96th St.
Omaha
Nebraska
402-201-3386
Perched above the restaurant's entrance, the Cat Daddy's catfish mascot welcomes diners into his digs, sporting a sharp fedora and a devious grin. He's a symbol of what patrons are in for: catfish with a kick. At Cat Daddy's, the cooks fry up spicy Cajun catfish in addition to a slew of southern-style eats. The surf side of Cat Daddy's menu rolls out heaping platters of shrimp, white fish, and tilapia, complementing inland specials including fried chicken and full pounds of rib tips. Down-home to its core, Cat Daddy's surrounds meals with collections of knickknacks and keepsakes lining its wood-paneled walls, and outside, a spacious patio hosts heated bites during summer months.
7051 Ames Ave.
Omaha
Nebraska
402-333-6391
The first IHOP—the dream of founders Al and Jerry Lapin—opened in 1958 in Toluca Lake, California, and was originally dubbed the "International House of Pancakes." Since then, rapid expansion has led to myriad milestones across the company's colorful history, from introducing its modern IHOP acronym in 1973 to its 1,000th restaurant opening in Layton, Utah, in 2001. Today, the company stands strong with around 1,500 locations across North and Central America, each one an enthusiastic dispenser of pancakes, french toast, and tables constructed entirely out of bacon. Though IHOP is known as a bastion of breakfast, it also stays open during the day and into the evening, delivering lunch and dinner as well.
12423 W Center Rd.
Omaha
Nebraska
402-333-3533
Spotlights and lasers in shades of blue, green, and purple ricochet around Capitol Lounge and Supper Club, illuminating guests for an instant as they shimmy on the dance floor or relax on white leather banquettes. A menu of upscale pub snacks, such as fried mac 'n' cheese croquettes and flatiron steak, join drinks from Miller Lite to Grey Goose and Cristal to reenergize these revelers, who have three levels of club to explore and plenty of exposed brick and shiny metal ducts to admire. The lounge hosts weekly special events, bringing in prominent guest DJs for weekend preparties, staging Thirsty Thursdays, and setting up seasonal get-togethers such as back-to-school bashes and G8 Summit celebrations.
1011 Capitol Ave.
Omaha
Nebraska
402-708-9988
Polish immigrant Frank Kawa founded Johnny's Cafe in 1922, improving upon an existing saloon with an expansion, the addition of electricity, and a rule that forbade ketchup fights. However, despite its renovations, the restaurant still surrounds guests with old-fashioned saloon decor, including moose heads and slick leather chairs, and sates guests with hearty steakhouse fare. Hewn from corn-fed, USDA-choice beef, hand-cut and aged steaks include options such as porterhouses, rib eyes, and prime rib, served with salads, freshly baked rolls, and potatoes. Broiled lobster tails and half chickens round out the menu alongside complimentary liver pate, paired with wines and classic cocktails such as the old-fashioned, the Manhattan, and the martini.
4702 S 27th St.
Omaha
Nebraska
Owners and chefs Roberto and Ana Meireles pile plates high with meticulously crafted dishes of beef, pork, poultry, and seafood made to order from fresh ingredients and traditional spices. Fried plantains, tropical fruit shakes, and Cuban sodas serve as plane tickets for the palate as lush foliage, cabana decor, and a working baggage claim evoke Caribbean climes. Libations from a brightly colored bar balance the subtle spice of the restaurant's signature red Cuban creole sauce. Gusto Cuban Cafe's patio bustles during the warmer months, and salsa dancing on weekends, like getting stuck on a slide, gives people an excuse to shake their hips.
7910-7920 Harrison St.
Ralston
Nebraska
402-614-7800
---