Restaurants in Council Bluffs
---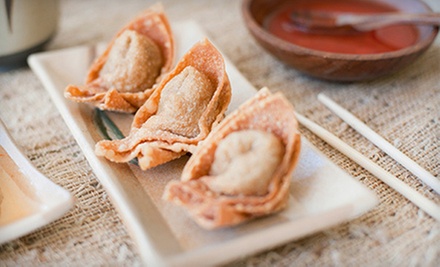 ---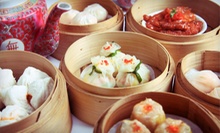 Traditional Chinese-American dishes and dim sum in bamboo steamers
---
Recommended Restaurants by Groupon Customers
---
Chef and owner of Café L Luis Palacio is fussy about food, much to the delight of his diners. Before he adds any new dish to the café menu, it must pass the test with his family and friends―any dish found lacking is tweaked until the flavors are perfect. This fussiness extends to his choice of ingredients as well. His smoked pork chops originate from free-range pigs fed a diet free of steroids, antibiotics, and grape soda. Then, local barbecue-master Ray Green smokes the meat to a state of succulent goodness. Luis puts similar care into his specialty sandwiches, 12-inch pizzas, and dinner entrees, which change each month.
4741 S 96th St.
Omaha
Nebraska
402-201-3386
Perched above the restaurant's entrance, the Cat Daddy's catfish mascot welcomes diners into his digs, sporting a sharp fedora and a devious grin. He's a symbol of what patrons are in for: catfish with a kick. At Cat Daddy's, the cooks fry up spicy Cajun catfish in addition to a slew of southern-style eats. The surf side of Cat Daddy's menu rolls out heaping platters of shrimp, white fish, and tilapia, complementing inland specials including fried chicken and full pounds of rib tips. Down-home to its core, Cat Daddy's surrounds meals with collections of knickknacks and keepsakes lining its wood-paneled walls, and outside, a spacious patio hosts heated bites during summer months.
7051 Ames Ave.
Omaha
Nebraska
402-333-6391
The first IHOP—the dream of founders Al and Jerry Lapin—opened in 1958 in Toluca Lake, California, and was originally dubbed the "International House of Pancakes." Since then, rapid expansion has led to myriad milestones across the company's colorful history, from introducing its modern IHOP acronym in 1973 to its 1,000th restaurant opening in Layton, Utah, in 2001. Today, the company stands strong with around 1,500 locations across North and Central America, each one an enthusiastic dispenser of pancakes, french toast, and tables constructed entirely out of bacon. Though IHOP is known as a bastion of breakfast, it also stays open during the day and into the evening, delivering lunch and dinner as well.
12423 W Center Rd.
Omaha
Nebraska
402-333-3533
Spotlights and lasers in shades of blue, green, and purple ricochet around Capitol Lounge and Supper Club, illuminating guests for an instant as they shimmy on the dance floor or relax on white leather banquettes. A menu of upscale pub snacks, such as fried mac 'n' cheese croquettes and flatiron steak, join drinks from Miller Lite to Grey Goose and Cristal to reenergize these revelers, who have three levels of club to explore and plenty of exposed brick and shiny metal ducts to admire. The lounge hosts weekly special events, bringing in prominent guest DJs for weekend preparties, staging Thirsty Thursdays, and setting up seasonal get-togethers such as back-to-school bashes and G8 Summit celebrations.
1011 Capitol Ave.
Omaha
Nebraska
402-708-9988
Eddie Morin has fond memories of swinging his feet in a B&G Tasty Foods booth as he and his dad shared the Bee Gee, the eatery's signature loose-meat sandwich. During college, Eddie would craft his own Bee Gees as a B&G cook, cementing his love for the venerable restaurant, an area staple since 1953. So it's no surprise that in 2009, when the then-owner of B&G Tasty Foods considered closing, Eddie volunteered to take over ownership.
Since then, Eddie and his crew have undertaken extensive renovations of the space, expanding the dining area and increasing seating by half. As an homage to the restaurant's birth year, they had the logo redesigned in a retro style, and red-framed '50s-era advertisements now line the sage-green walls. Five antique Schwinn Stingray bicycles perch above tables, so diners who bring their own xylophone mallets can tap out their favorite Big-Bopper hits on the spokes.
Though the team also streamlined and updated the menu—adding items such as salads and a vegan hot dog—they opted to retain the original Bee-Gee recipe, which has remained the same since 1953, when Eddie's father developed it. Breading made from ground cornflakes crisps up the Cheese Frenchee and Bee Gee Frenchee. In addition to these, there is also a unique frenchee featured each month. Past iterations have included Nutella and banana breaded with graham crackers as well as a Thanksgiving-Day special with turkey and cranberry sauce breaded in stuffing.
7900 W Dodge Rd.
Omaha
Nebraska
402-390-6096
Chefs spin classic American dishes with a touch of gourmet flare. The "Americana fusion" technique, which yields such comforting cuisine as smoked-chicken-enhanced gouda mac 'n' cheese, helped Zin Room earn a spot on the Omaha World-Herald's list of Top 8 Restaurants in 2011, as well as ongoing usage in love songs written by foodies.
Located inside the luxurious Hotel Deco, the restaurant features sleek lights and chandeliers that softly illuminate diners' artistically arranged plates and rough-hewn pillars that support two floors of seating. Behind the stocked bar, bartenders mix drinks and use the wine wall's sliding ladder to allude to former lives as librarians.
316 S 15th St.
Omaha
Nebraska
402-991-0660
---