Coventry, RI Outdoor Activities
---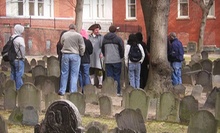 Follow a guide in a tricorn hat on a 90-minute exploration of colonial Boston through the uprisings that led to American independence.
Use Monday 8:30am - 11:30am
---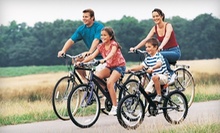 Lubed & trued two-wheelers roll along Sandwich Boardwalk planks as riders absorb sites of museums & unique village shops
Use Today 8:00am - 6:00pm
---
Recommended Outdoor Activities by Groupon Customers
---
The ferry etches white waves into the rippling, blue expanse of Cape Cod Bay as it speeds away from Plymouth. From his cabin on the top deck, the captain––a licensed skipper armed with more than 20 years of seafaring experience––slides his sunglasses over his eyes to shield them from the morning sun that gilds the waters in its glittering beams. From their seats on one the ferry's two open decks or inside the 100-foot enclosed cabin, passengers gaze at historic sites as they listen to a narrated history of Plymouth Harbor.
Champions of introducing visitors to the area's storied past, Waterfront Enterprises' crew members shepherd guests back and forth between Plymouth and Provincetown during daily three-hour roundtrips throughout the summer months. The U.S. Coast Guard-inspected ferry sidles up to Provincetown's Fisherman's Wharf for a five-hour stopover, granting visitors a window in which to explore the community's abundant sights. Guests can peruse local art galleries before stopping for lunch at a restaurant or hitting the Cape Cod National Seashore to comb the beach for shells capable of broadcasting the soothing sounds of the sea or Enya. After an afternoon of wandering, sightseers hop back on the carpeted, climate-controlled vessel to return to Plymouth as evening draws near.
77 Water St.
Plymouth
Massachusetts
Bobby Drought and the crew behind Rhody Surf spent 10 years teaching surf lessons for fun in and around Aquidneck Island before coming together to form a business. Today, this group of certified instructors spreads an infectious love of surfing to as many people as possible, not even bothering to establish a traditional brick-and-mortar shop—lessons are either online or at the beach. Their students learn through private or group lessons, mastering simple movements on dry land before hitting the Atlantic's fully customizable waves. Rhody Surf also offers surf camps for children, as well as surfing excursions for individuals visiting on cruise ships.
474 Sachuest Point Rd.
Middletown
Rhode Island
401-216-9283
Before helming Paddle Board RI, John Andel was working as an IT consultant, itching to hop onto his board as the hours crept by each day. An erstwhile surfer, scuba diver, and spear fisher, John had encountered standup paddleboarding while visiting Costa Rica and fell in love with the aquatic pastime faster than two cupids in an archer's duel. "You get a whole different perspective," he says of standing up on the board. "Sometimes you can see 20 feet down into the water."
Drawn to the sport's flexibility, John has engineered a diverse selection of tours, including the full-moon paddle, the business's most popular tour, which takes groups out on quiet waters to gaze up at the glowing orb and stake out real estate for the moon colonies of the future. Another tour, the Tuckered Dog, invites pooches to hop on board with their owners at a dog-friendly pond. Paddle Board RI also offers classes from introductory lessons to less traditional options, such as paddleboard yoga taught by a certified yoga instructor, meditative sunrise sessions, and muscle-sculpting workout classes.
Although his business has taken off, Andel still leads the vast majority of the tours: at the heart of the venture still beats his own passion for being out on the water and sharing his love of paddleboarding with others. "We're not just a rental company," he says. "We're about enjoying the water."
16 Community Dr.
Matunuck
Rhode Island
The licensed instructors at Cowboy Jim's Western Adventures rustle up nostalgia for the Old West through riding on the old ponderosa as well as Western- and English-style riding lessons. Upon arrival, ranch visitors mingle with the stable's extensive roster of horses, including such breeds as arabians, indian paints, and true western quarter horses, before deciding which to ride based on chemistry cultivated over a mutual appreciation for oats. Lessons commence with a comprehensive instructor demonstration and an evaluation of the student's riding style and ability. Apprenticing cowboys can round out their Western education through roping, playing the guitar, or barrel riding, which was how cowboys got home from the saloon after friends took away the keys to their horses.
6 Cedar Oaks Dr.
Plymouth
Massachusetts
781-291-0301
The ocean's waves and a seabird's occasional rock ballad are all that interrupt the silence across the Stellwagen Bank National Marine Sanctuary. Suddenly, a humpback whale leaps from the water and crashes back down, sending a plume of whitecaps into the air. Aboard their boat, a tour group snaps photos of the breathtaking moment as a crewmember narrates it all.
The US Coast Guard–licensed captains at Capt John Whale Watching and Fishing Tours aim to create once-in-a-lifetime experiences like these everyday. Their boats serve as floating classrooms, aboard which they teach deep-sea fishing some days and pilot groups into the habitats of everything from dolphins to minke whales on other days. The marine educators also lead kids' programs that let the students explore an on-board tidal pool to feel the texture of spider crabs, sea stars, and baby submarines.
10 Town Wharf
Plymouth
Massachusetts
508-746-2643
EcoTourz's cache of bikes and kayaks furnish unique perspectives of the Upper Cape's natural splendor and Sandwich's historical charms. Guides usher small groups of kayakers down Historic Mill Creek, where herons and osprey soar above the tall grass while conspiring to overthrow the neighborhood mockingbirds. On dry land, EcoTourz staff rents out bicycles and divulges prime pedaling spots, such as the marsh-lined Sandwich Boardwalk or some of the Cape's oldest buildings.
20 Jarves St.
Sandwich
Massachusetts
US
508-888-1627
---