Restaurants in Covington
---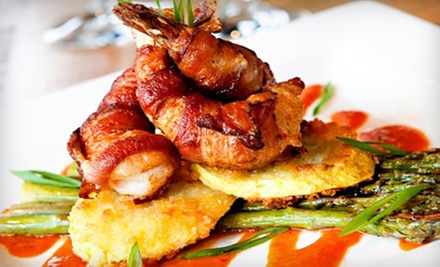 ---
Recommended Restaurants by Groupon Customers
---
Arirang Japanese Bistro's discerning chefs funnel only the highest quality ingredients into their Japanese entrees, which are composed of seafood and meats airlifted to the eatery daily. Like a lawnmower let loose in a gourmet market, the dexterous teppanyaki chef slashes his blades through lobster tail and filet mignon, which sizzles atop table-centered grills as diners look on. Artfully presented sushi rolls hug pristine morsels of eel or crab, and entrees showcase dish designers' aptitude for searing veggies, poultry, seafood, and USDA Choice cut steaks. Vibrant, crimson walls flaunt three-dimensional swirls and visually pop next to dark vinyl chairs, obsidian brickwork, and dimly lit black holes.
7800 Montgomery Rd.
Cincinnati
Ohio
513-794-9888
Lauded by WCPO for their expansive culinary wingspan, Pera Mediterranean's chefs whip up dishes culled from cultures varying from southern France to eastern Turkey. Hanging light fixtures illuminate the warm-toned dining room accented by tangerine-colored walls, as trays piled with gyro kebabs and cabbage stuffed with lamb, rice, and dill sashay to tables. A full bar soothes parched tongues, stocked with spirits to accompany savory flavors and rinse tzatziki stains from laps.
1026 Delta Ave.
Cincinnati
Ohio
Next Chapter channels a lively predecessor—Chapter 13, a popular neighborhood bar from the '70s and early '80s—in both name and emphasis on entertainment, according to Campbell's Scoop, a blog penned by Cincinnati Enquirer restaurant critic Polly Campbell. Though it serves a small menu of upscale bar fare, including signature sandwiches and fried appetizers, the space centers on a predominant bar with a focus on special events and live entertainment. Diners can sample the pub's wares and happy-hour specials inside the recently renovated, 130-year-old building or throw drink coasters at passing cars from a large, outdoor patio.
940 Pavilion St.
Cincinnati
Ohio
513-379-4229
The plates at Fiesta Vallarta arrive to tables brimming with melted cheese, nachos piled high, and burritos stuffed with beans, beef, rice, and vegetables. Tortilla shells fold to form quesadillas or contort into enchiladas filled with sour cream and avocado. Lunch express options sate midday hunger pangs with combinations of enchiladas, chalupas, and quesadillas, or chicken burritos and beef tacos. A collection of steak dinners dress in ranchero sauce, homemade secret sauce, or toppings of shrimp, bacon, and veggies.
8600 Beechmont Ave.
Cincinnati
Ohio
513-429-4195
The carved bodies of fierce dragons, their eyes aglow with neon red lights, corkscrew about Magic Wok's foyer as if awakened by the aromas of Sichuan, Hunan, Mandarin, and Cantonese dishes. In the dining room, lime-green walls come alive with red tapestries, accented by canary-hued Chinese pictograms. After polishing off a Thai-style fish fillet, guests retreat to the bar to sip plum wine, elixirs wrung from apples and pineapple, or champagne with all the bubbles picked out.
7219 Wooster Pike
Cincinnati
Ohio
513-271-6898
Tucked away inside the Garfield Suites Hotel, Cafe Martin can be difficult to find, but according to The Food Hussy—a blogger who reviews restaurants around the country—it's worth the search. The café is an especially popular lunch destination that specializes in homemade pizzas, Black Angus burgers, and New York–style sandwiches that sport hearty cuts of meat and can hail a cab from two blocks away. Diners can enjoy their meals at the collection of small, outdoor patio tables or inside the red-and-yellow dining room, which features floor-to-ceiling front windows and a long, wooden bar where servers pour Douwe Egberts coffee, espressos, and lattes.
2 Garfield Pl.
Cincinnati
Ohio
513-421-2888
---