Cranston, RI Indoor Activities
---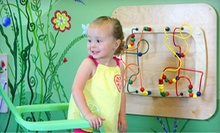 Toddlers romp in playroom painted with pastoral scenes & filled with mini slides, cloth tunnels & games to refine motor skills
Use Monday 9:00am - 12:00pm
---
Recommended Indoor Activities by Groupon Customers
---
Throughout history, it was swordplay that was the true universal language. Working to expose budding swashbucklers to a long history steeped in tradition, the duo of coaches at Ocean State Fencing Club bring their unique experiences to their eager students. Owner Mikhail Kolker's competitions throughout the former USSR, and coach Sergey Kolker's national medalist status give them all an expert edge and perspective. Pupils aged 6 to adult can expect to obtain the quickness of a cat while participating in low-impact drills that prepare them for competition or intense Renaissance Fair auditions.
85 Industrial Cir.
Lincoln
Rhode Island
401-787-3427
Mat Pilates classes mix timeless movements with the enigmatic vortex of fitness known only as the Magic Circle to keep Pilates pros on their toes in the 3,000 square foot space. Beginner classes are available for those who still experience enthusiastic, open-mouthed awe at the simplest of Pilates maneuvers. Check the schedule for class times; all classes are drop-in, so there's no need to register ahead of time. After 10 classes, your body will be as finely tuned as a fresh-out-of-the-factory What About Bob? pinball machine.
1005 Main Street, Suite 111
Pawtucket
Rhode Island
The Rush Hour series serves those who are curious about symphonic music but have never had adequate time to attend a show. Conducted by Music Director Larry Rachleff, these short, informal concerts will swiftly capture the ear's attention by breezing through two or three classical pieces and providing educational information about their historical context and whether or not they've been sampled in a Will Smith song. Choose the concert on October 15 to hear Beethoven's pastoral Symphony no. 6 and his expressive Symphony no. 7, or relax on November 19 to twentieth-century selections by Samuel Barber and Maurice Ravel. Brahms' Piano Concerto no. 2 headlines the February 25 show, along with Richard Strauss' epic _ Also Sprach Zarathustra_. Finally, orchestra buffs can immerse themselves in concertos by Lutosławski and Tchaikovsky on April 15 to celebrate Tax Day.
667 Waterman Ave.
East Providence
Rhode Island
North Bowl Lanes welcomes gamers of all ages daily to enjoy 40 lanes of ten-pin bowling and 35 arcade games with a prize center. Like the timeless Cinderella story, the alley keeps its doors open until midnight Monday through Thursday, whereupon the bowling balls turn back into pumpkins and players must return their rental shoes. On Fridays and Saturdays until 1 a.m., however, guests can pitch neon balls as a light show and music videos play during cosmic bowling. At The All Star Pub Grill, chefs serve up hand-tossed pizzas and burgers, and bartenders tap a rotating selection of eight beers and mix a full spectrum of specialty cocktails.
71 E Washington St.
N Attleboro
Massachusetts
508-695-2695
To weather his career as a master sergeant and a decorated Special Forces combat veteran, Shihan Randy McElwee needed a solid grasp on combat maneuvers. Nowadays, the retired McElwee teaches the pragmatic self-defense skills that got him through battle at his martial-arts studio, American Black Belt Academy. The school specializes in the official hand-to-hand combat system of the US military: Gracie Brazilian jujitsu. The system's standing and ground moves harness leverage to take on larger opponents as well as help participants neutralize surprise attacks. For a broader focus, students can opt for an integrated martial-arts fitness workout, which combines jujitsu with muay thai kickboxing and Japanese shotokan karate. Regardless of their specificity, all of the studio's classes enhance focus, self-confidence, and courage when the laundry room's light goes out.
3 Commerce Street Greenville, RI 02828
Greenville
Rhode Island
US
401-949-3525
Owner Richard Lanza began Open Doors as a metaphysical healing center and store in 1992, and he carried that healing spirit into the yoga studio he opened in 2003. At Open Doors Yoga Studios, Richard's goal is to create a space where people feel empowered to explore their personal beliefs on a path toward self-healing. Thus, yoga instructors at the studio's numerous locations help practitioners achieve their personal goals through accessible classes, each designed to build core strength while quieting the mind and increasing body awareness. From slow-flow heated classes to unheated Hatha sessions, students can participate in a variety of yoga styles geared toward beginners, more experienced participants, and those who only feel comfortable in a 98-degree room.
652 E Washington St.
North Attleboro
Massachusetts
---