Schools & Tutors in Cranston
---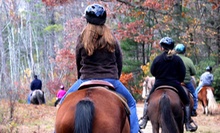 Riders aged 10 or older take in breathtaking scenic terrain during one- or two-hour trail rides
---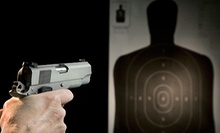 Armed with a replica pistol that fires laser beams, take aim at targets and scenarios that unfold on a 70-inch high-definition video screen
Use Wednesday 8:00pm - 9:00pm
---
Recommended Schools & Tutors by Groupon Customers
---
For more than 30 years, the passionate instructors at Learning Center have taught pupils with a flexible schedule of night and day classes in subjects ranging from dance and language to fitness and business. During craft workshops, aspiring artisans may spend three hours creating fused glass pendants ($49, materials fee of $10 not covered), while writing courses include a five-session healing poetry class ($95), in which students learn whether to ingest a book of Wordsworth or Byron to treat bed-ridden cases of writer's block. Females ward off would be assailants in Self Defense for Women ($35), and entrepreneurs acquire the skills needed for starting an online retail business ($45, materials fee of $5 not included) during a three-hour intensive course. Mind and body classes shepherd students along the path to inner harmony, culinary workshops unlock kitchen skills, and a smorgasboard of technology courses impart the secrets of training a computer to bark on command.
201 Wayland Ave., Floor 2
Providence
Rhode Island
401-274-9330
The professionally trained fencing instructors at Rhode Island Fencing Academy & Club seek to develop their students' mind, body, and character through participation in the centuries-old sport. During the academy's classes, students of any skill level may choose to learn on all three Olympic weapons: foil, sabre, and épée. The one-hour sessions generally last for six weeks and each builds on prior material to help students improve their skills on the strip. Two meetings are composed entirely of competition with fellow classmates, allowing students to show off their newfound skills, and the last session is a class tournament.
Rhode Island Fencing Academy & Club, which originally operated as a two-location enterprise, consolidated into one 12,000-square-foot full-time professional fencing studio in March of 2012. The air-conditioned facility features 15 electric strips and zero chandeliers from which swashbuckling fencers may swing. Though the sport finds its roots in the practice of sword fighting, modern fencing is much safer, and the academy has advanced equipment and instructors that hold CPR certification just in case.
2800 Post Rd.
Warwick
Rhode Island
Trapeze School New York's expansion west meant Angelenos no longer had to cross the country to join the circus. At two locations—an indoor studio for silks classes in Santa Monica and an outdoor studio on the Santa Monica Pier—highly trained instructors teach beginner, intermediate, and advanced maneuvers during classes on the flying trapeze, aerial silks, lyra, trampoline, and Spanish web. All of Trapeze School New York's countrywide facilities in New York, Boston, Washington, DC, Chicago, and LA hold themselves to high safety standards that account for everything from equipment to instructors and life preservers. In an effort to bring their flying-trapeze instruction to surrounding communities regardless of funding, the school also gives lessons through their nonprofit branch of operations.
50 Walkers Brook Dr.
Reading
Massachusetts
781-942-7800
AES Languages, or Adaptive Education Services, expands cultural horizons and crushes communication barriers with dynamic language programs for businesses and individual students. Experienced instructors teach tongues to pronounce delicate sonants and powerful plosives as they stretch minds toward fluency. Foreign-language book clubs and immersive trips to international locales boost familiarity with a country's language and customs and make navigating international conversation easier than paying a guide to make prewritten subtitles.
60 State St., Suite 700
Boston
Massachusetts
Alliance Francaise de Providence was founded in 1901 to spread the breadth and knowledge of French-speaking cultures throughout the Providence community through private and public language classes. Since then, it has expanded its repertoire to include Spanish-language instruction, French cooking classes for kids, and cultural workshops that focus on artistic and social topics such as poetry and films so that students can prepare to battle gangs of critics. By immersing small classes in each language's culture, native French and Spanish speakers teach tongues to pronounce the subtle syllabic nuances of each language.
English as a Second Language (ESL) classes reverse the process, helping French tongues to articulate English phonemes and colloquial phrases such as "He's barking up the wrong tree" and "There's a rabid badger on the loose." The alliance's events for adults and children, specialized club, and French library, which boasts more than 2,000 books and 100 French movies and magazines, keep students involved and immersed in culture.
928 Smith St.
Providence
Rhode Island
401-272-6243
At Mass Firearms School, instructors certified by the Massachusetts State Police and NRA train students to safely and effectively use firearms. In a fully equipped indoor range, patrons can practice their aim without the heckling of wisecracking blue jays or world-champion darts players. The professional instructors lead participants through basic safety certification courses, as well as marksmanship, firearms law, and firearms safety classes designated for women only. To keep their aim true and their expertise up-to-date, the instructors at MFS refresh their skills through annual enhancement training to assure their students receive the best coaching possible.
100 Kuniholm Dr.
Holliston
Massachusetts
800-308-6212
---