Things to Do in Cranston
---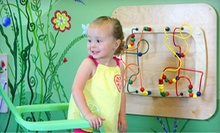 Toddlers romp in playroom painted with pastoral scenes & filled with mini slides, cloth tunnels & games to refine motor skills
Use Monday 9:00am - 12:00pm
---
Recommended Things to Do by Groupon Customers
---
Though Breathing Time Yoga is housed within an old jewelry textile mill built in the 1800s, its classes hearken back to an even earlier time. Beneath the lofty 20-foot ceilings, seasoned instructors—many of whom have completed several hundred hours of teacher training—practice ancient poses and breathing exercises designed to promote strength, flexibility, and inner peace. During heated yoga classes, they turn up the infrared heating system to deepen stretches, help bodies sweat out toxins, and prevent arctic penguins from waddling in and interrupting class. Within this communal practice area illuminated by the sunlight drifting through the oversize windows, they also host non-heated classes that explore the breath-fueled sequences of Vinyasa-style yoga and the lengthy, alignment-focused poses of the Iyengar tradition.
In addition to leading yoga routines for students of all levels, the instructors supply free spring water, tea, mats, and props. After class, they encourage students to socialize in the reception room or browse the onsite library. Those interested in bolstering their mind-body connections may also schedule private meetings with a certified yoga therapist or personal coaching from yoga teachers.
541 Pawtucket Ave.
Pawtucket
Rhode Island
401-421-9876
Inside Serenity Yoga's calming confines, attentive instructors guide students toward physical fitness and inner peace with the help of ancient poses and mind-focusing exercises. Yogis of all skill levels congregate in group classes, where they work to build community and self-awareness with each stretch, bend, and game of Duck, Duck, Goose. Classes range from gentle, chair-based routines to athletic Vinyasa sessions, where students transition from one pose to the next with balance-challenging movement and concentration-honing breath work. To help new pupils build a strong foundation for future yogic endeavors, teachers spout technique tips and encouraging words. In addition to yoga classes, the studio also hosts soul-stirring events, including meditation workshops, tarot-card readings, and metaphysical fondue parties.
21 College Hill Rd.
Warwick
Rhode Island
401-615-3433
Artist Deenie Pacik, armed with nearly two decades of crafting fused-glass artwork and teaching at schools such as Franklin Pierce University, imparts her expertise during a variety of classes. In Deenie's fully equipped home studio, small groups of students learn to fuse dichroic glass and powder into everything from shiny pendants to new work boots for Cinderella's cousin. Projects transform into translucent objets d'art in the glass kiln, which, as Deenie tells the Warwick Beacon, heats glass at three times the temperature used to bake a pizza, or eight billion times the heat used to glaze an ice sculpture.
25 Hartford Pl.
Warwick
Rhode Island
401-919-5969
Perched along the historic Palmer River, where steamships used to chug along to the ocean's embrace, the tree-spotted links of Wampanoag Golf Course invite players to swing their way through nine holes designed by golf course architect Aljenon Barney in 1932. Golfers swing their way through the 110 acres of bucolic greenery, where subtle slopes facilitate walking or somersaulting from hole to hole, and gas-powered carts ferry club-swingers who loop the course twice over to play a full 18. Players are challenged with forced carries over water hazards on holes 7, 8, and 9 and must use deft club selections throughout to avoid excessive sunbathing in the course's populous sand traps. After breaking a sweat, golfers can lounge in the shade of a patio, munching on sandwiches and sipping complimentary coffee before summoning camel transports for a renewed attack on hole six's sandy moat to the green.
168 Old Providence Rd.
Swansea
Massachusetts
508-379-9832
A simple sewing tutorial from Mikala Cash's grandmother at age six sparked a passion in the Creative Sewing Lessons' founder that continues to smolder after an education from Massachusetts College of Art and Design. At her North Attleboro studio, Mikala guides students of various levels through a range of classes, including tailoring, invisible zippers, and sewing for kids, which arms youngsters with the know-how to construct business suits for lemonade stand conventions. In addition to her sewing classes, Mikala invites guest artists to lead workshops during her Creative Night Out series, a monthly event that introduces participants to hands-on subjects such as visual journaling and knitting.
420 S Washington St. , Suite 1
North Attleboro
Massachusetts
508-446-4406
It takes a village to plan a wedding. Engaged couples need a lot of help planning their nuptials, a quest which can include finding a hairstylist that can mold the perfect pin curl or reserving a reception space that can accommodate an enormous guest list. Rhode Island Wedding Group streamlines the wedding research process by allying 38 local wedding-industry vendors into one unstoppable wedding taskforce. Brides- and grooms-to-be can call upon their assistance via email or by tossing a bouquet into the night sky to act as a homing beacon. Couples only need to fill out a brief request form to get a steady stream of information on vendors that meet the couples' nuptial needs.
201 India St.
Providence
Rhode Island
---