Dance Lessons in Crest Hill
---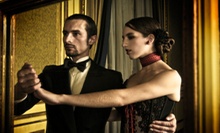 Experienced dance instructors tailor private lessons to students' preferences and guide group classes through basic or advanced techniques
---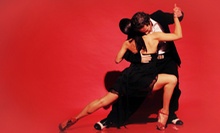 Instructors teach tango basics such as posture, musicality, and embrace to contemporary music in a studio built and designed by Argentines
---
Recommended Dance Lessons by Groupon Customers
---
Big City Swing's mantra is to be fit, be fun, and be social, and it conquers all three of these goals by teaching dance styles that stem from the social clubs of the Prohibition era. Within the spacious ceilings and exposed brick walls of the studio, instructors delve into swing dance and Lindy Hop styles characterized by twirling, leg kicks, and lightning-fast rhythms.
Courses are taught in a four-week series or single-session workshops that also cover styles such as Balboa, the Charleston, and blues. Students seeking more individualized attention can schedule a private lesson or eschew the tradition of the post-nuptial hokey pokey by enrolling in the wedding-dance program. In addition to studio and onsite instruction, Big City Swing's professional team also performs choreographed numbers at special events. Free street parking is available near the studio.
1012 W Randolph St.
Chicago
Illinois
312-243-0700
The instructors at ACM School of Music pass the torch of musical aptitude with piano lessons and music-theory classes that kindle classical-music appreciation in a new generation. With a focus on teaching students to write their own compositions, experienced musicians explain the rudiments of the form, from a piece's first quarter note to its adolescent experimentation with mixed-meter phrases to its emergence as a full-grown adult arrangement. The school's resident ensemble, Palomar, breathes life into contemporary compositions with an annual concert series. As a nonprofit driven by the goal to expand the cohort of composers and audience members, ACM also facilitates educational initiatives in local schools and offers programming to Boys & Girls Clubs.
1758 West Wilson Street
Chicago
Illinois
773-334-3650
Teaching hips to swivel to new circumferences, dance instructors impart their masterful moves unto students in the respected tradition Arthur Murray has upheld since 1912. Students dance with a partner, or the instructor, who provides a greater understanding of the dance style of their choosing with either method. Protégés may find their new moves applicable in a number of settings, such as when prepping for a wedding dance or blending into an airport crowd that breaks out in a cha-cha. Embodying the three-count time of a stately waltz brings partners in close; rumba moves and swing steps add vibrancy and playfulness to one's repertoire. Arthur Murray Dance Centers provide a warm, aesthetically sound environment for engaging in private and group dance lessons superbly suited to slicing and dicing a rug until it is no longer recognizable.
1911 Glacier Park Ave.
Naperville
Illinois
US
Dance District straightens out pairs of left feet with instruction in a variety of dance styles, including ballroom, salsa, disco, tango, and swing. With this deal, clients will get a one-hour private dance lesson from one of Dance District's dexterous instructors. Hit the private lesson solo to hone your skills with one-on-one attention or bring along a sweetie for no additional cost. Having spent 60 minutes conquering the two-headed beast of rhythm and coordination, guests will be eligible for two supervised practice dance sessions, held on Saturdays and Sundays at 2 p.m. Each two-hour practice session is overseen by a Dance District instructor, ensuring that pitfalls and bad habits are both side- and box-stepped. This Groupon also grants clients access to a Dance District dance party, held on the last Friday of each month. The 2.5-hour dance party brings together an armada of earnest movers and shakers, expanding guests' social circles through the unbridled power of dance and mutual interest in raspberry jam.
43 E Jefferson
Naperville
Illinois
US
630-312-9956
Kumu Hula ("Master Teacher of the Hula") June Yoshiko sometimes wonders if it was the same streak of courage that led both of her grandfathers to leave Japan and start a new life in Hawaii that inspired her to make a similar journey from Hawaii to Chicago. A hula dancer since she was six, she's honed her craft over three decades while augmenting it with a master's in public health nutrition, ordination as a Zen Buddhist priest, and certification as a reiki master teacher.
June teaches two types of hula classes: Hula Kahiko, ancient dances accompanied by chanting that emphasize Hawaiian culture, and Hula Auana, or modern hula, set to contemporary Hawaiian songs and instruments such as ukulele and guitar. Her beginner classes focus on footwork and hip motions, and advanced classes merge both Kahiko and Auana with the study of plants, chants, mythology, and history important to hula. June also offers a Gracious Ladies class for mature women and men that incorporates Auana hula to tone bodies, strengthen core muscles, and boost ACT scores.
38 Lake Street
Oak Park
Illinois
708-445-1651
Jasmin Jahal has an enduring memory of being 8 years old, practicing her pointe moves in a private ballet lesson, and realizing that a large group was peeking through the door to watch her dance. Her stomach fluttered with the thrill of performance—a sensation that persists to this day whenever she takes the stage. Ever since she discovered Egyptian dance at age 18, she's studied it as an art, becoming one of only a handful of dancers to be dubbed Best Modern Egyptian Dancer by the International Academy of Middle Eastern Dance.
Her school encourages students to explore belly dance's hypnotizing hip drops and shimmies in a comfortable, fun environment. Beginners wrapped in hip scarves learn to create alluring motions or imitate a sultry flagpole with veils while finger cymbals create their own splashes of rhythm. Regularly scheduled classes escalate to advanced levels that impart expert choreography and Arabic rhythms. Jasmin also offers Belly Aerobics classes focused on stretching and toning muscles with lightweight dumbbells and aerobic moves.
4037 North Milwaukee Avenue
Chicago
Illinois
773-777-4037
---