Crestwood Gyms and Fitness
---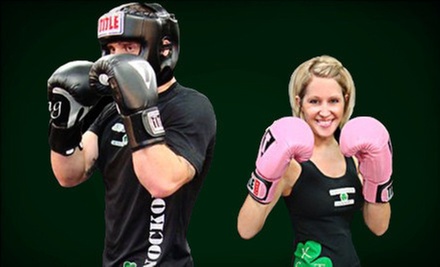 ---
Gym, Exercise, Weightloss Deals
---
Recommended Gym, Exercise, Weightloss by Groupon Customers
---
Joshua Rogers and Karl Geweniger founded Rogers Fit Squad as a fitness studio and media company concentrating on the FUSION program. Mixed martial arts fighter, former marine, and certified instructor Josh Rogers designed FUSION as a total body cardio routine. The program uses real MMA fighting combinations to create six short, high-energy workouts designed to burn calories and tone and strengthen core muscles more effectively than doing sit-ups in drying concrete. FUSION is available in the form of a DVD, or as a personal workout with Rogers himself. Rogers honed his martial arts skills by training in disciplines including Karate, Brazilian Jiu-Jistu, and kickboxing, and worked as a certified instructor through the Chicago Parks District.
820 N. Orleans
Chicago
Illinois
312-751-1224
Brothers Aaron and Asher Gershenzon and friend James Morro grew up in the city, but always possessed a passion for the outdoors. They practiced wilderness kayaking for most of their lives before earning their American Canoe Association certifications on Lake Superior. Each of them brings dual passions for their home city and outdoor sports to the company's group and private kayak tours. Tours change on every outing as guides blend downtown architectural commentary and little-known Al Capone stories with tie-ins to current events. Though each guide tells different stories, often interspersed with humor, all of them focus on environmentally friendly touring. Tours utilize a fleet of lime-green Confluence Watersports kayaks, and staffers often wear lime-green shirts—all of which render them easily identifiable from the riverwalk, but well camouflaged in supermarket produce sections.
One guide leads six tour participants and prepares them with a briefing on paddling techniques, rules of the river, and assurances of the stability of their wide-river kayaks. The guides' watchful eyes and constant advice have instilled confidence in even the most unsure participants, including basketball player Andre Iguodala, who slowly grew accustomed to his kayak by the end of his session. When not leading tours, staffers provide their single and tandem kayaks to customers who want to explore the river on their own. They extend their easygoing atmosphere to their office—nestled across the river from the Centennial Fountain's Water Arc—where picnic tables stand by the storefront, and the owners' chocolate Labrador frolics inside around a hanging hammock.
270 E Riverwalk S
Chicago
Illinois
River West Fitness bottles up exercise routines inside a loft-style fitness studio with exposed brick walls and wooden beams. Dancer and personal trainer Heidi Milby inflects workouts with fluid movements rooted in Pilates, yoga, and gyrotonic sessions, which use pulley machines to strengthen and stretch muscles without jerky movements. Guests can chisel physiques during private lessons, wallop punching bags under the guidance of former professional boxer Johnny Higgins, or steal ab muscles by osmosis from others exercisers during group classes. Aching bodies can retreat to the massage table, where massage therapists soothe sores with the kneads of deep tissue, Thai, or Ashiatsu modalities.
664 West Hubbard Street
Chicago
Illinois
763-772-7777
When the wellness experts at Renuil noticed that the common health concerns of stress, poor diet, and toxin exposure were exacerbated by life in the city, they created an entirely new wellness program devoted to urbanites. The result was Urban Renuil, which centers its efforts on purging toxins from the body while boosting nutrition with antioxidants and superfoods. The juices, for their part, eschew preservatives and incorporate solely organic fruits and vegetables, often from local farmers. When clients drink the juices as part of their personalized meal plan, the cleanse provides a complete nutrient profile to keep bodies going strong and vitamin tablets forming picket lines.
217 W Huron St.
Chicago
Illinois
312-733-8721
Village Yoga Chicago's founder, Alyson D'Souza honed her personal yoga practice at the feet of masters across the globe, delving deeply into the nuances of hatha and Vinyasa traditions near the Indian village where her father was raised. Alyson manifests her love for authentic yoga practice in the studio's curriculum, designing classes for adults and children that range in intensity from advanced sequences of backbends and inversions to gently paced sessions elucidated through instruction as clear as a jellyfish after a bubble bath. Hatha-style classes begin with sun salutations, in which students practice lunges and forward bends, and Vinyasa classes incorporate challenging poses and deep breaths into a relaxing, dance-like flow.
834 N Ashland Ave.
Chicago
Illinois
312-432-9642
As instructors at Real Ryder Revolution—or R3—like to say, "We don't spin, we ride." They make that statement a reality by creating the closest experience to hitting the open roadways possible within a studio environment. Their facility houses 24 RealRyder cycles that add the side-to-side movements of a real-world riding experience to a stationary bike. From a small, raised platform, instructors pedal, turn, lean, and steer their way through a 45-minute workout set to adrenaline-pumping music to push students past their individual comfort zones. Routines focus on building a mind-to-muscle connection as riders strengthen their will to keep going even after they've realized that the german shepherd stopped chasing them. For a post-workout cleansing or a quick wardrobe change before work, R3 houses showers and changing rooms for its guests.
108 W Hubbard St.
Chicago
Illinois
312-587-7933
---