Things to Do in Crestwood
---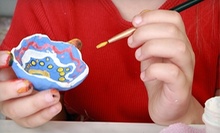 Hundreds of blank ceramics await decoration with brushes, sponges, stamps, and patterns, with glazed and fired projects ready in one week
Use Today 12:00pm - 6:00pm
---
Recommended Things to Do by Groupon Customers
---
AC St. Louis triumphantly brings men's outdoor professional soccer back to the nation's soccer capital. STL's team of international and local footballers will weave in, over, and around their opponents—all under the all-knowing guidance of head coach Dale Schilly. Footballing fans, meanwhile, will get to cheer from the stands, refrain from hooliganism, and challenge each other to see who can shout "Gooooooooooooooaaaalll!" the longest.
1 Soccer Park Rd.
Fenton
Missouri
This Groupon is valid for cruises beginning April 11, 2011 to October 31, 2011. When your reservation is made prime rib or child's chicken strips will automatically be set up unless otherwise specified. Casual to dressy attire suggested.
707 N 1st St.
St. Louis
Missouri
Elizabeth Birkenmeier, Scott McMaster, Jerry Vogel, and Jason Cannon bring Scotland playwright David Greig's sensual show to life for mature audiences. Set on a remote island off Scotland's coast and directed by Philip Boehm, the play explores three characters entangled in a web of sexual tension on the eve of World War II. The lyrical play is at once a keen exploration of human nature, a moving study of young emotion, and a powerful snapshot of a world teetering on the brink of cataclysm.
501 N Grand Blvd
St Louis
Missouri
The team at JitterSwing Dance Clubs constantly assures their clients that "JitterSwing is our name ... it is not a Dance." Thanks to film and music videos, swing dance conjures images of acrobatics and leaping bodies, but JitterSwing's instructors are popular for their approachable St. Louis Imperial style, which is slower-paced and accessible to students of any age. They lead couples and singles through group and private sessions that cover many other types of swing dance as well as country two-step, the cha-cha, and the river waltz. Partners preparing for a wedding dance can take advantage of private lessons, and youths aged 10–16 are invited to the juniors program. In addition to the multiple locations where instructors conduct their sessions, JitterSwing staff members also come out to private events to instruct guests of all ages.
10140 Concord School Rd.
St. Louis
Missouri
636-230-7078
---