Creve Coeur, MO Drs and Health Practioners
---
Drs & Health Practitioners Deals
---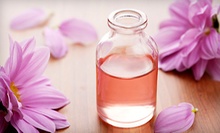 Sinew soothers swathe bodies with steam-heat & essential oils during raindrop therapy, incorporating both massage & reflexology treatments
Use Friday 8:00am - 2:00pm
---
Recommended Drs & Health Practitioners by Groupon Customers
---
Get your derelict body up to snuff with today's Groupon to Elite Chiropractic and Sports Rehabilitation Center. For $29, you get a consultation and chiropractic exam, a nutritional analysis, and manual muscle therapy, a total value of $85. Once you have your Groupon, call ahead to make an appointment, and expect to be at the Center for 45 minutes. Follow @Groupon_Says on Twitter.
12032 Tesson Ferry Rd
St Louis
Missouri
US
Whether you suffer from a chronic cough, a bad back, or a suspicion that your slow metabolism and uncontrollable high-fiving are somehow related, the fully licensed and friendly practitioners at Yong Kang Chinese Medicine will assess your situation, make a diagnosis, and design a treatment plan. Like detectives on a hunt for truant vital energies, they'll ask you in-depth questions about your health history and how you've been feeling before performing a brief physical exam.
103 N Taylor, Suite B
Kirkwood
Missouri
Your appointment begins with a comfortable sit-down likely modeled after FDR's fireside chats, where Big Idea Clinic's leading back master, Dr. Tanase, will get to know you front to (more importantly) back. Tanase is a published author, MedHelp International's first chiropractic panel expert, and longtime member of numerous prominent chiropractic organizations, including the International Chiropractic Association, International Chiropractic Pediatrics Association, and the Upper Cervical Society—a testament to his lifelong dedication to his field, as well as a quirky penchant for joining clubs. His careful examination (total $165 value) will determine the best next step. If you need them or just like the way they tickle your pancreas, you will also receive x-rays (a $60 value).
8057 Watson Rd.
Webster Groves
Missouri
Amid an exquisitely decorated, ultra-modern spa atmosphere, patients will receive their choice of the following top-notch dental treatments from VivaSmiles' experienced staff of professional mouth-bone maintainers:
141 North Meramec Avenue, Suite 217
Saint Louis
Missouri
---