Things to Do in Crofton
---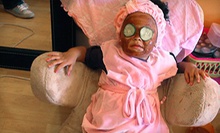 Freshly manicured hands don friendship bracelets and feet relax during soaks and nail designs as kids sip shirley temples and nibble snacks
Use Today 2:00am - 5:00pm
---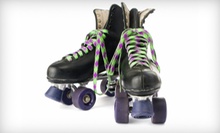 Retro roller skates twirl duos around a smooth indoor rink
Use Today 11:00am - 10:00pm
---
Recommended Things to Do by Groupon Customers
---
Chesapeake Bay is 200 miles long, but that's not the only reason it's the United States' largest estuary. The Bay also serpentines off into hundreds of rivers and creeks, accessible with South River Boat Rentals' vessels. Seafarers explore the estuary's fringes in the powerboats and sailboats, cruising past historic sites, such as Jamestown and Tangier Island. Alternatively, fishing parties set sail for piscatorial hot spots, casting from the boats' decks. To teach newbies the ropes before they hit the water, the company's team hosts sessions on boating basics, from steering to stopping at fish crossings.
2802 Solomons Island Rd.
Edgewater
Maryland
410-956-9729
At Sumner Skate Zone, disco balls shower the blue-and-white-checkered floor with sparkling patches of light. As the beat rolls onward, so too do the wheels of traditional, speed, and inline skates. Off the rink, an arcade room buzzes with the sounds of reckless point scoring and the giggles of ticklish joysticks.
During skating breaks, visitors can refuel on pizza, nachos, and cookies at the snack bar or peruse the center's stock of skating gear and accessories. Open-skate sessions, parties, and special events populate the arena on a daily basis. An afterschool program helps to ensure kids have a safe place to do their homework or discuss the impact of performance-enhancing drugs in the world of spelling bees.
1082 S Rte. 3
Crofton
Maryland
US
410-721-7155
Inspired by visits to museums and amusement parks with their own kids, Thrill-O-Rama's owners Buki and Bibie mustered together an array of activities that entertain youngsters without skimping on education. Each of the facility's nine play zones features its own creative pastime, such as science experiments, educational computer games, age-appropriate reading, and a video-game lounge stocked with a Wii and an Xbox 360. A semi-enclosed toy-filled play space boosts toddlers' motor skills, and a multilevel indoor playground lets older kids shed their wiggles in a bounce castle or on a 15-foot inflatable rock mountain, which formed when an air mattress was stored under tectonic plates. Staff members guide kids through exercise, cooking, and filmmaking classes and adhere to strict safety guidelines to yield a secure play setting. The on-site café fuels romps with a selection of finger foods, drinks, and desserts.
5711 Woodcliff Rd., Suite 102
Bowie
Maryland
301-262-4889
A phosphorescent Frankenstein stands guard over a legion of glowing ghouls that loom throughout the black-lit corridors of Monster Mini Golf's 18-hole course. Framed by neon-green rails, the course's pitch black putting surfaces give the impression that luminescent orbs are either somersaulting in far-reaching pockets of space or rolling across the darkened cellar of your boss's punishment office, a murky abyss populated only by gothic tropes and the presumably undead. A live DJ soundtracks each birdie-hunting expedition with bone-chilling beats as players read putts or meander around the flashing lights of the adjacent arcade, where guests can wager a month's rent in games such as skee ball, air hockey, and Guitar Hero.
7351 Assateague Dr., Suite 380
Jessup
Maryland
At the Anne Arundel County fairgrounds, competing teams of pit masters keep their grills fueled through the night, tingeing the cool air with the smoky, sweet aroma of slow-cooked beef. The marathon cooking session is all for the sake of the Kansas City Barbeque Society judges, whose favor each chef will curry come lunchtime. The annual barbequing competition is just one facet of the festival's mission to showcase the best barbecue chefs in the region. In addition to the competition, local food vendors sate visitors with hot ribs and empower budding chefs with gourmet sauces and cookware. All the while, 25 live bands keep heads bobbing while reminding diners to chew 30 times before swallowing.
1520 Crownsville Rd.
Crownsville
Maryland
Since 1984, the crew of trained instructors at Reddemeade Equestrian Center have taken time out of their own competitive schedules to teach students horseback riding. Each instructor boasts certification from the Reddemeade Instructor Training School, which allows them to conduct horseback lessons in the English style of riding in accordance with the standards of the British Horse Society. Students receive their instruction atop trained and patient school horses inside a large indoor ring or one of several outdoor rings that grace the center's 44 acres of rolling Maryland farmland.
1701 Ednor Rd.
Silver Spring
Maryland
US
301-421-9064
---