Restaurants in Cromwell
---
Recommended Restaurants by Groupon Customers
---
At Min Ghung Asian Bistro, bartenders shuffle back and forth in front of the sake wall, a towering display of premium sakes illumed by neon-lit shelves. The impressive selection of spirits accompanies a menu populated by Japanese and Korean entrees with meats or tofu drizzled in a variety of marinades. A separate sushi menu boasts hand-rolled creations that encase everything from apple and mango to egg custard and sea urchin.
Inside the dining room, a rotating selection of art hangs upon crimson walls. Each piece purchased sponsors Min Ghung's Art in Red Room program, which aims to increase awareness of work by local artists. Outside, strings of colorful paper lanterns decorate a patio freckled with sun sifting through nearby tree branches or flocks of cheesecloth flying overhead.
39 New London Tpke., Glen Lochen Building
Glastonbury
Connecticut
860-659-2568
"I grew up around restaurants. I came from hospitality," Angie explains, looking around at Luna's newly painted taupe and gold walls. Luna Pizza has indeed traced her family tree; Angie and her son took over the business from her brother.
In the eatery itself, marble-top tables shine in their wrought-iron bases. "West Hartford––it's an old town with a small-town character," Angie says. "Many of our customers can walk from their homes." The impetus for that walk is the shop's distinctive thin crust and adventurous palette of toppings, including breaded chicken, pesto, and cherry peppers, which are prepared as needed. "We won't do a batch," Angie explains. "All the veggies are roasted fresh." The sauces are also homemade, and the ingredients sourced locally when possible. The resulting pies can hold a powerful draw, Angie says. "There are many customers who have been coming to Luna Pizza for well over 20 years. They order the same pizza, the same toppings. That's loyalty, and that matters."
999 Farmington Ave.
West Hartford
Connecticut
860-233-1625
The menus at Sakimura's two locations change regularly in order to incorporate the freshest seasonal ingredients and the chefs' newest culinary muses. The Simsbury location is known to intermingle traditional Japanese flavors with contemporary flourishes, with specials taking forms such as foie gras with sweet miso sauce. Both locales' sushi chefs also invent their own creative rolls, such as a deep-fried Godzilla roll and an Out of Control roll filled with shrimp tempura and topped with seared pepper tuna.
Diners seeking a hot dinner can gather around hibachi grills and watch as chefs sear their choice of shrimp, chicken, scallops, filet mignon, or any number of other gourmet ingredients. The hibachi rooms' smokeless grills and modern yet warm decor combine to create a pleasant dining experience.
496 S Broad St.
Meriden
Connecticut
Glowing sconces line the crimson and cream walls inside Namaste India, where traditional Indian dishes adorn linen-topped tables and fill the air with spiced aromas. Marinated lamb, chicken, and seafood slumber inside a clay tandoor oven until they're mildly smoky and tender throughout, while other proteins and vegetables steep in rich curry sauces, aptly scooped up with fresh-baked naan bread or ladled over delicate basmati rice. Patrons can wash down meals with sweet, salted, or mango-flavored lassi drinks, or snatch a classic dessert such as gulab jamun—deep-fried milk dumplings that are soaked in syrup and delivered to tables via an air gun.
151 Queen St.
Southington
Connecticut
At Jalisco Restaurant, the Rodriguez family whips up traditional Mexican dishes enhanced by fresh veggies, natural-aged cheeses, and homemade, preservative-free corn tortillas. Every day, chefs blend sauces and marinades from scratch to match with top sirloin steak, pork loin, and lamb shank, as well as ocean-fresh red snapper, prawns, scallops, and Dungeness crab. Crisp chips emerge from the fryer mere hours before appearing on tables to scoop up salsas or remnants of vegetarian burritos stuffed with cactus and black beans. Against a vibrant backdrop of yellow and adobe-colored walls, bartenders rim margarita glasses with salt and lime wedges or feed tropical cocktails to thirsty piñatas.
103 New London Tpke.
Glastonbury
Connecticut
860-652-0416
Crust that's at once crispy and gooey, imbued with a flavor that's subtly smoky and fresh, with a texture that's like a playground for the tongue—this is what brick firing gives to pizza. At Giovanni's Brick Oven Pizzeria, chefs understand that a little extra attention elevates good pizza to gourmet pizza, and so they fire their thin, New York–style crusts directly on the brick of their oven. Yet this is just a single facet to their polygonal masterpieces. Family recipes are another, bringing the results of years of experimentation to pies such as the margherita and hawaiian. Then there's the creativity—cheeseburger pizzas covered in ketchup, mustard, ground beef, and american cheese—and the variety—25 slices available every day. These are served alongside pastas in bolognese sauce and more than 19 kinds of grinder stuffed with genoa salami and other meats.
Beer and wine, such as Lagunitas and the California red Ménage à Trois, wash down meals and add the extra dimension of pairing to pizza dinners. Guests can enjoy these inside, amid rustic Italian decorations, or on a spacious, heated patio amid fresh breezes and the moon's attempts to hit diners' eyes. Giovanni's also hosts special events, such as holiday parties and kids' nights, and contributes to community causes, such as schools and sports teams.
113 Hebron Ave.
Glastonbury
Connecticut
---
---
Restaurant Deals - Recently Expired
---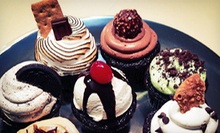 Staff delivers up to two dozen s'more, Reese's, boston cream, cannoli, lemon-meringue, spicy-chocolate, or raspberry-lemonade cupcakes
---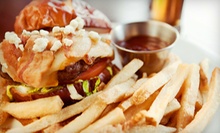 Fried starters precede meals that can include the likes of bacon cheeseburgers, patty melts, and Cajun-chicken wraps
---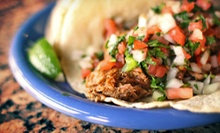 Burritos, quesadillas, or tacos stuffed with meat or vegetables and served with Mexican sides; rotisserie-chicken dinner for four
---
---